5 Super-Easy Skillet Meals to Make This Summer
Need another reason to break out your trusty cast-iron skillet this week? Here's 5 recipes to make on a busy weeknight, lazy weekend, or any time in between!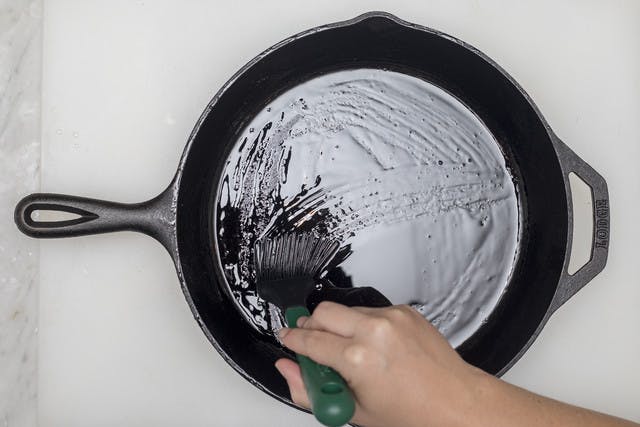 Sturdy yet sleek and so reliable, the cast-iron skillet is a beloved tool for home cooks of all skill levels and backgrounds. It distributes the heat from your stovetop evenly and holds it well, and although it ages well enough to be passed on through generations, purchasing a new one won't set you back more than 10 to 20 bucks. While many of us have memories of a mother or grandmother using her pan for frying chicken or making cornbread, the cast-iron pan can be used for so much more! Below are 5 recipes that celebrate the best flavors that Summer has to offer:
1)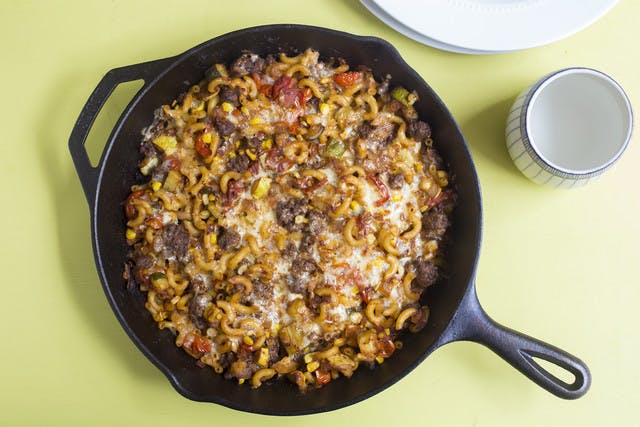 The traditional beef 'n' mac casserole takes a lighter turn in this recipe with the addition of plenty of garden vegetables and a light sprinkling of browned and bubbling cheese on top in lieu of a heavy cream sauce. Although it's tempting to dig in as soon as it emerges from the oven, this type of dish has better flavor and consistency after a good rest of at least 10 minutes. Trust us - it's well worth the wait!
2)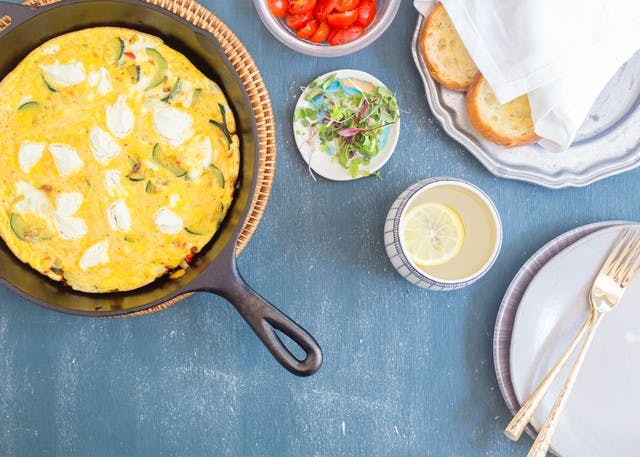 This hearty frittata is bursting with colorful vegetables and tangy chevre, topped with fresh tomato and crisp sprouts. It's a simple, one-pan meal that cooks in mere minutes – just right for a busy weeknight, although it also makes a great centerpiece for a lovely weekend brunch with friends.
3)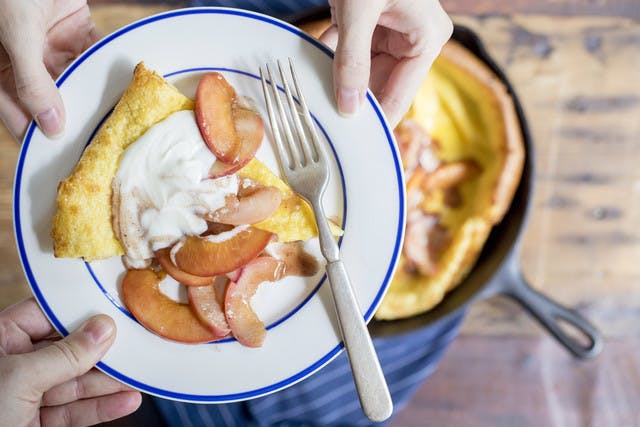 "Somewhere, someone thought, "How can I make pancakes more satisfying than they already are? Make it crispy on the outside, yet fluffy on the inside? Cook it in a skillet to give people the ability to say they're, 'just having one,' so they don't feel as guilty as they do when they go to IHOP for a round of All You Can Eats? Done." And thus the Dutch Baby was born. A masterpiece so easy that you'll be able to add it to the list of, 'I can make cereal,' the Dutch Baby pancake is the ultimate go-to, impress your mom item. Waking up on my only day off, Sundays call for a brunch. After a grueling week of swim practices and weight-lifting, I look forward to getting the necessary carb-o-load that this heaven-sent dish brings me. Even topped with summer peaches, melted butter, and a dusting of powdered sugar, I don't consider it a cheat meal - it's just fate." - Olivia Smoliga, US Swimmer and Olympic Gold Medalist
4)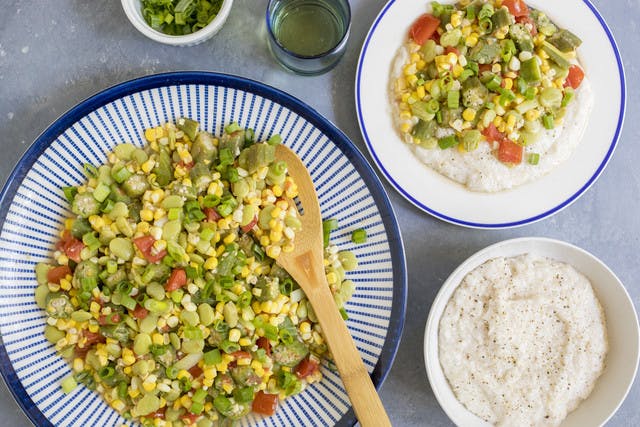 Inspired by a classic Southern succotash, this dish is more than the sum of the parts... although these parts - fresh corn, green butter beans, plump tomatoes, and tender okra - do hold their own beautifully. A traditional succotash is flavored with a bit of smoked pork, like spicy tasso or bacon, but our vegan version gets its heat and savory flavor from liquid aminos and Beautiful Briny Sea's Campfire salt, which is a blend of chili flakes, cumin, sumac and smoked sea salt.  It's served over a bed of grits, which are made creamy with the help of plant-based vegan mayonnaise.
5)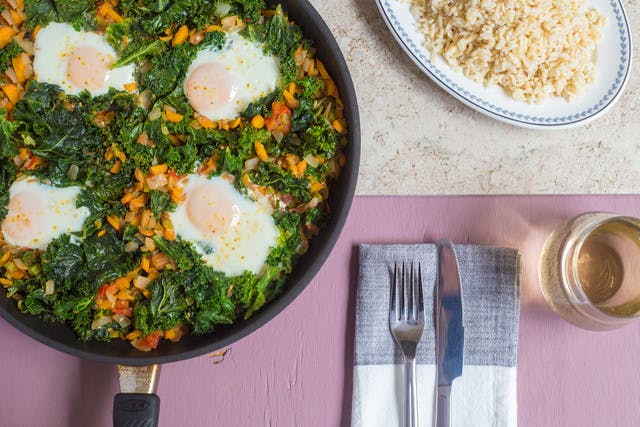 This meal, inspired by a recipe in Barbara Kingsolver's book "Animal, Vegetable, Miracle: A Year of Food Life," shows how very good a simple, "country cookin" kind of meal can be. The runny egg yolk really makes this dish: When it breaks, it coats the braised greens and creates a rich sauce of sorts. To get a nice runny yolk and set white, stick to the lower end of the recommended cook time and touch gently, or jiggle the pan, to test doneness.
Test your skillet skills! Try these recipes:
TURKEY PARMESAN SKILLET WITH ITALIAN-SPICED TOMATO & GREENS
ASPARAGUS, SPRING ONION & CHEVRE FRITTATA WITH TOASTED CIABATTA
WILD-CAUGHT SALMON SKILLET WITH SWEET POTATO, APPLE & FARM EGGS
POTATO GALETTE WITH GLAZED MUSHROOMS & CARROT SALAD
CHEESY FARM-EGG FRITTATA WITH POTATO, SPINACH & MUSHROOM
SPANISH POTATO OMELET WITH BRAVA SAUCE, SAUTÉED SPINACH & ALMONDS