Beer Pairings for the Week of May 16th, 2016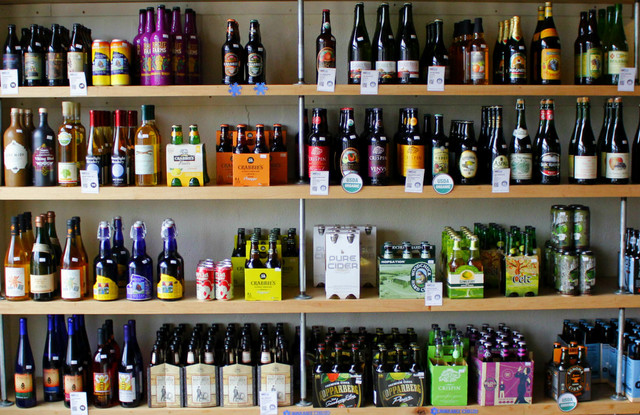 Looking for the perfect brew to go along with your PeachDish meals? We've got you covered. We've partnered with the owners of BeerGirl, a local Atlanta shop, to help you select the perfect beverage. BeerGirl's passionate owners, Alexia Ryan and Erik Lewis opened their shop with the dream of connecting the people of their community with delicious craft beer from the South and beyond. Here are this week's suggested pairings: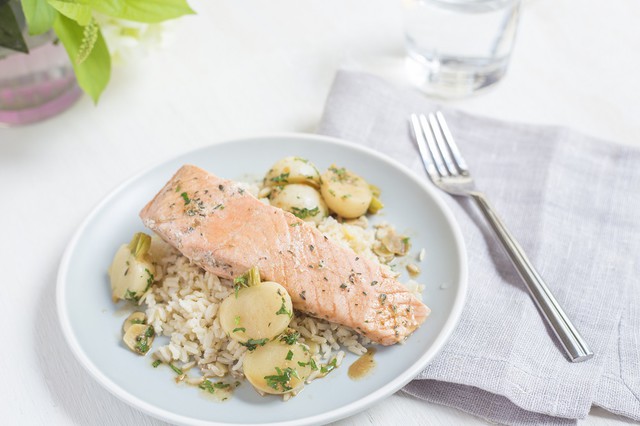 Poached Salmon with Almond Pilaf & Glazed Hakurei Turnips
It should not take a scholar to realize Saison is a seasonal beer, it literally means season in French. Brewed in the winter with leftovers from the harvest, Saisons were consumed over the summer months. Brewing in winter alleviated the hardest part of making beer which is the cooling of the hot wort - which was incredibly hard in pre­industrial rural Wallonia. The delicate salmon will pair nicely with a fruity Saison that has a little spice.
Georgia Local Recommendation: Wild Heaven White Blackbird, Decatur, Georgia
Suggestion: Blackberry Farms Classic Saison, Walland, Tennessee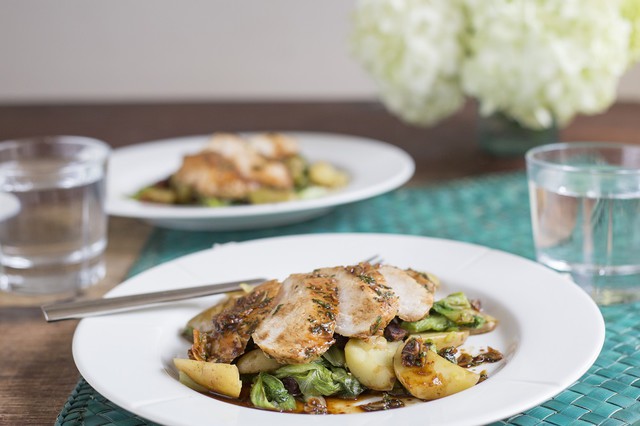 Balsamic Glazed Chicken with Bacon, Lettuce & Fingerling Potatoes
It shouldn't be a surprise that Berliner Weisse was the most popular beer in Berlin. In the 19th century, there were 50 breweries producing this style of beer in Berlin. By the twentieth century, there were two breweries producing this style. Simply put the Berliner Weisse is a low alcohol wheat beer "infected" with lactobacillus, the bacteria that sours milk, which makes for an interesting sweet and sour flavor combination. In Berlin, you will find they play up the sweet by adding a dose of raspberry syrup to the beer turning it into a beer cocktail. The sour in a Berliner Weisse should be a complementary flavor to the acidic balsamic glazed chicken.
Georgia Local Recommendation: Creature Comforts Athena, Athens, Georgia
Suggestion: Bayerischer Bahnhof Berliner Weisse, Leipzig, Germany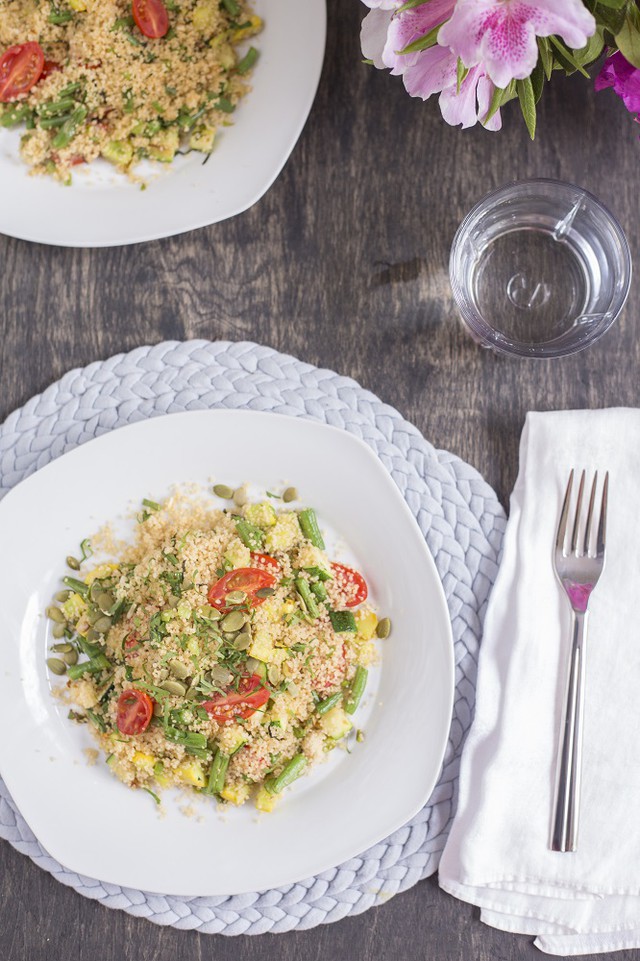 Whole Wheat Couscous with Green Beans & Young Squash
Just a few years ago gluten free beer would have been considered a joke, sort of like a session quad. How can you really make a beer without gluten? Well, the first choice was to brew with malts like sorghum which are gluten free; the problem is that approach really limits the variety of beer you can produce. Luckily science came to the rescue and found enzymes that could clump gluten together, making removal a simple filtration process. While not totally gluten free, these beers are accessible to all but the most serious cases of celiac disease. A slightly hoppy gluten reduced pale ale should be a perfect complement to this medley of couscous, green beans, and squash.
Suggestion: New Belgium Glutiny Pale Ale, Fort Collins, Colorado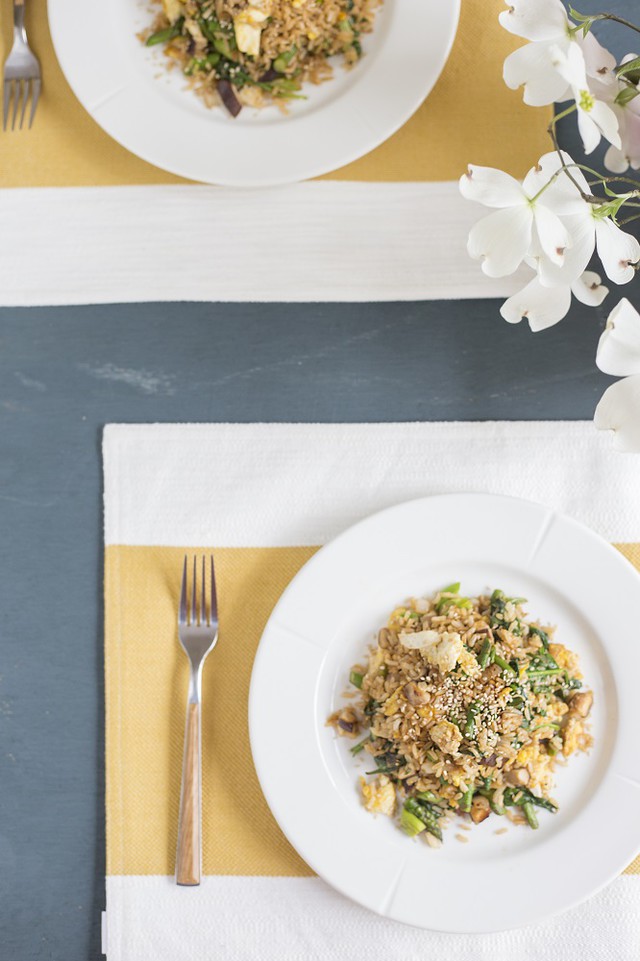 Asparagus Fried Rice with Farm Egg & Shiitake
Cicerones all have their own opinion on what is the best beer to pair with fried rice. Truthfully their opinions run the gamut from seriously malty to extremely hoppy with little agreement. In case you did not know, Cicerone is the beer equivalent to a Sommelier. Personally, we favor sweeter beers with just a tad bit of Belgian yeast spice for our Chinese. For this take on fried rice, we would pair a Belgian ­style golden ale that lets the dish stand out while refreshing the palate between bites.
Suggestion: North Coast PranQster Belgian Golden Ale, Fort Bragg, California
Seasonal Menus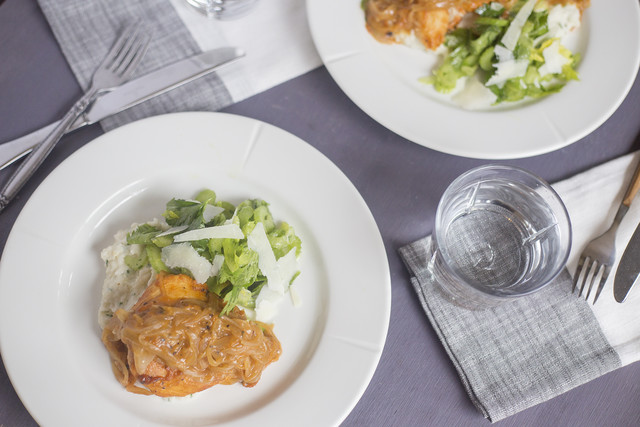 Virginia Willis' Smothered & Covered Chicken with Herb Grits and Celery Salad
Lactose has many uses in beer. You can take the lactic acid and sour a beer, or use the lactose sugar to sweeten a beer. Wait, wouldn't the yeast just eat the sugar and make more alcohol? Lactose sugar is un­fermentable which means adding it not only allows the brewer to add the milk monicker but also to sweeten the beer without increasing the alcohol content. Milk stouts are the comfort food of beer and it will complement the "smothering."
Suggestion: Left Hand Milk Stout Nitro, Longmont, Colorado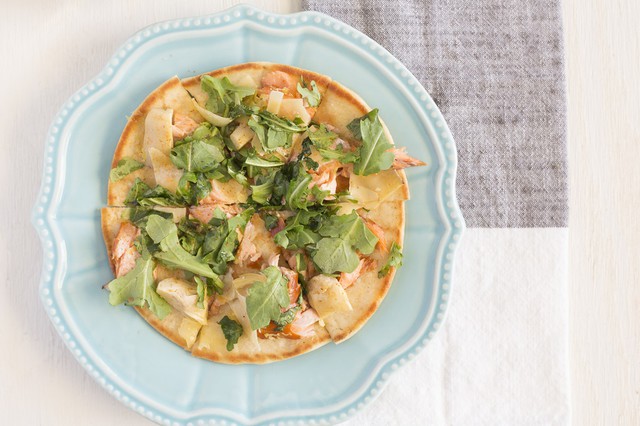 Flatbread with Smoked Salmon, Artichoke & Arugula
We've said it before: wheat beers are under appreciated for their ability to convey flavors. Hefeweizen or wit the wheat beer can be as complicated as the brewer's imagination. Recently, brewers have started realizing that wheat beer should be embraced and celebrated; hopefully the hop heads amongst us will realize every beer does not have to be bitter to be good. To help the hop lovers make that tradition, we suggest a hoppy wheat beer to complement the bitter arugula while not overshadowing the other flavors.
Suggestion: 80 Acre Hoppy Wheat, Kansas City, Missouri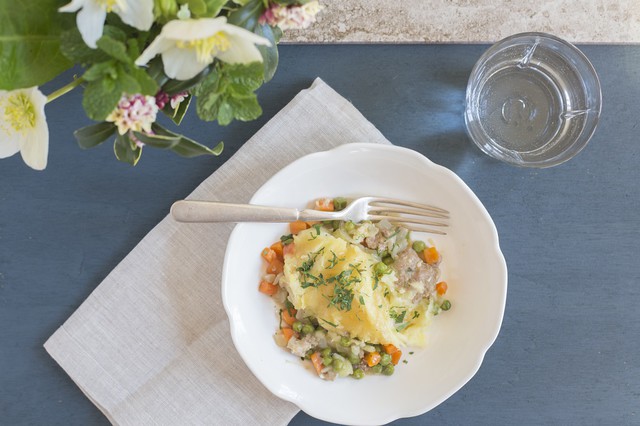 Cottage Pie with Pork, Carrots & English Peas
Did you know that ciders come in two major styles? We do not mean red apple or green apple we mean dry or sweet. European ciders lean towards dry while American ciders run sweeter. With a classic cottage pie, try a dry Irish cider it will clean your palate between fork fulls.
Suggestion: Magners/Bulmers Dry Irish Cider, Clonmel, Ireland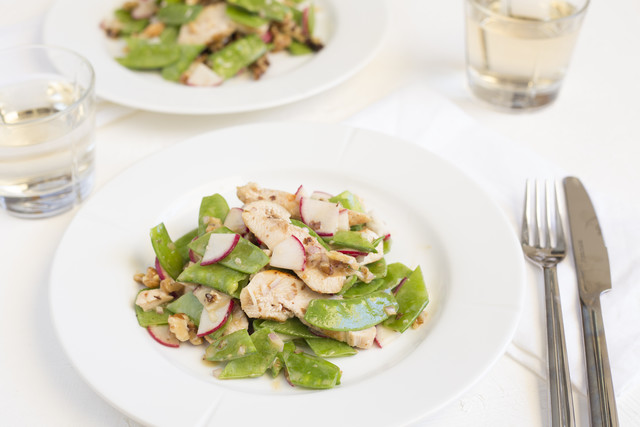 Chicken Breast, Snow Pea & Walnut Salad
As a child, my favorite thing about Chinese food were the snow peas. This flat sweet vegetable was fascinating. As an adult, I'm still a fan, but I also know that sweet complements sweet so to bring out the sweet of the snow pea we will pair it with a hefeweizen. A hefeweizen brings the sweet with a little banana flavor which should go really well with this delicate dish.
Suggestion: Widmer Hefeweizen, Portland, Oregon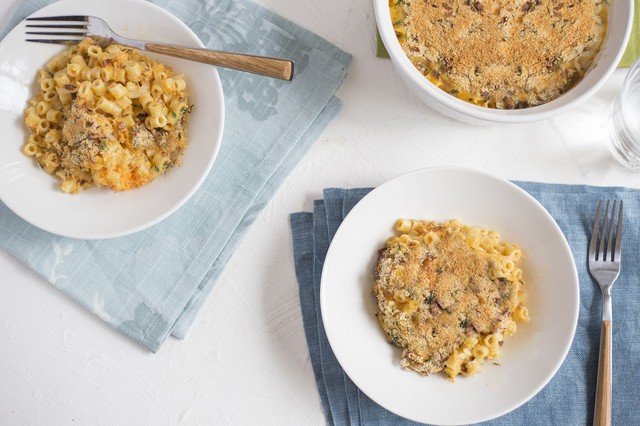 Ditalini & Spring Vegetable Casserole
Ciders are characterized as sweet or dry. Among the dry ciders, there can be several different designations of dryness much like you find in wine, but there aren't as many designations to classify a sweet cider. For a dish featuring spring vegetables we want to avoid a pairing that is too dry or too sweet so we will choose a semi­sweet cider. It should complement the spring vegetables without overshadowing with too much sweetness.
Suggestion: Bite Hard Semi Sweet Cider, Boonville, California