Beer Pairings for the Week of May 9th, 2016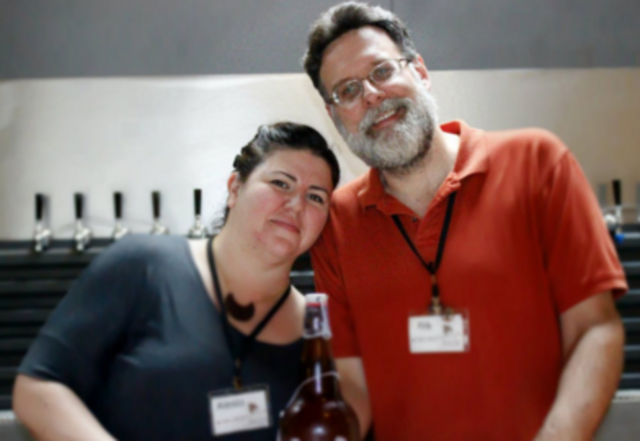 Looking for the perfect brew to go along with your PeachDish meals? We've got you covered. We've partnered with the owners of BeerGirl, a local Atlanta shop, to help you select the perfect beverage. BeerGirl's passionate owners, Alexia Ryan and Erik Lewis opened their shop with the dream of connecting the people of their community with delicious craft beer from the South and beyond. Here are this week's suggested pairings: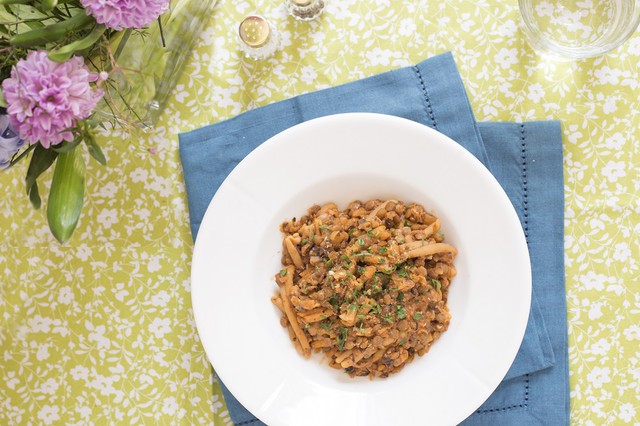 Mushroom & Lentil 'Bolognese' with Chickpea Pasta
Did you know there are two ways to make gluten free beer? The first method involves brewing the beer using malts not containing gluten. The second method involves using an enzyme which clumps gluten together making it easy to filter out. Beers brewed with malts not containing gluten are clearly gluten free. Beer brewed with the enzyme receives the designation gluten reduced. For this dish, we suggest a gluten free lager which clears the palate and lets the "bolognese" shine.
Suggestion: Bards Original Sorghum Malt Beer, Minneapolis, Minnesota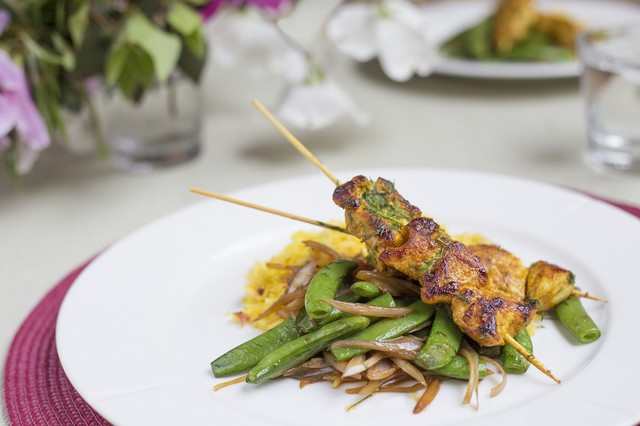 Chicken Kebab over Saffron­Barberry Rice with Sugar Snap Peas & Vidalia Onions
What is the difference between ginger beer and ginger ale? Traditionally ginger ale was manufactured and ginger beer brewed. However, there exists a bigger difference. Traditional ginger beer contains alcohol. Wikipedia wrongly claims ginger beer is not alcoholic, however, we simply point out that when the British were making use of ginger imported from India the only method of carbonation involved yeast. Yeast produces two components carbon dioxide and alcohol. In fact, the British allowed children ginger beer containing up to two percent alcohol. We think ginger beer will go wonderfully with the saffron, barberry, and Vidalia Onions in this dish.
Suggestion: Crabbies Original Alcoholic Ginger Beer, Glasgow, Scotland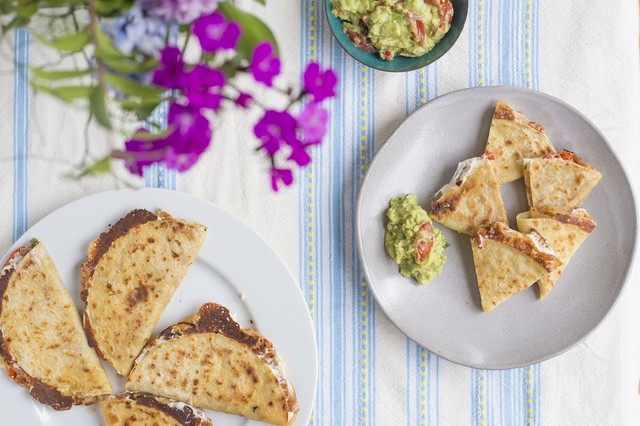 Vidalia Onion Quesadilla with Fresh Guacamole
We at Beer Girl have a great love for sour beer. From salty sour gose to Wild American Ale we love sour beer. There are two accepted ways of making a sour beer. The first method ferments the beer with wild yeast. Wild yeast can be the primary fermentation or used in a secondary fermentation. Wild yeast produces a little sour funk to go with the normal carbon dioxide and alcohol. The other way to make a sour beer involves adding lactobacillus, the stuff that makes milk go sour, to the finished beer. With this dish of sweet Vidalia Onion and creamy guacamole, we suggest a sour that also brings some sweet fig flavor.
Suggestion: Cascade Figaro, Portland, Oregon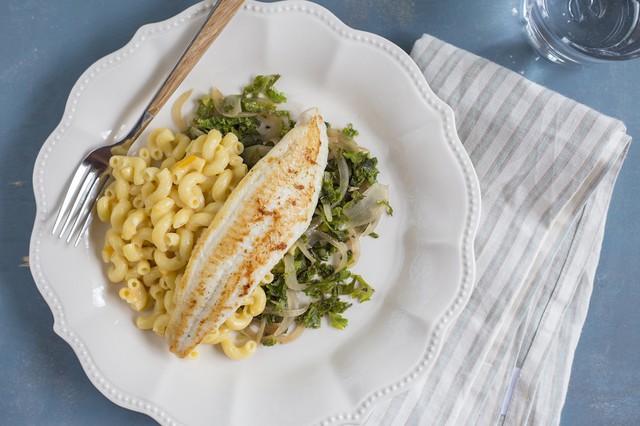 Sauteed Catfish with Mac & Cheese and Sautéed Mustard Greens
Remember when India Pale Ale was only about bitterness? That was only like a year ago, then the flavored IPA arrived and changed the game. Citrus flavored hops adding a taste dimension beyond bitter made the citrus IPA a real thing. Orange, blood orange, tangerine, mango, apricot, and yes even pineapple flavored IPAs are now what the "hop head" is craving. For this traditional southern combination, we suggest a pineapple IPA that will add a fruity component while at the same time the bitter will play well with the mustard greens and help cut the creamy mac and cheese.
Suggestion/Georgia Local Recommendation: Sweet Water Goin' Coastal Pineapple IPA
Writers note: Sweet Water has a large national footprint so it counts as both a suggestion and a Georgia local recommendation.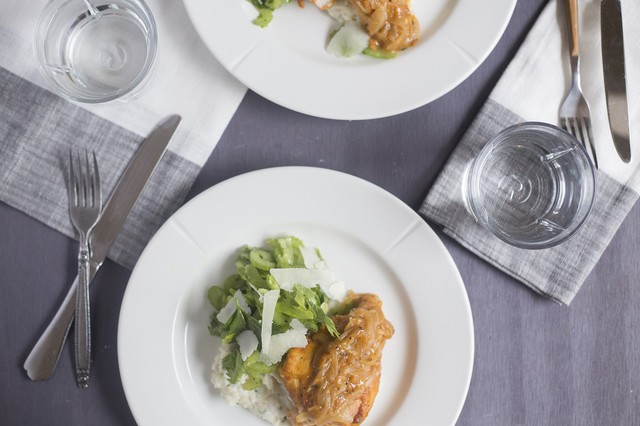 Virginia Willis' Smothered & Covered Chicken with Herb Grits and Celery Salad
Lactose has many uses in beer. You can take the lactic acid and sour a beer, or use the lactose sugar to sweeten a beer. Wait, wouldn't the yeast just eat the sugar and make more alcohol? Lactose sugar is un­fermentable which means adding it not only allows the brewer to add the milk monicker but also to sweeten the beer without increasing the alcohol content. Milk stouts are the comfort food of beer and it will complement the "smothering."
Suggestion: Left Hand Milk Stout Nitro, Longmont, Colorado
Seasonal Menus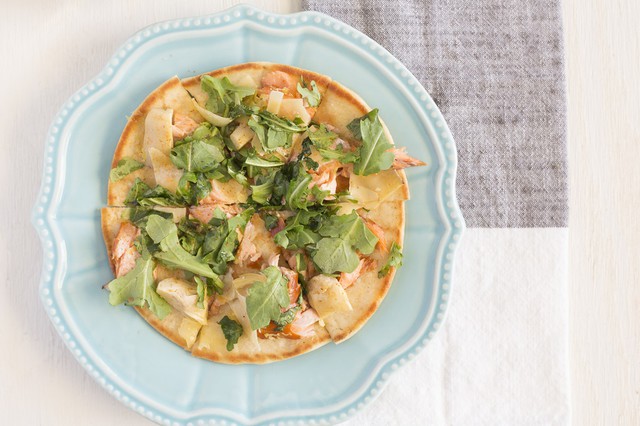 Flatbread with Smoked Salmon, Artichoke & Arugula
We've said it before: wheat beers are under appreciated for their ability to convey flavors. Hefeweizen or wit the wheat beer can be as complicated as the brewer's imagination. Recently, brewers have started realizing that wheat beer should be embraced and celebrated; hopefully the hop heads amongst us will realize every beer does not have to be bitter to be good. To help the hop lovers make that tradition, we suggest a hoppy wheat beer to complement the bitter arugula while not overshadowing the other flavors.
Suggestion: 80 Acre Hoppy Wheat, Kansas City, Missouri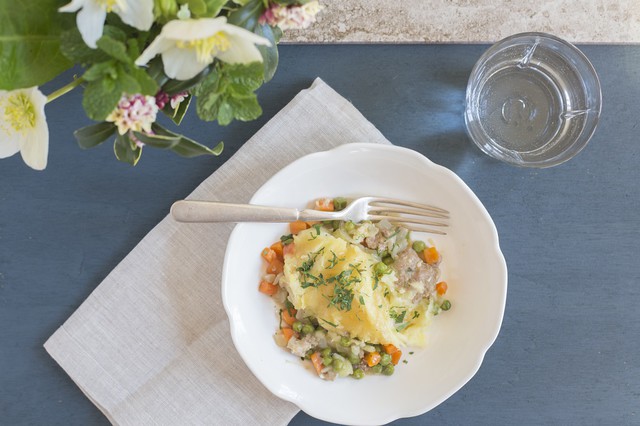 Cottage Pie with Pork, Carrots & English Peas
Did you know that ciders come in two major styles? We do not mean red apple or green apple we mean dry or sweet. European ciders lean towards dry while American ciders run sweeter. With a classic cottage pie, try a dry Irish cider it will clean your palate between fork fulls.
Suggestion: Magners/Bulmers Dry Irish Cider, Clonmel, Ireland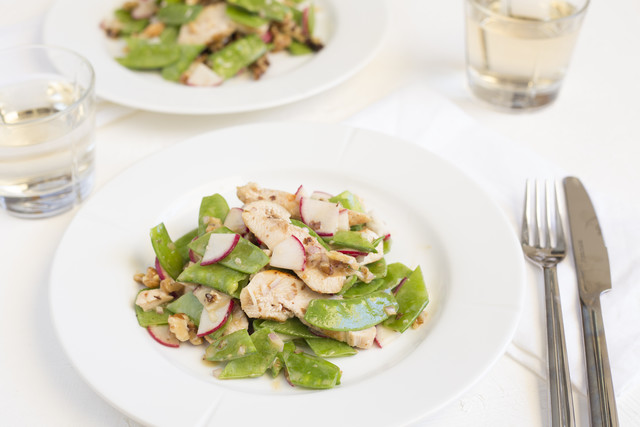 Chicken Breast, Snow Pea & Walnut Salad
As a child, my favorite thing about Chinese food were the snow peas. This flat sweet vegetable was fascinating. As an adult, I'm still a fan, but I also know that sweet complements sweet so to bring out the sweet of the snow pea we will pair it with a hefeweizen. A hefeweizen brings the sweet with a little banana flavor which should go really well with this delicate dish.
Suggestion: Widmer Hefeweizen, Portland, Oregon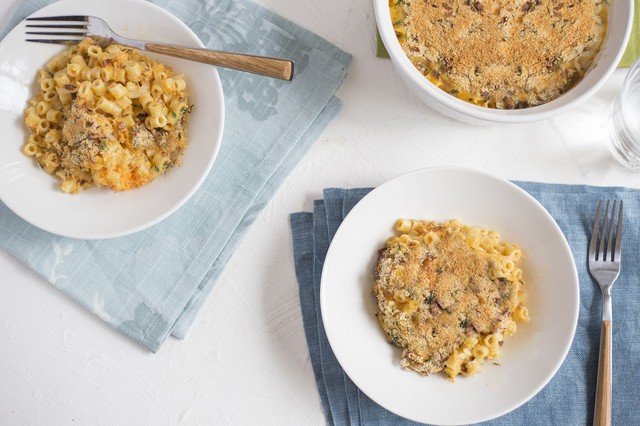 Ditalini & Spring Vegetable Casserole
Ciders are characterized as sweet or dry. Among the dry ciders, there can be several different designations of dryness much like you find in wine, but there aren't as many designations to classify a sweet cider. For a dish featuring spring vegetables we want to avoid a pairing that is too dry or too sweet so we will choose a semi­sweet cider. It should complement the spring vegetables without overshadowing with too much sweetness.
Suggestion: Bite Hard Semi Sweet Cider, Boonville, California