Wine Pairings for the Week of May 23rd, 2016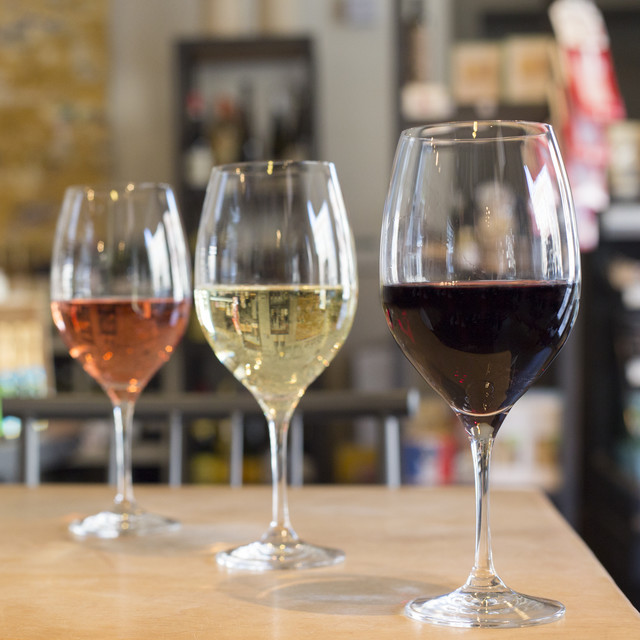 Each week, Wine Specialist Sarah Pierre brings you suggestions to complement your PeachDish meals. Sarah is one of the owners at 3 Parks Wine Shop in Glenwood Park, Atlanta. She paired up with the team of The Shed at Glenwood and The Pig and The Pearl and opened 3 Parks in 2013. Prior to opening the store, she spent most of her career working and managing notable restaurants in Atlanta and New York City. Sarah selects all of the wines that are offered at 3 Parks Wine Shop and also assists in pairing wines for local events and dinners throughout Atlanta.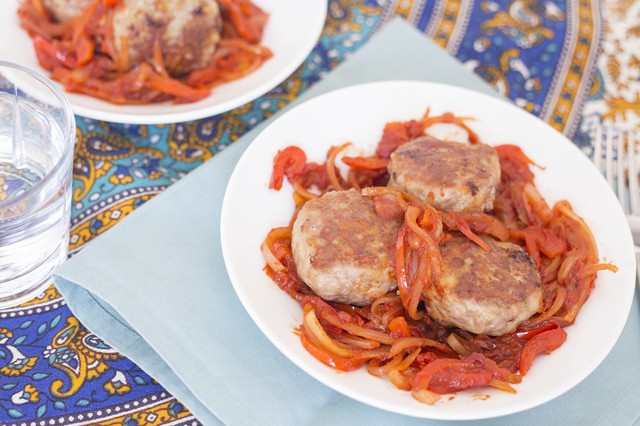 Landon Thompson's Pork Meatballs/Albondigas with Piperade
Tempranillo - A slightly oaked Tempranillo/Crianza is the pairing for this dish. Crianza has moderate tannins with exceptional structure and is such a good, friendly wine- especially when pairing with a pork meatballs. Suggestion: Rioja Bordón de Bodegas Franco-Españolas Crianza, Rioja, Spain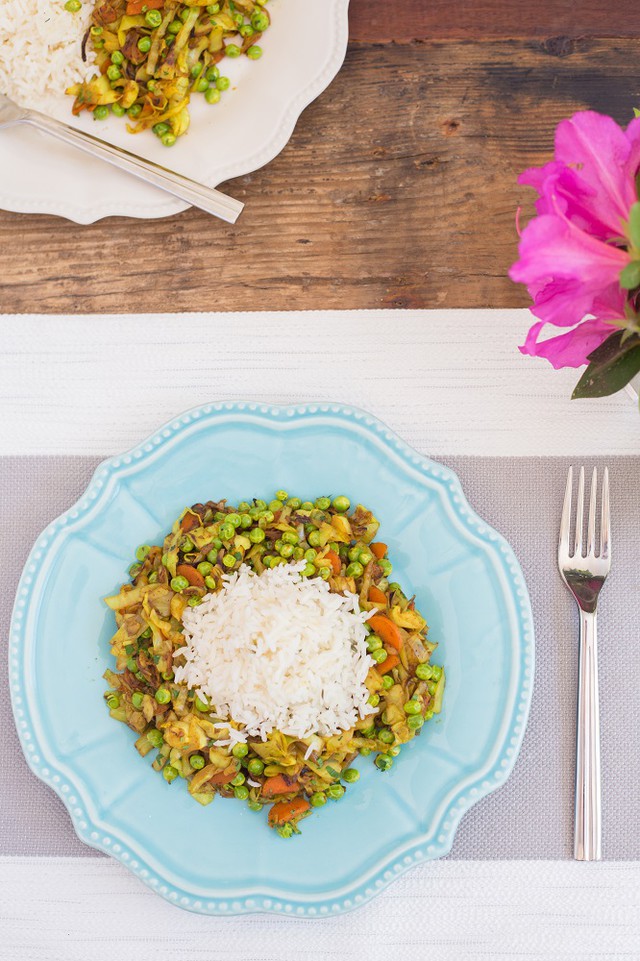 Caribbean Curried Cabbage & Peas with Thyme Rice
Merlot - Ideally with curry dishes, whether spicy or mild, if you're going to choose a red wine to pair with your meal, it needs to be a softer, fruit-driven red. You want to avoid dry/tannic wines, or wines that have too much oak presence. Try a fruit forward, easy drinking Chilean Merlot. Suggestion: Vina Ventisquero Reserva Merlot, Maipo Valley, Chile
Chardonnay - Surprisingly Chardonnay pairs really well with curry - especially mild curries such as this one. Stay clear of the oaked Chardonnays - primarily from California. Suggestion: Tabali Chardonnay Reserva Especial, Limari Valley, Chile.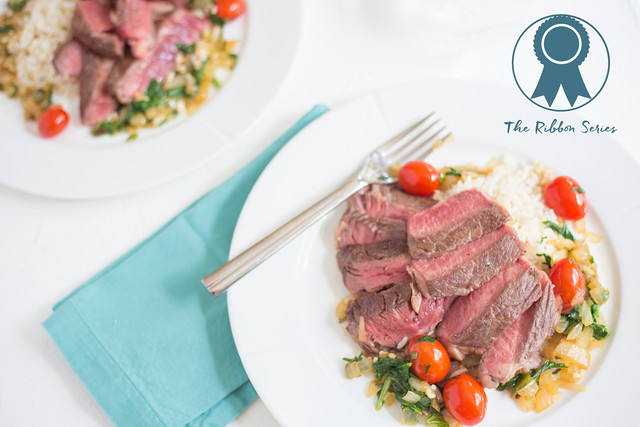 Georgia Grown Ribeye with Charleston Gold Rice & Cherry Tomatoes
Super Tuscan - Everyone's favorite blend from Tuscany. Find a blend of Sangiovese & Cabernet/Merlot. Sangiovese pairs perfectly with the cherry tomatoes cooked down with greens and onions and Cabernet & Merlot is a solid pairing for the Ribeye.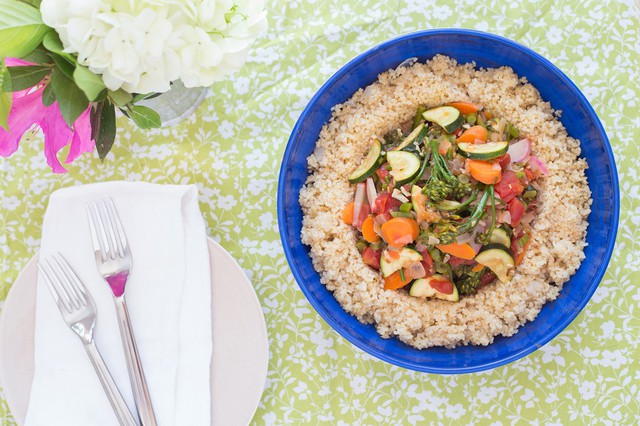 Vegetable 'Ragout' with Bulgur Wheat
Pinot Grigio - A crisp white wine like Pinot Grigio is a classic Italian pairing for this stewed vegetable dish. Suggestion: Scarpetta Pinot Grigio, Italy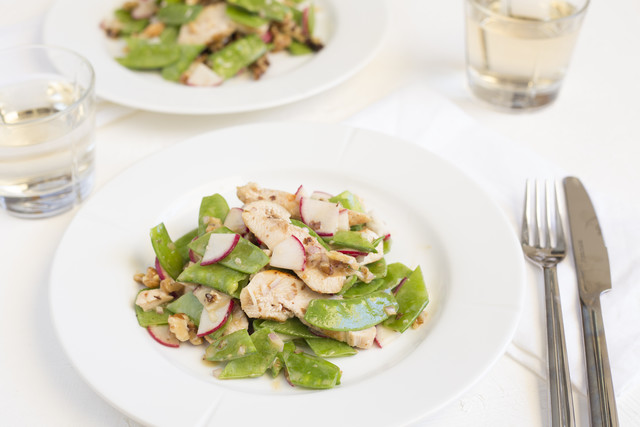 Chicken Breast, Snow Pea & Walnut Salad
Pinot Noir - Light, bright, and always great with a salad, especially one that is dressed with a mustard vinaigrette. Suggestion: Calera Pinot Noir, Central Coast, California
Côtes du Rhône Blanc - This salad will easily be able to tackle a full, slightly earthy white. If you haven't tried one, get to your local wine shop and share it with your friends. Suggestion: M. Chapoutier Cotes du Rhone Belleruche Blanc, Rhone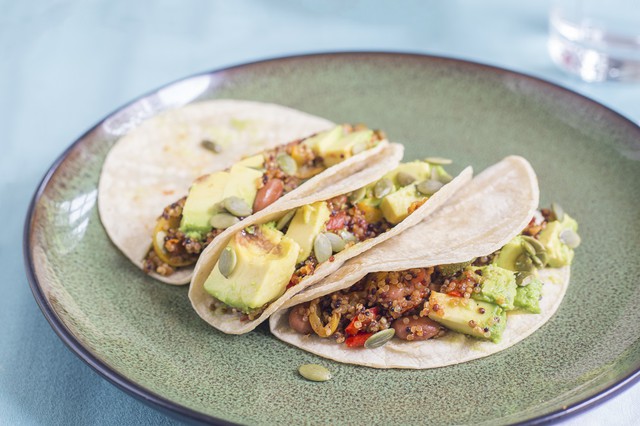 Veggie Tacos with Quinoa & Avocado
Oregon Pinot Noir - The ever so versatile Pinot Noir will pair perfectly with these tacos. The earthiness of an Oregon Pinot will work nicely with the vegetables. Suggestion: Love Oregon, Willamette Valley, Oregon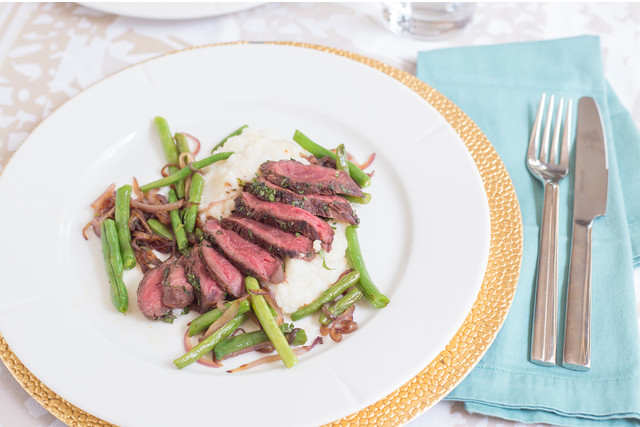 Herbed Hanger Steak with Green Beans, Red Onions & Grits
Cabernet - Go big or go home. There aren't many times where California Cabernets always fit the bill. When you have a steak, however, take advantage of the opportunity.
California Rosé - Go with a Rosé that mimics a red. Many California Rosés are made with intent, so some tend to be fuller. Suggestion: Bedrock Rosé, Napa Valley, California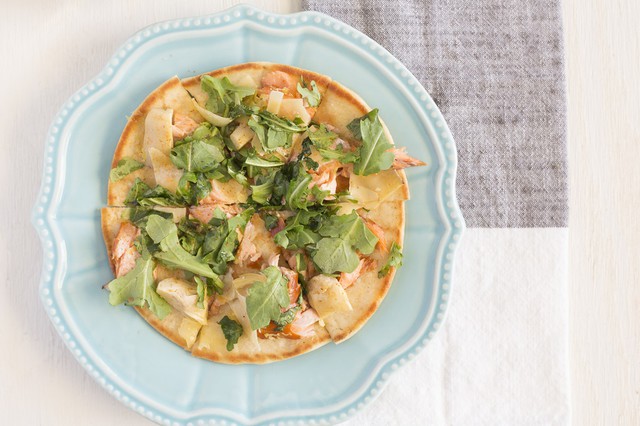 Smoked Salmon Flatbread with Artichoke & Arugula
Artichokes are commonly considered a difficult ingredient to pair with wine. Getting a bit technical here but wanted to explain - artichokes contain a naturally occurring chemical called Cynarin which makes everything taste sweeter, including wine, but not in a good way. To counter that, you want to find an extremely dry, crisp wine that is higher in acid. Additionally, incorporating a salty component, smoked salmon, to the dish also minimizes the effect of Cynarin.