Beer Pairings for the Week of May 2nd, 2016
Looking for the perfect brew to go along with your PeachDish meals? We've got you covered. We've partnered with the owners of BeerGirl, a local Atlanta shop, to help you select the perfect beverage. BeerGirl's passionate owners, Alexia Ryan and Erik Lewis opened their shop with the dream of connecting the people of their community with delicious craft beer from the South and beyond. Here are this week's suggested pairings: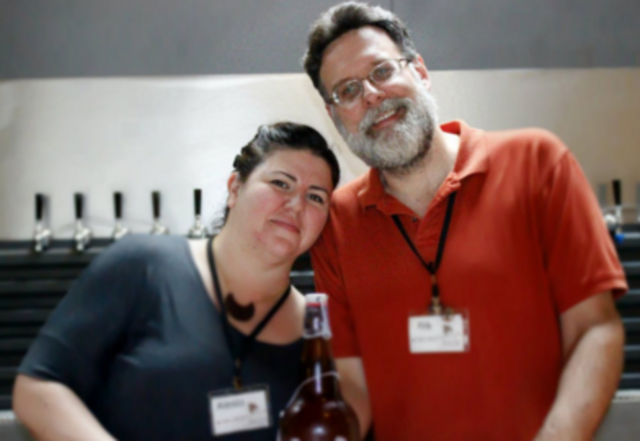 Reinheitsgebot aka the German Beer Purity Law limited beer to four ingredients: water, barley, hops, and yeast. Why such a restrictive law? To ensure there would be enough rye and wheat for bakers to make affordable bread by eliminating competition for those ingredients. Wait wheat? Reinheitsgebot does allow for some exceptions based on local tradition like Hefeweizen. Unfortunately, this led to the extinction of some lesser known fruit styles of beer produced throughout Germany. While the purity law did force brewers to develop new ways to extract flavor from barley, there is no doubt this limited the palate of Germany. Luckily in the good old U. S. of A. our freedom extends to adding fruit and spice to our beer. For this week, we will be celebrating beers with added fruit and spice for the rotating dishes.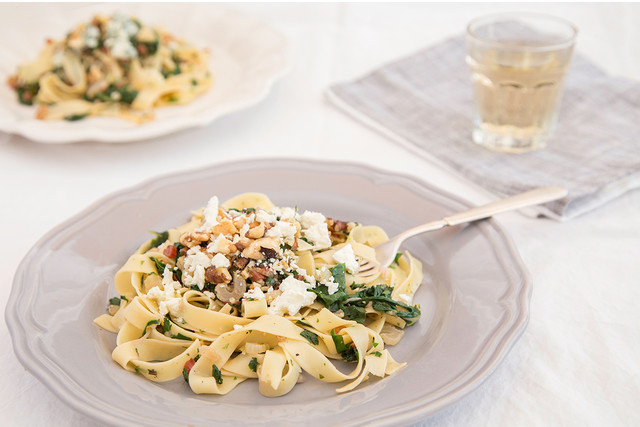 Sauteed Swiss Chard with Tagliatelle Pasta, Feta Cheese & Walnuts
Tart and lemony is how to describe sumac- an under­appreciated spice in the Western world but one prized throughout the Middle East. Oddly sumac shares the same genus as poison ivy, which we do not recommend with beer. For this dish of bold flavors, we recommend a beer flavored with sumac to add a dose of lemon to the bitter chard as well as cut some of the creamy texture of the feta.
Suggestion: Brookly Red Sumac Wiit, Brooklyn, New York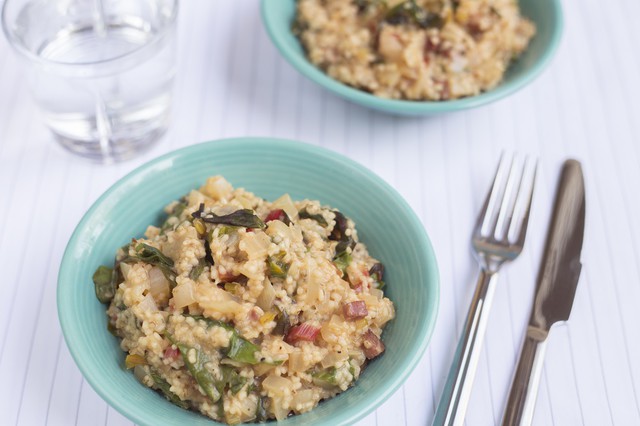 Middlins 'Risotto' with Tasso & Chard
Did you know that peppers are technically considered a fruit? Seriously we do not get that and neither do the beer judging standards which consider any beer brewed primarily with a fruit to be a vegetable beer. What does this Southern dish need? Why obviously a dash of pepper sauce in the form of a serrano pepper flavored stout to enhance the tasso and "greens" in this dish.
Suggestion: Green Flash Dia De Los Serranos, San Diego, California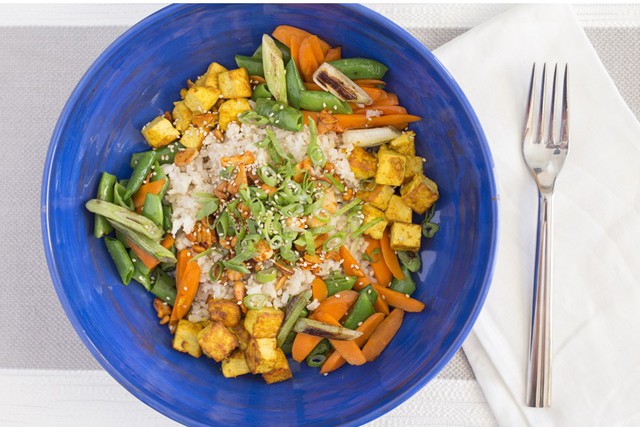 SuperFood Tofu Bowl with Sriracha Nuts & Spring Veggies
Tangy and tart with almost a cranberry taste hibiscus flowers have long been used in teas and folk medicine. We can think of no better ingredient to add to a dish of SuperFood than a dose of tart cranberry hibiscus.
Georgia Local Recommendation: Red Brick Hibiscus Wit, Atlanta, Georgia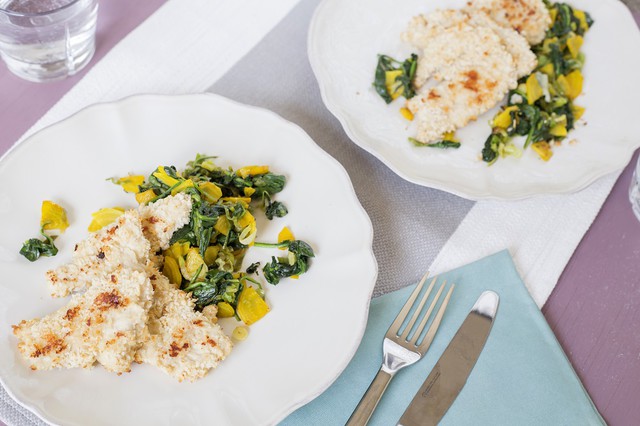 Panko-­Parmesan Chicken with Sauteed Spinach & Golden Beets
Kirsch is a sour cherry liquor made from morello cherries traditionally paired with Raclette, a Swiss dish of melted cheese and potatoes. While rather harsh as a liquor it makes a wonderful flavoring to the salty sour gose. A sour kirsch flavored gose should make the sweet golden beets stand out in this dish.
Suggestion: Victory Kirsch Gose, Downington, Pennsylvania
Seasonal Menus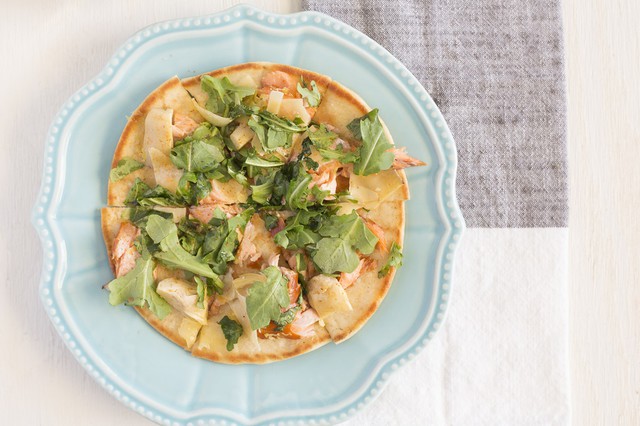 Flatbread with Smoked Salmon, Artichoke & Arugula
We've said it before: wheat beers are under appreciated for their ability to convey flavors. Hefeweizen or wit the wheat beer can be as complicated as the brewer's imagination. Recently, brewers have started realizing that wheat beer should be embraced and celebrated; hopefully the hop heads amongst us will realize every beer does not have to be bitter to be good. To help the hop lovers make that tradition, we suggest a hoppy wheat beer to complement the bitter arugula while not overshadowing the other flavors.
Suggestion: 80 Acre Hoppy Wheat, Kansas City, Missouri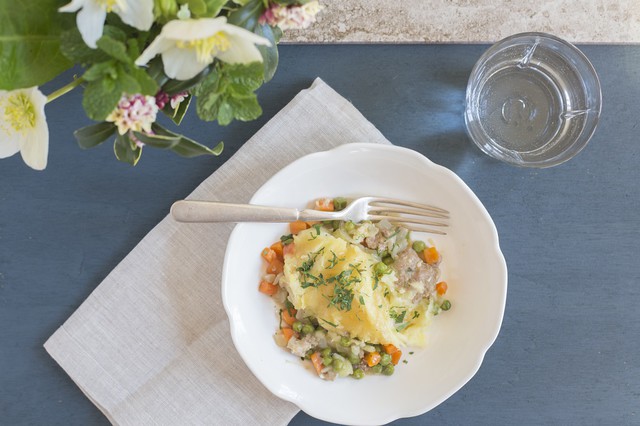 Cottage Pie with Pork, Carrots & English Peas
Did you know that ciders come in two major styles? We do not mean red apple or green apple we mean dry or sweet. European ciders lean towards dry while American ciders run sweeter. With a classic cottage pie, try a dry Irish cider it will clean your palate between fork fulls.
Suggestion: Magners/Bulmers Dry Irish Cider, Clonmel, Ireland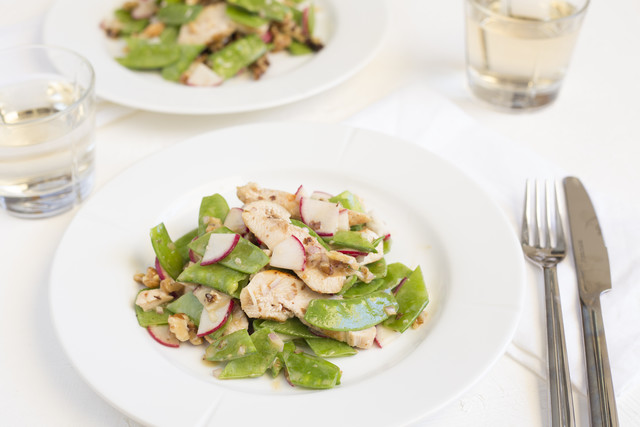 Chicken Breast, Snow Pea & Walnut Salad
As a child, my favorite thing about Chinese food were the snow peas. This flat sweet vegetable was fascinating. As an adult, I'm still a fan, but I also know that sweet complements sweet so to bring out the sweet of the snow pea we will pair it with a hefeweizen. A hefeweizen brings the sweet with a little banana flavor which should go really well with this delicate dish.
Suggestion: Widmer Hefeweizen, Portland, Oregon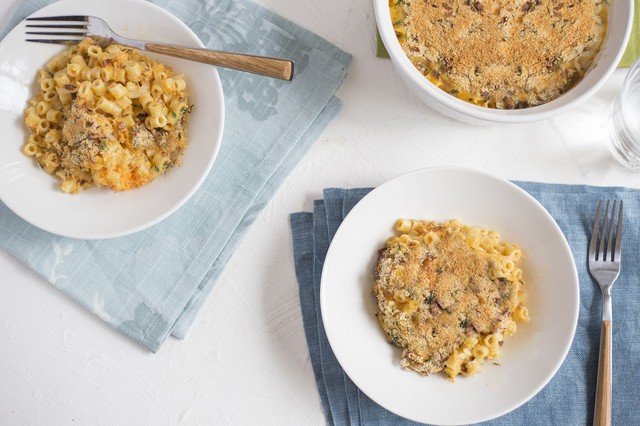 Ditalini & Spring Vegetable Casserole
Ciders are characterized as sweet or dry. Among the dry ciders, there can be several different designations of dryness much like you find in wine, but there aren't as many designations to classify a sweet cider. For a dish featuring spring vegetables we want to avoid a pairing that is too dry or too sweet so we will choose a semi­sweet cider. It should complement the spring vegetables without overshadowing with too much sweetness.
Suggestion: Bite Hard Semi Sweet Cider, Boonville, California