Beer Pairings for the Week of April 18th, 2016
Looking for the perfect brew to go along with your PeachDish meals? We've got you covered. We've partnered with the owners of BeerGirl, a local Atlanta shop, to help you select the perfect beverage. BeerGirl's passionate owners, Alexia Ryan and Erik Lewis opened their shop with the dream of connecting the people of their community with delicious craft beer from the South and beyond. Here are this week's suggested pairings: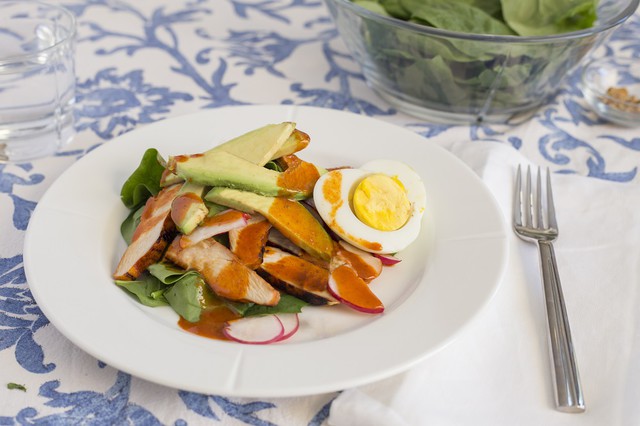 Chicken, Egg & Spinach Salad with Barbecue Spiced Vinaigrette
In the midnight hour, the czar cried more, more, more. What do you do to impress the Russian royal family with a beer? The answer is you give it more alcohol, more malt, and more hop. The Russian Imperial Stout is a tribute to excess with plenty of hop bite, deep roasted chocolate malt flavor, and a high alcohol content. For a dish of bold barbecue flavor, you need a big beer bringing lots of flavors.
Suggestion: Stone Russian Imperial Stout, Escondido, California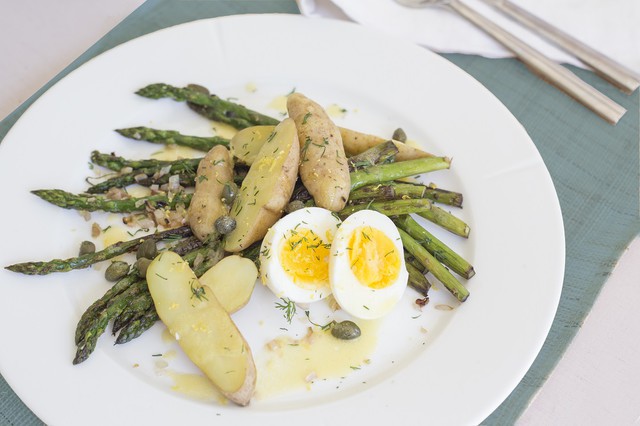 Pan-­Roasted Asparagus with Fingerling Potatoes & Soft­-Boiled Eggs
Wheat beers are wonderful beers to pair with food. They are a style of beer that is yeast forward in flavor. While hops bring bitterness, yeast brings fruit flavors and spice without having to add any other ingredients. The combination of spicy yeast and the sweet wheat is a classic combination. For this dish, a spicy wheat beer will complement a tangy vinaigrette while not detracting from the asparagus.
Suggestion: Boulevard Unfiltered Wheat Beer, Kansas City, Missouri
Georgia Local Recommendation: Monday Night Fu Man Brew, Atlanta, Georgia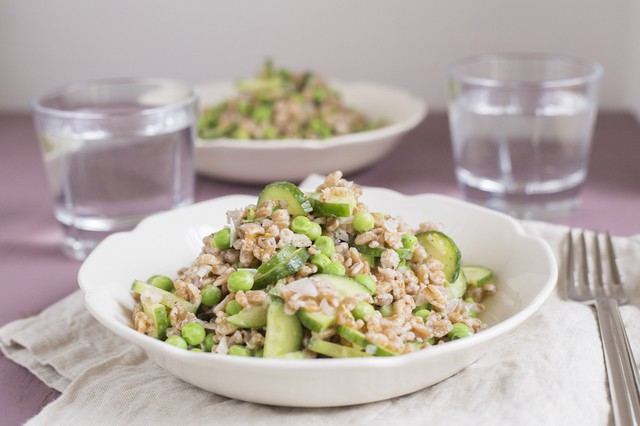 English Pea & Farro Salad with Yogurt Dressing
Not every climate or geography is appropriate for brewing lagers. Until the advent of modern air conditioning, brewing a lager in Georgia just would not have been possible. Germany and Austria had the right climate for 9 months out of the year for brewing combined with an abundance of caves to allow for the climate control needed to produce a lager. For a dish with a delicate pea flavor you want a lager- it will clear that palate and allow you to taste all the flavors without competing with the beer.
Suggestion: Stiegl, Salzbug, Austria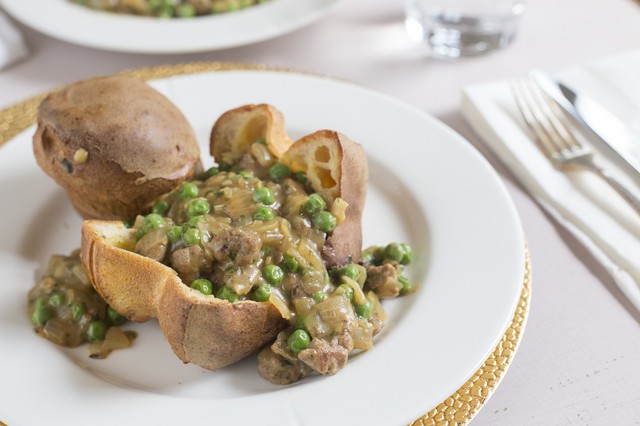 Popovers with Lamb & English Pea Gravy
What makes a Baltic Porter? Good question open to much debate: one argument is that is was a beer brewed for transport from England to the Baltic states. Because it was a colder voyage than to India they could actually ship a beer not as aggressively hopped as an IPA. The true difference from the brewer's perspective is that a Baltic Porter is a traditional porter that is fermented with lager yeast instead of ale yeast. Whatever the reason a sweet Baltic Porter will go well with the gamey lamb flavors in this dish.
Suggestion: Green Flash Cosmic Ristretto, San Diego, California
Seasonal Menus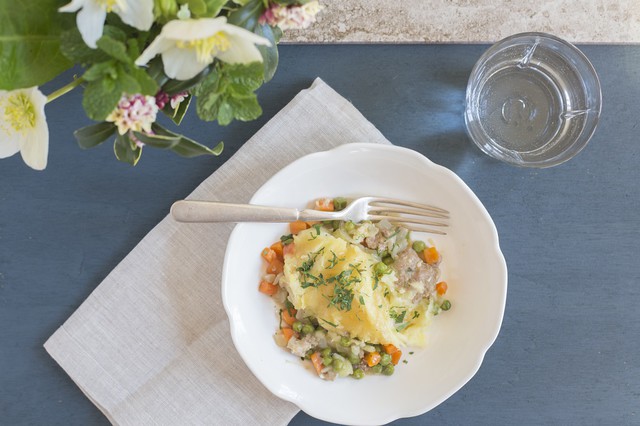 Cottage Pie with Pork, Carrots & English Peas
Did you know that ciders come in two major styles? We do not mean red apple or green apple we mean dry or sweet. European ciders lean towards dry while American ciders run sweeter. With a classic cottage pie, try a dry Irish cider as it will clean your palate between fork fulls.
Suggestion: Magners/Bulmers Dry Irish Cider, Clonmel, Ireland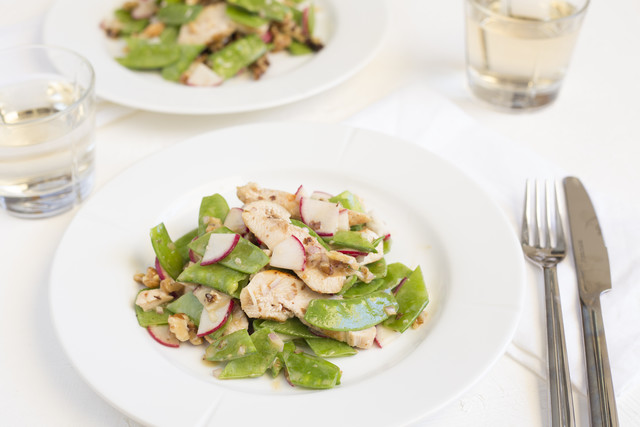 Chicken Breast, Snow Pea & Walnut Salad
As a child, my favorite thing about Chinese food was the snow peas. This flat sweet vegetable was fascinating. As an adult, I'm still a fan, but I also know that sweet complements sweet, so to bring out the sweet of the snow pea we will pair it with a hefeweizen. A hefeweizen brings the sweet with a little banana flavor which should go really well with this delicate dish.
Suggestion: Widmer Hefeweizen, Portland, Oregon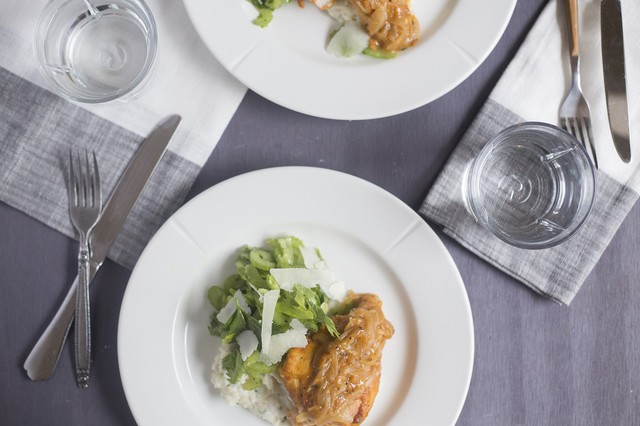 Virginia Willis' Smothered & Covered Chicken with Herb Grits and Celery Salad
Lactose has many uses in beer. You can take the lactic acid and sour a beer or use the lactose sugar to sweeten a beer. Wait, wouldn't the yeast just eat the sugar and make more alcohol? Lactose sugar is un­fermentable which means adding it not only allows the brewer to add the milk monicker but also to sweeten the beer without increasing the alcohol content. Milk stouts are the comfort food of beer and it will complement the "smothering"
Suggestion: Left Hand Milk Stout Nitro, Longmont, Colorado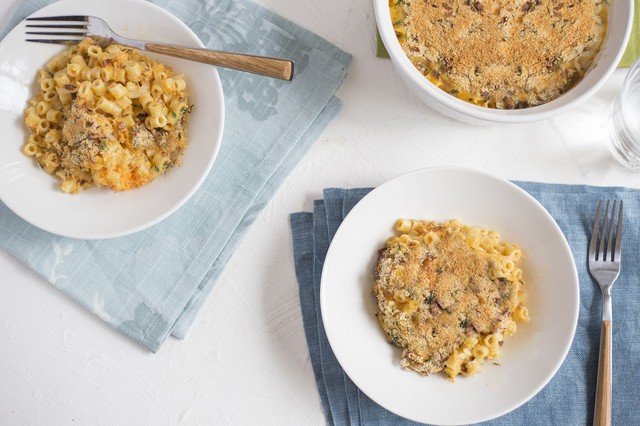 Ditalini & Spring Vegetable Casserole
Ciders are characterized as sweet or dry. Among the dry ciders, there can be several different designations of dryness much like you find in wine, but there aren't as many designations to classify a sweet cider. For a dish featuring spring vegetables we want to avoid a pairing that is too dry or too sweet so we will choose a semi­sweet cider. It should complement the spring vegetables without overshadowing with too much sweetness.
Suggestion: Bite Hard Semi Sweet Cider, Boonville, California