Beer Pairings for the Week of April 25th, 2016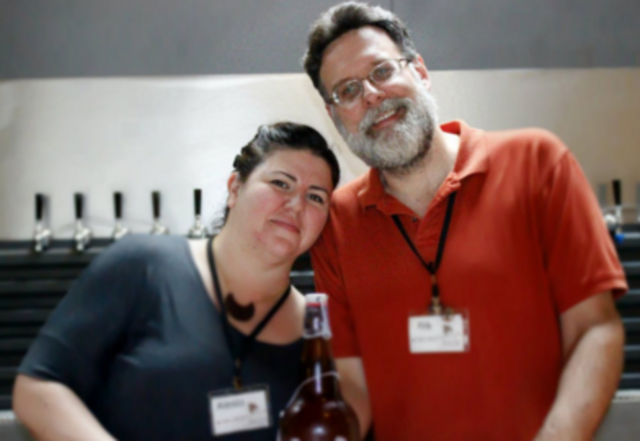 Looking for the perfect brew to go along with your PeachDish meals? We've got you covered. We've partnered with the owners of BeerGirl, a local Atlanta shop, to help you select the perfect beverage. BeerGirl's passionate owners, Alexia Ryan and Erik Lewis opened their shop with the dream of connecting the people of their community with delicious craft beer from the South and beyond. Here are this week's suggested pairings: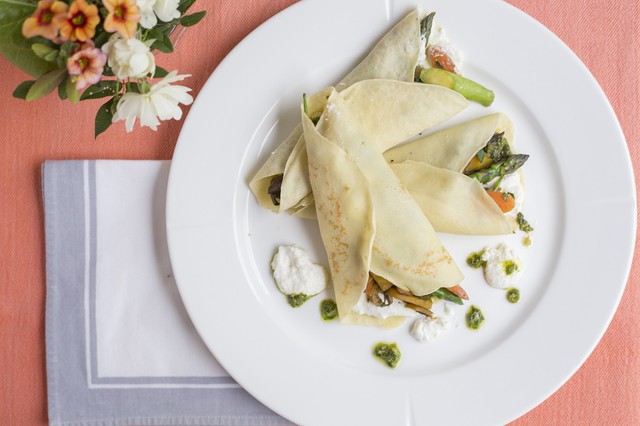 Savory Asparagus Crepe with Pesto & Ricotta
Belgian beer is more than dubbels, tripels, and quads. From cherry krieks to fruity lambics, to ales and pale ales, there is an immense variety in beer produced by one country. Why is Belgium home to so many beer styles? The answer is simple: the incredible yeast. Technically you can brew beer anywhere where the ingredients are abundant, but not all yeast is created equal. This dish has bold flavors from the asparagus and pesto along with a creaminess from the ricotta so we will pair it with a golden colored ale that brings some sweetness to the dish.
Suggestion: Affligem Blonde, Opwijk, Belgium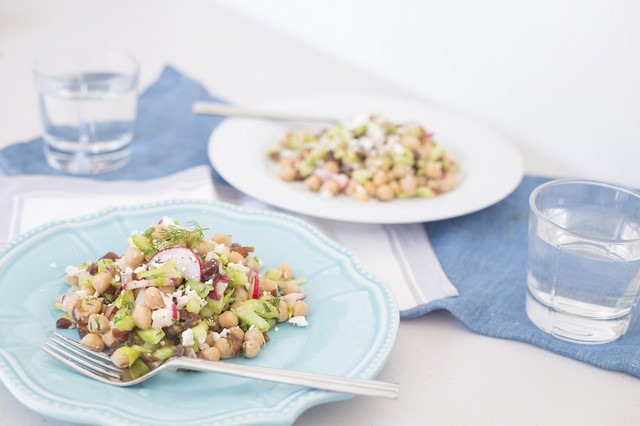 Chickpea Salad with Radishes, Feta & Dill
What is the difference between a wit, hefeweizen, and a wheat beer? The first difference is that the origin wits come from Belgium and use Belgian yeast along with coriander and orange peel. Hefeweizens come from Germany and use a unique yeast that produces banana and bubblegum flavors. The wheat beer, well that is brewed with American ale yeast. This dish has strong flavors of dill and feta so we suggest a flavored wit that brings a dose of lemony sumac as a complement.
Suggestion: Brookly Sumac Wit, Brooklyn, New York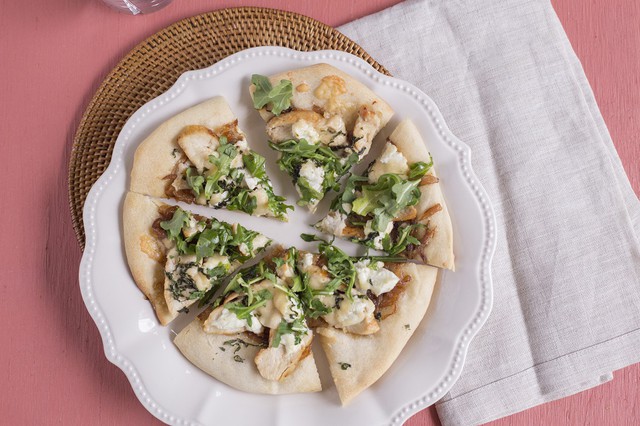 Caramelized Onion Pizza with Chicken & Arugula
Wallonia: a place of magic. Why is it magical and where is it? Wallonia, located in Belgium, is sandwiched between France, Germany, and Luxembourg and is the ancestral home to one of our favorites: the glorious Saison. Pale in color, with fruity yeast and a nice hop punch, it is a farmers beer brewed with the last of the year's harvested grain. For a dish of big flavors like peppery arugula and sweet onion, a beer that has a sweet and peppery component will be a nice complement.
Georgia Local Recommendation: Reformation Quest Belgian Saison, Woodstock, Georgia
Suggestion: Blackberry Farms Classic Saison, Walland, Tennessee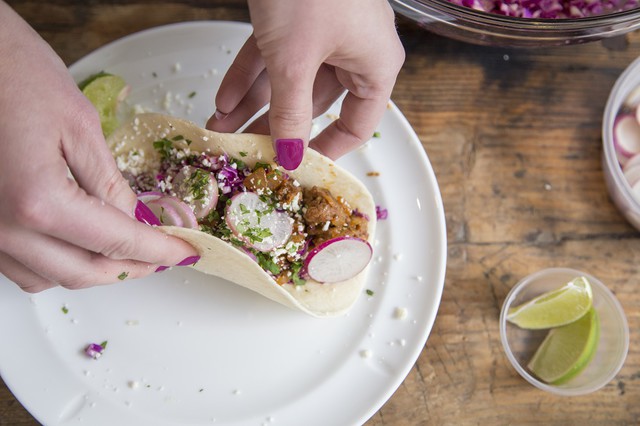 Beef Tacos with Red Cabbage Slaw, Radish & Lime
So why is Mexico all about lagers? Well, a little history: when you are the younger brother of an Austrian Arch­Duke there is little room in the family business for you, so in a shady deal with Napoleon, you become Emperor of Mexico. What do you do? You bring Vienna with you and hence, lagers arrived in Mexico. A crisp lager will complement these tacos letting them take center stage.
Suggestion: Brooklyn Lager, New York City, New York
Seasonal Menus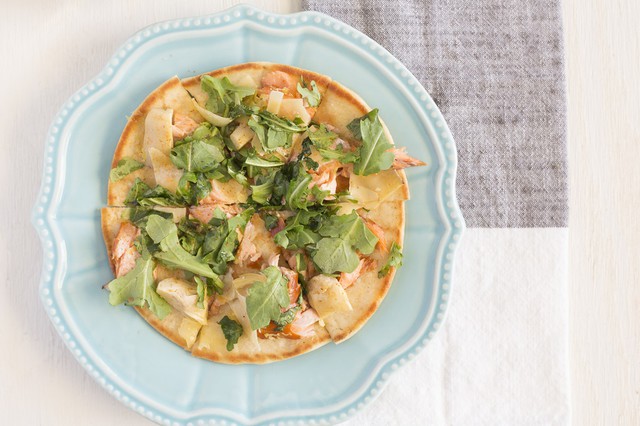 Flatbread with Smoked Salmon, Artichoke & Arugula
We've said it before: wheat beers are under appreciated for their ability to convey flavors. Hefeweizen or wit the wheat beer can be as complicated as the brewer's imagination. Recently, brewers have started realizing that wheat beer should be embraced and celebrated; hopefully the hop heads amongst us will realize every beer does not have to be bitter to be good. To help the hop lovers make that tradition, we suggest a hoppy wheat beer to complement the bitter arugula while not overshadowing the other flavors.
Suggestion: 80 Acre Hoppy Wheat, Kansas City, Missouri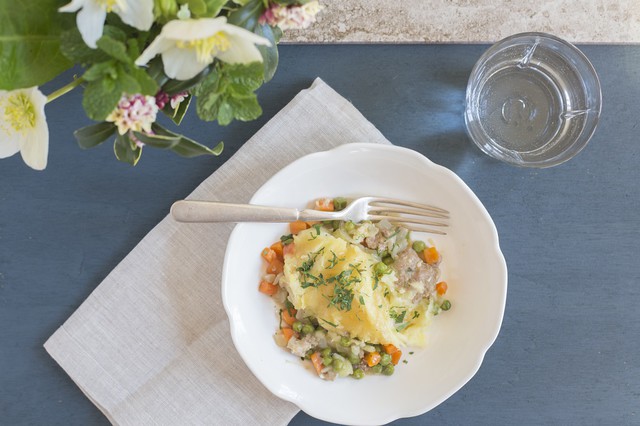 Cottage Pie with Pork, Carrots & English Peas
Did you know that ciders come in two major styles? We do not mean red apple or green apple we mean dry or sweet. European ciders lean towards dry while American ciders run sweeter. With a classic cottage pie, try a dry Irish cider it will clean your palate between fork fulls.
Suggestion: Magners/Bulmers Dry Irish Cider, Clonmel, Ireland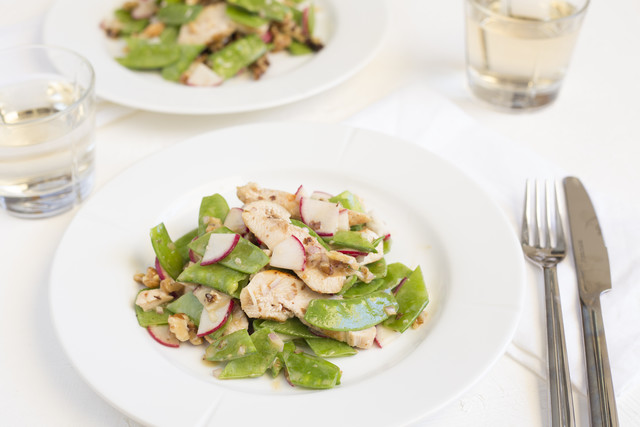 Chicken Breast, Snow Pea & Walnut Salad
As a child, my favorite thing about Chinese food were the snow peas. This flat sweet vegetable was fascinating. As an adult, I'm still a fan, but I also know that sweet complements sweet so to bring out the sweet of the snow pea we will pair it with a hefeweizen. A hefeweizen brings the sweet with a little banana flavor which should go really well with this delicate dish.
Suggestion: Widmer Hefeweizen, Portland, Oregon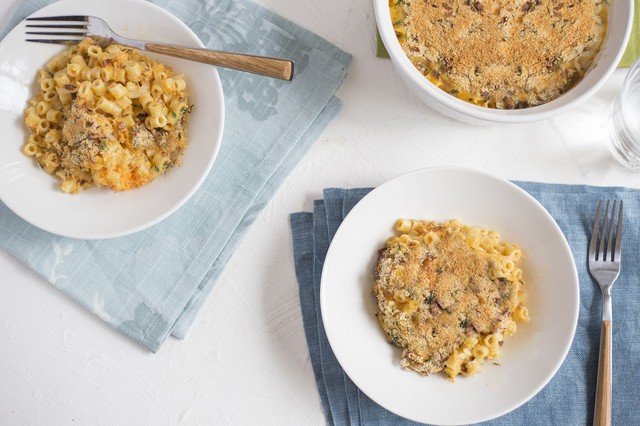 Ditalini & Spring Vegetable Casserole
Ciders are characterized as sweet or dry. Among the dry ciders, there can be several different designations of dryness much like you find in wine, but there aren't as many designations to classify a sweet cider. For a dish featuring spring vegetables we want to avoid a pairing that is too dry or too sweet so we will choose a semi­sweet cider. It should complement the spring vegetables without overshadowing with too much sweetness.
Suggestion: Bite Hard Semi Sweet Cider, Boonville, California