Beer Pairings for the Week of April 4th, 2016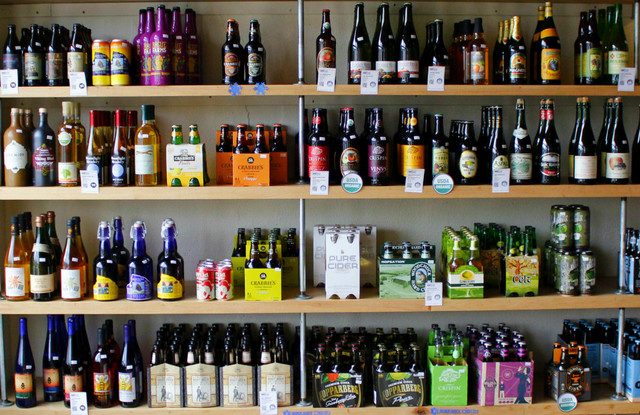 Looking for the perfect brew to go along with your PeachDish meals? We've got you covered. We've partnered with the owners of BeerGirl, a local Atlanta shop, to help you select the perfect beverage. BeerGirl's passionate owners, Alexia Ryan and Erik Lewis opened their shop with the dream of connecting the people of their community with delicious craft beer from the South and beyond. Here are this week's suggested pairings: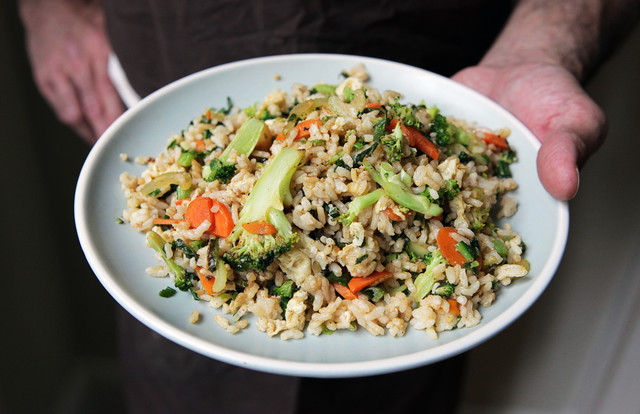 Steven Satterfield's Broccoli Fried Rice
Now that winter is officially over it is time to embrace the fruit flavored wheat beer. Citrus IPAs have been the rage this past year; the IPA has nothing on wheat beer when it comes to fruit flavors. The dirty little secret of wheat beer is the lemon or orange slice was originally added to make a spoiled beer drinkable. Don't worry the citrus is just used for flavor now. For this fried rice dish, a wheat beer flavored with passion fruit should refresh and clear the palate.
Suggestion: Green Flash Passion Fruit Kicker, San Diego, California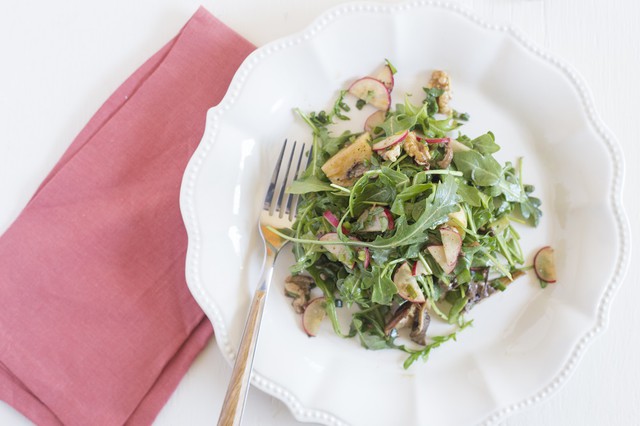 Arugula Salad with Roasted Mushrooms & Turnips
Smoke in beer is a subject that can bring craft beer fans to fisticuffs. Some think smoked beer is like drinking an ashtray, others feel it is barbecue in a glass. We are on the fence, drinking a beer with smoke can be a little overpowering, however, they pair wonderfully with a wide variety of dishes. For a dish like this with a lot of umami flavor consider a smoked beer a complementary flavor as it will keep the palate where it needs to be to truly taste all the flavors of this dish.
Suggestion: Stone Smoked Porter, Escondido, California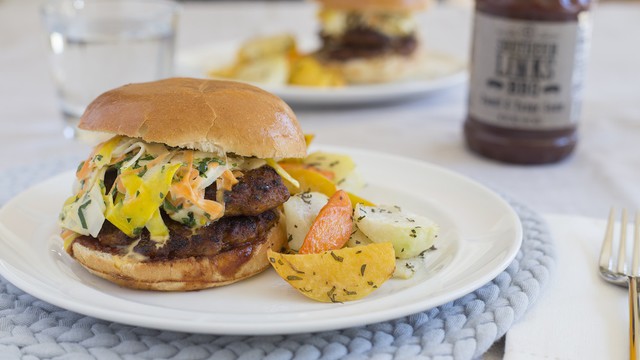 Sweet & Tangy Pork Burger with Root Veg Slaw
When you run a craft beer shop in the South, one question you hear time again is what beer to pair with barbecue. Like so many things it depends on the type of barbecue and the season. For enjoying a pork sandwich in the Spring we think a light crisp lager is a perfect match up. It will refresh your palate and let you enjoy each bite of deliciousness.
Suggestion: Cigar City Tampa Style Lager, Tampa, Florida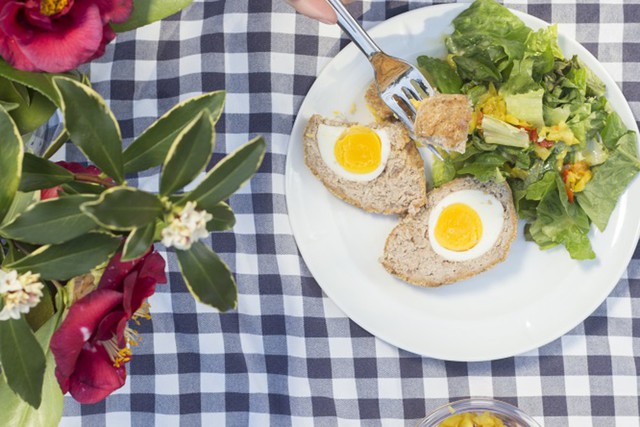 'Scotch Egg' with Chow Chow & Spring Lettuce
Scotch Egg? This beer pairing writes itself. Scotch Ales use a smoked malt: as the story goes, the English would keep the good unburnt malts for their beer and sell the Scots the burnt malt. That story is somewhat debatable based on the fact the Scots have a tradition of liking smoky flavors like those found in scotch. While a Scotch Egg is traditionally made with sausage instead of chicken we feel that a Scotch Ale is still the correct choice for this meal.
Georgia Local Recommendation: Monday Night Drafty Kilt, Atlanta, Georgia
Suggestion: Founders Dirty Bastard, Grand Rapids, Michigan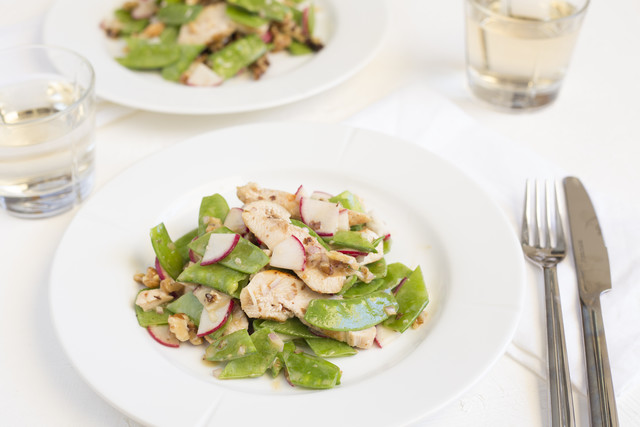 Chicken Breast, Snow Pea & Walnut Salad
As a child, my favorite thing about Chinese food was the snow peas. This flat sweet vegetable was fascinating. As an adult, I'm still a fan, but I also know that sweet complements sweet so to bring out the sweet of the snow pea we will pair it with a hefeweizen. A hefeweizen brings the sweet with a little banana flavor which should go really well with this delicate dish.
Suggestion: Widmer Hefeweizen, Portland, Oregon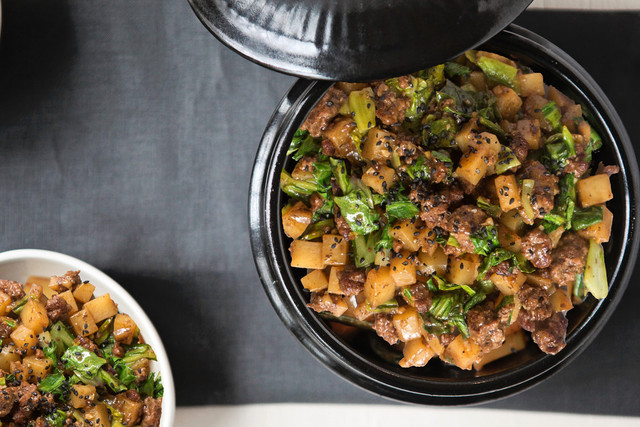 Beef Hot Pot with Asian Greens, Ginger and Potatoes
Serious beer fans often look down upon the wheat beer. Wheat beers tend to be sweeter with little emphasis on hop bitterness. Beer is about more than one dimension. Why do we like wheat beers? They are wonderful as a conveyance for other flavors. When you are at a bar ask the bartender if he would muddle some mint and add it to a wheat beer. Trust us, you will love it. As for this dish, I think a little lemon grass will make the ginger pop.
Georgia Local Recommendation: Second Self Thai Wheat, Atlanta, Georgia
Suggestion: Boulevard Unfiltered Wheat, Kansas City, Missouri (try add some mint to it)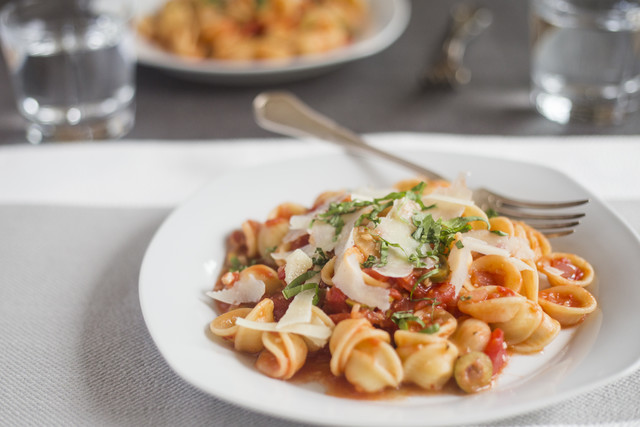 Spicy Puttanesca, Orecchiette, with Olives & Pecorino
The classic answer to this pairing would be to equate the tannins in a chianti to hops and choose and IPA. Kinda boring for a pairing. In this dish we would prefer to complement the fruity tomato with a fruity Belgian yeast Consider a farmhouse ale, yes they have hops, but they also have fruity yeast esters that will complement the fruity tomato.
Suggestion: Ommegang Hennepin, Cooperstown, New York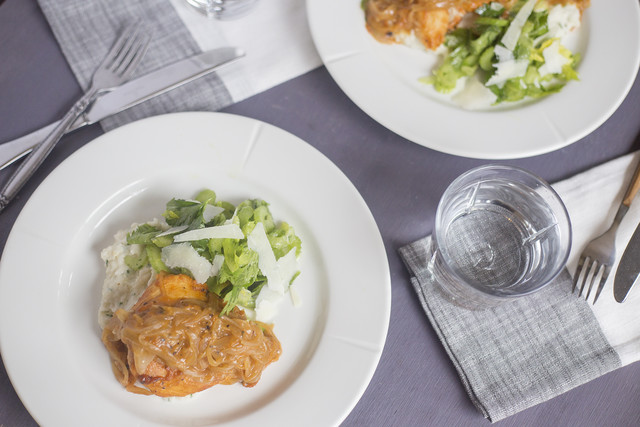 Virginia Willis' Smothered & Covered Chicken with Herb Grits and Celery Salad
Lactose has many uses in beer. You can take the lactic acid and sour a beer, or use the lactose sugar to sweeten a beer. Wait, wouldn't the yeast just eat the sugar and make more alcohol? Lactose sugar is un­fermentable which means adding it not only allows the brewer to add the milk monicker but also to sweeten the beer without increasing the alcohol content. Milk stouts are the comfort food of beer and it will complement the "smothering."
Suggestion: Left Hand Milk Stout Nitro, Longmont, Colorado