Beer Pairings for the Week of April 11th, 2016
Looking for the perfect brew to go along with your PeachDish meals? We've got you covered. We've partnered with the owners of BeerGirl, a local Atlanta shop, to help you select the perfect beverage. BeerGirl's passionate owners, Alexia Ryan and Erik Lewis opened their shop with the dream of connecting the people of their community with delicious craft beer from the South and beyond. Here are this week's suggested pairings:
Fava Bean & Mushroom Risotto
Nothing says Spring like a wheat beer. Well, wheat beer and the yellow dusting of pollen covering everything in Georgia. Wheat beers are sweeter than beer brewed with barley because wheat is a sweeter malt. A Belgian Wit will highlight the springtime fava beans sweetness and bring a little yeast spice to the creamy risotto.
Suggestion: Bavik­De Brabandere Wittekerke, Harelbeke, Belgium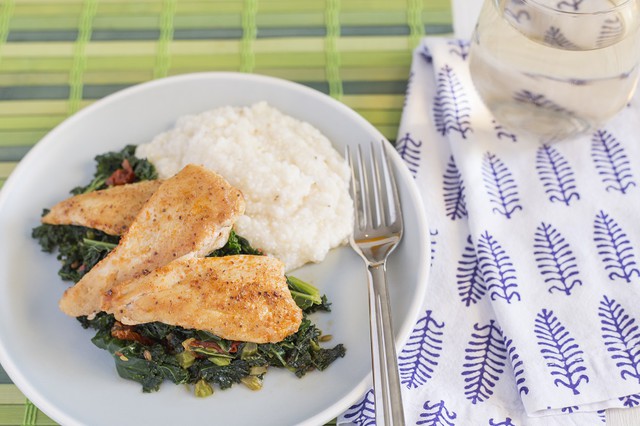 Chicken with Garlicky Kale & Grits
Why exactly are pale ales considered pale? Typical British ales were described as bitters or milds. The chief difference was in the number of hops added to the beer. A modern pale ale would be considered a bitter brewed with lighter malts. Compare a traditional British style bitter to a pale ale and you will see the remarkable color differences. The bitter would appear much browner in color. For this dish, a hoppy pale ale will really enhance the garlic flavor.
Suggestion: Wicked Weed Napoleon Complex, Asheville, North Carolina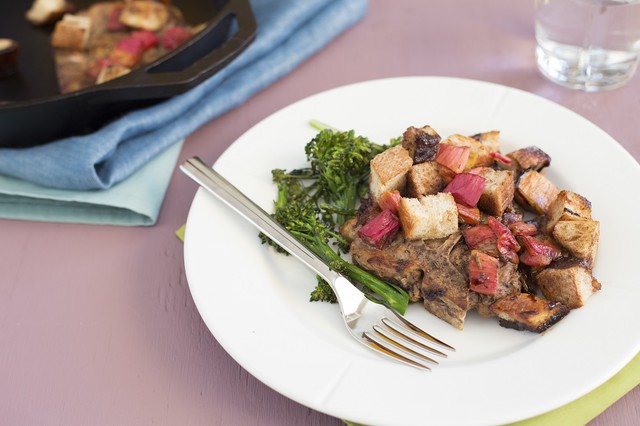 Sheri Castle's Pork Chops with Rhubarb Pan Dressing
Sour beers, you either love them or hate them. There is little middle ground, but you can learn to love them. Beers can be soured using bacteria, the same stuff that sours milk, or a wild yeast strain. Not all yeasts produce alcohol and some yeasts produce alcohol in a way that sours beer. For sweet and sour rhubarb we suggest a like pairing of a yeast soured beer, bringing sweet and sour flavors like tart cherry to the palate.
Suggestion: Boulevard Love Child #6, Kansas City, Missouri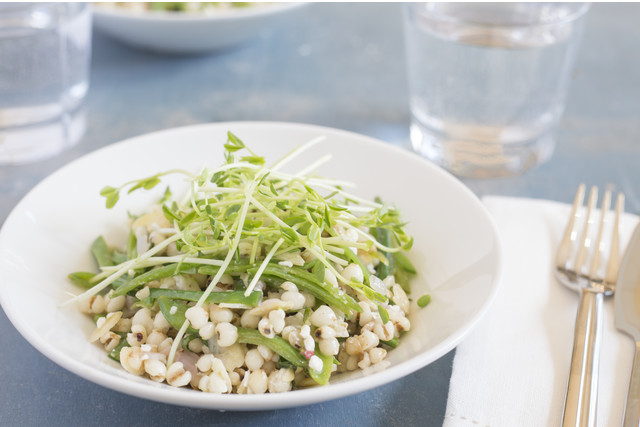 Sugar Snap Pea & Barley Salad
Kölsch: the beer style using both top fermenting yeast and bottom fermenting yeast producing a light beer with characteristics of an ale and a lager. A kölsch starts with ale yeast for its primary fermentation and is finished with a lager yeast for a secondary fermentation. A challenging beer to brew, the kölsch exhibits the fruity flavors of an ale with the crispness of a lager. Pair a dish highlighting the sugar snap pea with a kölsch that complements the sweetness without overshadowing.
Georgia Local Recommendation: Eventide Kölsch, Atlanta, Georgia
Suggestion: Sünner Kölsch, Cologne, Germany
Seasonal Menus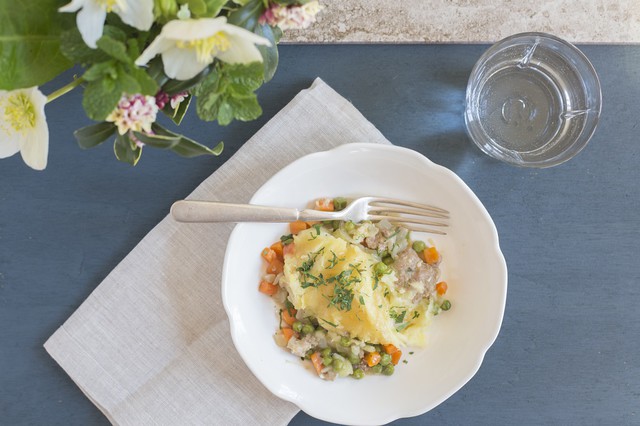 Cottage Pie with Pork, Carrots & English Peas
Did you know that ciders come in two major styles? We do not mean red apple or green apple, we mean dry or sweet. European ciders lean towards dry while American ciders run sweeter. With a classic cottage pie, try a dry Irish cider it will clean your palate between fork fulls.
Suggestion: Magners/Bulmers Dry Irish Cider, Clonmel, Ireland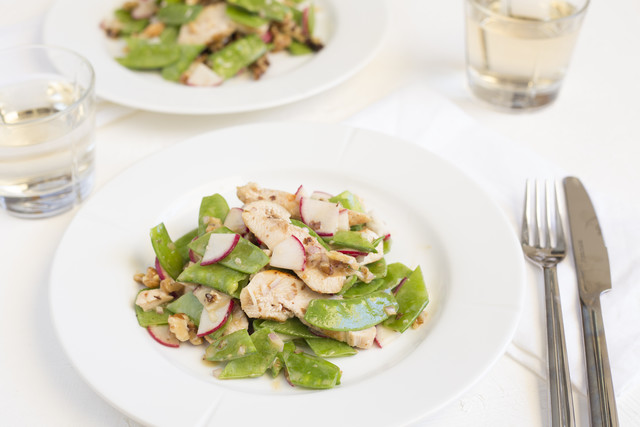 Chicken Breast, Snow Pea & Walnut Salad
As a child, my favorite thing about Chinese food were the snow peas. This flat sweet vegetable was fascinating. As an adult, I'm still a fan, but I also know that sweet complements sweet so to bring out the sweet of the snow pea we will pair it with a hefeweizen. A hefeweizen brings the sweet with a little banana flavor which should go really well with this delicate dish.
Suggestion: Widmer Hefeweizen, Portland, Oregon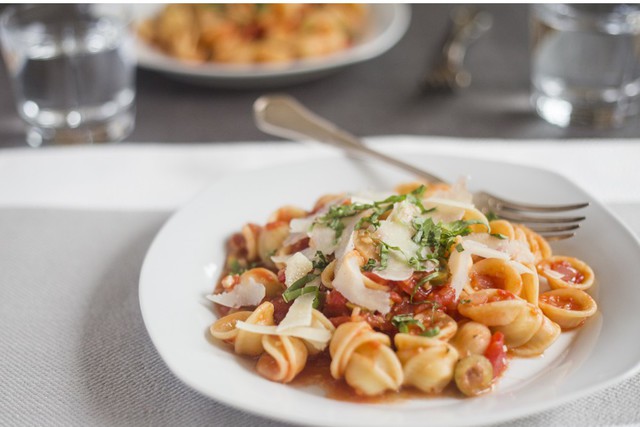 Spicy Puttanesca, Orecchiette, with Olives & Pecorino
The classic answer to this pairing would be to equate the tannins in a chianti to hops and choose an IPA. Kinda boring for a pairing. In this dish we would prefer to complement the fruity tomato with a fruity Belgian yeast Consider a farmhouse ale, yes they have hops, but they also have fruity yeast esters that will complement the fruity tomato.
Suggestion: Ommegang Hennepin, Cooperstown, New York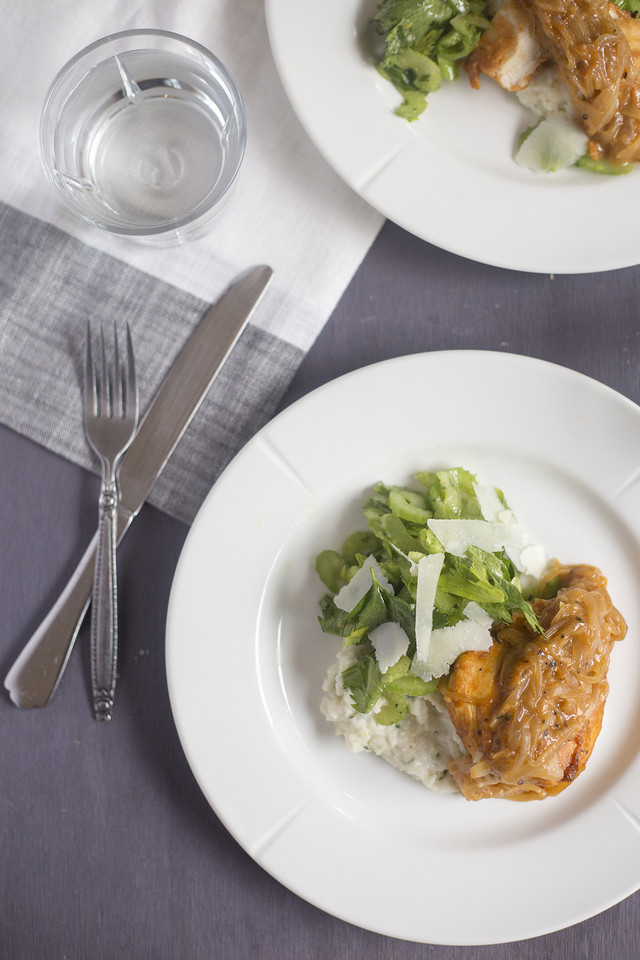 Virginia Willis' Smothered & Covered Chicken with Herb Grits and Celery Salad
Lactose has many uses in beer. You can take the lactic acid and sour a beer, or use the lactose sugar to sweeten a beer. Wait, wouldn't the yeast just eat the sugar and make more alcohol? Lactose sugar is un­fermentable which means adding it not only allows the brewer to add the milk monicker but also to sweeten the beer without increasing the alcohol content. Milk stouts are the comfort food of beer and will complement the "smothering."
Suggestion: Left Hand Milk Stout Nitro, Longmont, Colorado