Wine Pairings for the Week of April 18th, 2016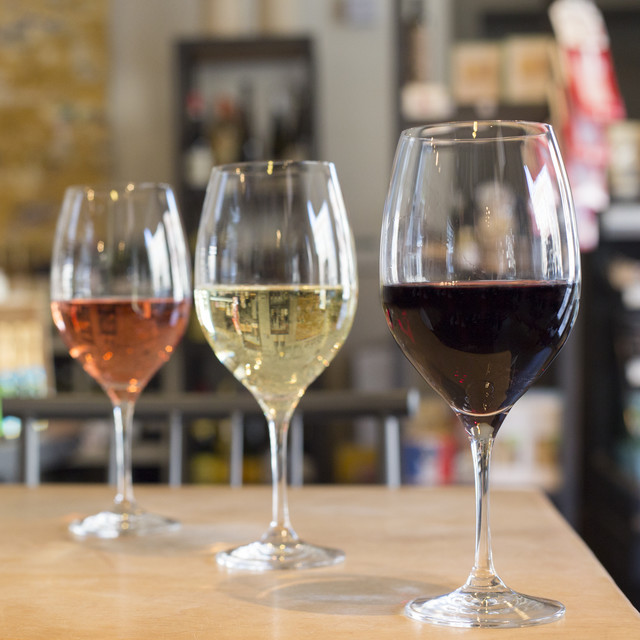 Each week, Wine Specialist Sarah Pierre brings you suggestions to complement your PeachDish meals. Sarah is one of the owners at 3 Parks Wine Shop in Glenwood Park, Atlanta. She paired up with the team of The Shed at Glenwood and The Pig and The Pearl and opened 3 Parks in 2013. Prior to opening the store, she spent most of her career working and managing notable restaurants in Atlanta and New York City. Sarah selects all of the wines that are offered at 3 Parks Wine Shop and also assists in pairing wines for local events and dinners throughout Atlanta.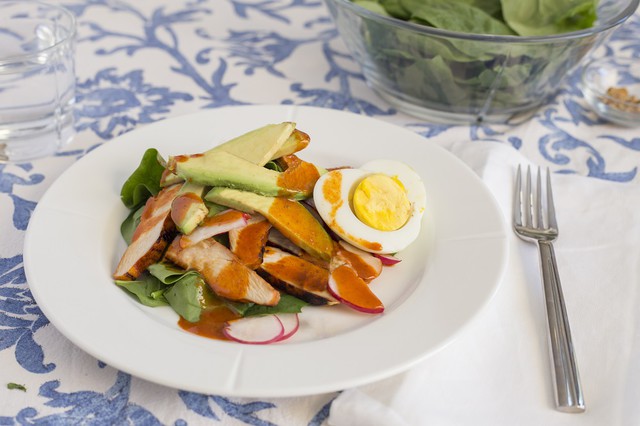 Chicken, Egg & Spinach Salad with Barbecue Spiced Vinaigrette
Merlot - Even though this dish is a salad, with chicken, egg, and avocado, it can definitely stand up to a red wine. Be careful though, some Merlots can be extremely tannic and full bodied - you're looking for a Merlot that is a bit softer in style. Suggestion: Hedges Independent Producers Merlot, Columbia Valley, CA
Chenin Blanc - Whether you get a Chenin Blanc that is off-dry (slightly sweet) or bone-dry, the wine will pair perfectly! Suggestion: Champalou Vouvray, Loire, France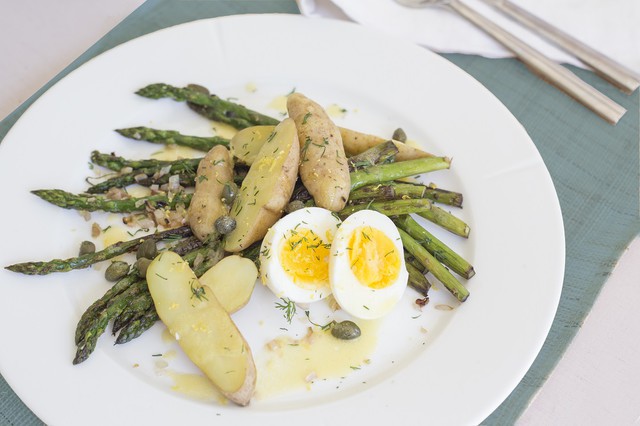 Pan-Roasted Asparagus with Fingerling Potatoes & Soft-Boiled Eggs
Sauvignon Blanc - This dish calls for a dry, unoaked, white wine that is herbaceous and crisp. Sauvignon Blanc is the perfect match known for its ability to pair with asparagus, dill, capers, and lemon (which can all be difficult to pair wine with). Suggestion: Henri Bourgeois Les Baronnes Sancerre, Loire, France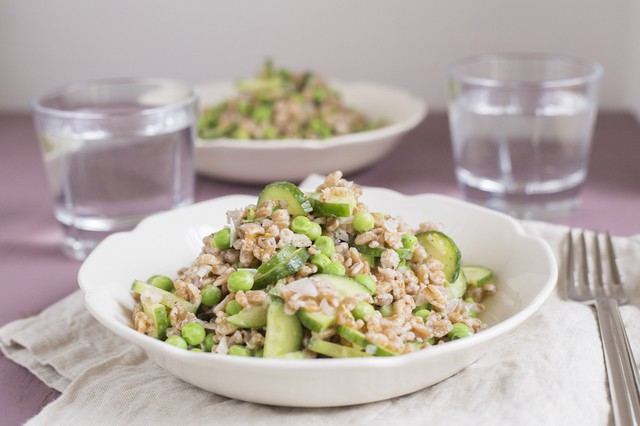 English Pea & Farro Salad with Yogurt Dressing
Albariño - Pair this PeachDish with a glass of Albariño! This white wine is bright, fresh, citrusy and slightly tropical. The wine has a nice round texture on the palate with bright lemon notes, pairing nicely with the refreshing yogurt dressing.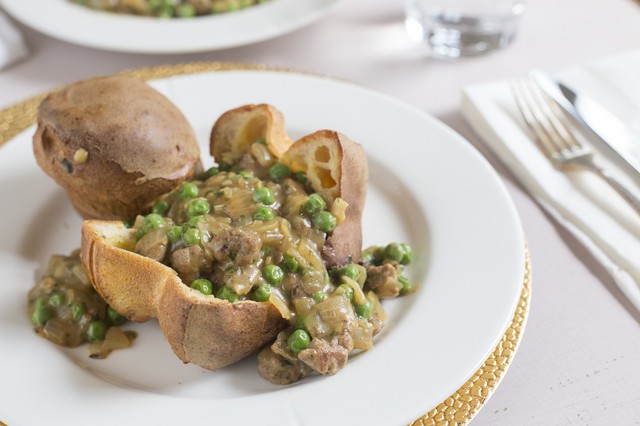 Popovers with Lamb & English Pea Gravy
Red Blend - And if you can find a Lebanese Blend such as Chateau Musar, you're in for a pleasant surprise. If not, a nice, supple California Red Blend will also do well. Suggestion: Chateau Musar. Bekaa Valley, Lebanon
Seasonal Menus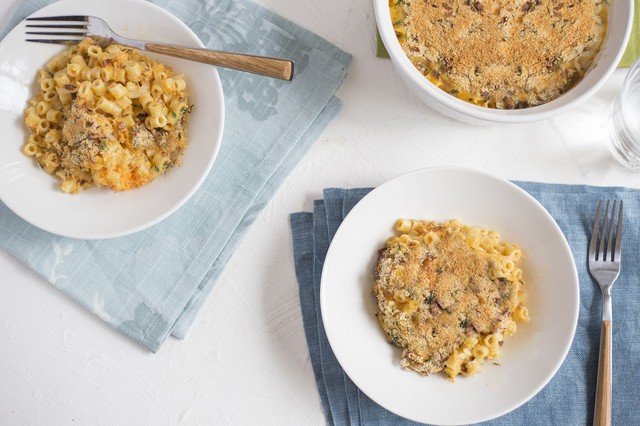 Ditalini & Spring Vegetable Casserole
Your Favorite Wine - I have paired more wines that I can count with Macaroni and Cheese and 98% of them always work with the dish. You can go red or white, just pick a wine that makes you happy, because if you're anything like myself, Mac n Cheese always makes me happy.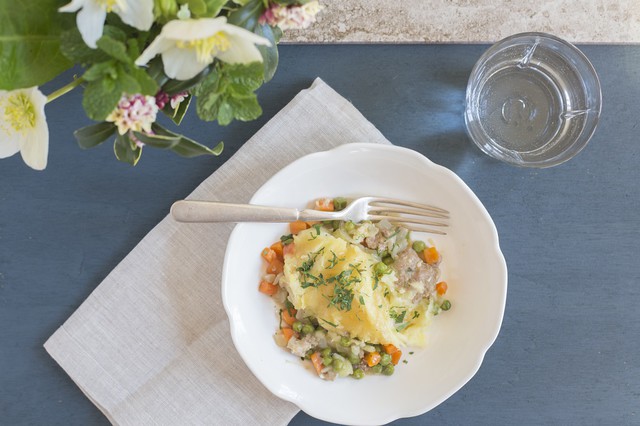 Cottage Pie with Pork, Carrots & English Peas
Barbera - A 'Southern' Cottage Pie paired with a glass of Barbera is the way to go. I would be sure to find a bottle of Barbera d'Alba rather than Barbera d'Asti. You'll find more rich flavor, intensity and body in the d'Alba - perfect for the creamy, buttery mashed potatoes. Suggestion: Vietti Barbera d'Alba, Piedmont, Italy
Godello - (go-day-oh) This Spanish grape varietal makes a wine that is extremely food-friendly and tends to be a great alternative to Chardonnay. You'll be pleasantly surprised. Suggestion: Palacios Louro Godello, Valdeorras, Spain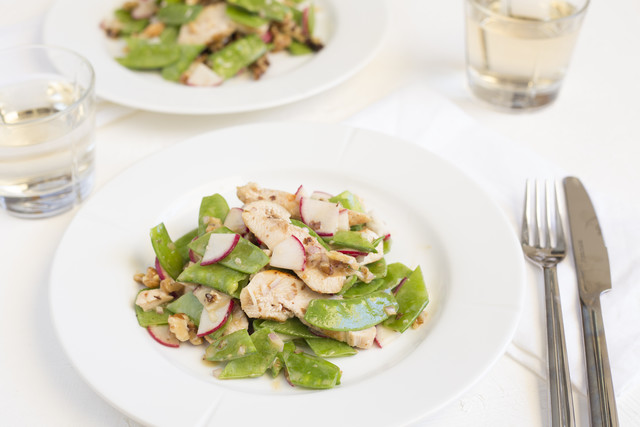 Chicken Breast, Snow Pea & Walnut Salad
Pinot Noir - Light, bright, and always great with a salad. Especially one that is dressed with a mustard vinaigrette. Suggestion: Calera Pinot Noir, Central Coast, California
Côtes du Rhône Blanc - This salad will easily be able to tackle a full, slightly earthy white. If you haven't tried one, get to your local wine shop and share it with your friends. Suggestion: M. Chapoutier Cotes du Rhone Belleruche Blanc, Rhone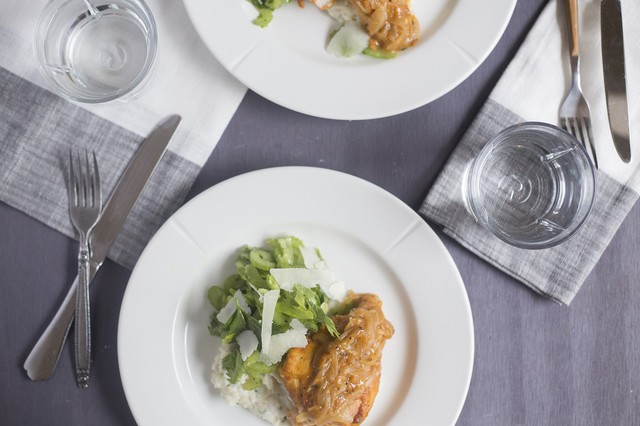 Virginia Willis Smothered & Covered Chicken with Herb Grits and Celery Salad
Chardonnay - Not only is Chardonnay a classic go-to for chicken dishes, it's also a perfect pairing for rich and creamy chicken dishes. Well oaked or fuller, round Chardonnays are best paired with cream sauce or gravy. Suggestion: Cyprus Chardonnay, Russian River Valley, CA