Beer Pairings for the Week of March 28th, 2016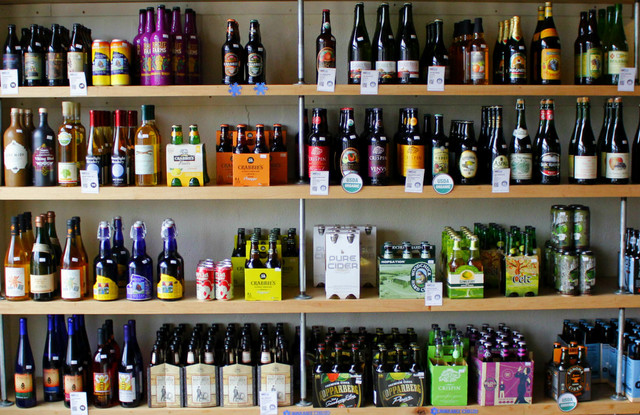 Looking for the perfect brew to go along with your PeachDish meals? We've got you covered. We've partnered with the owners of BeerGirl, a local Atlanta shop, to help you select the perfect beverage. BeerGirl's passionate owners, Alexia Ryan and Erik Lewis opened their shop with the dream of connecting the people of their community with delicious craft beer from the South and beyond. Here are this week's suggested pairings: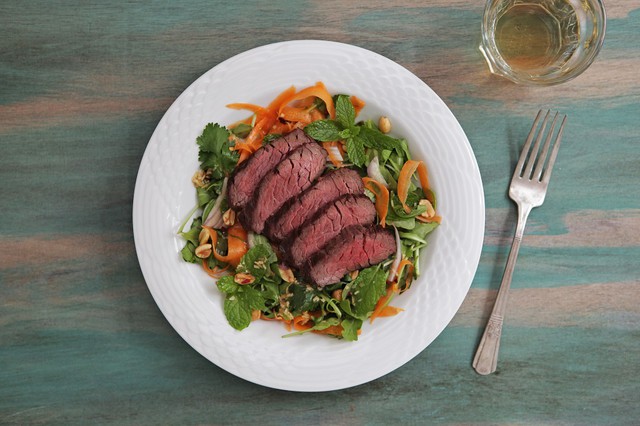 Thai­-Style Beef Salad
The crisp clean pilsner has been the palate-­clearing superstar of the beer world since 1842. The geology of the Czech Republic makes it particularly suited for making cold fermented beers especially in the town of Pils. Built on top of a series of caves where brewers could maintain the perfect temperature for bottom fermenting yeast, as well as hide from invaders, Pils was meant to brew beer. A dish like Thai­-Style Beef Salad has multiple competing flavors making this the perfect time for a pilsner to serve the noble role of palate cleanser.
Suggestion: Foothills Torch Pilsner, Winston­ Salem, North Carolina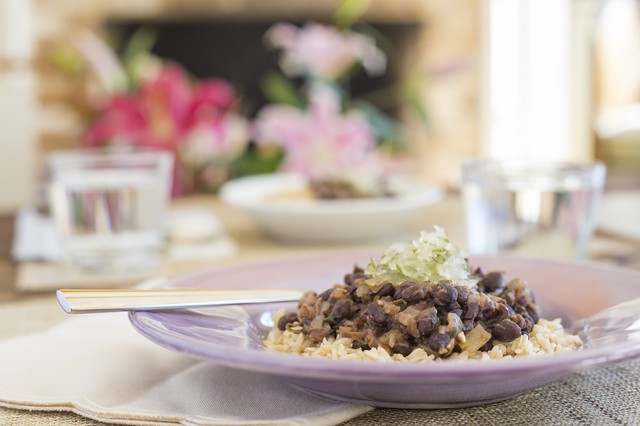 Black Beans & Rice with Pepper Relish
Wheat beer receives a lot of grief from beer geeks. That is unfortunate because the sweet wheat malt produces refreshing beer. Wheat beer is the perfect conveyance for additional flavors including hops. Wait did they just say wheat beer is good for conveying hop flavor? Yes, the sweet tames the hop bitter so you get a little bite without the normal palate killing bitterness. For this dish of sweet and spicy contrast, we recommend a hoppy wheat bringing a sweet and bitter contrast.
Suggestion: Anderson Valley Hobneelchn Hoppy Wheat, Boonville, California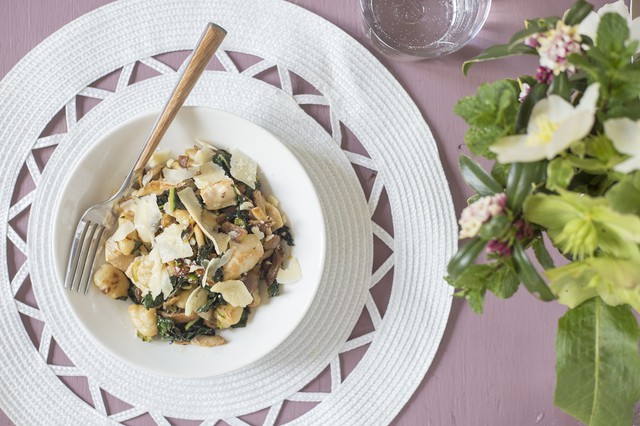 Gnocchi with Chicken, Kale, Green Garlic & Lemon
Traditional English Porters were dry beers. Dryness indicates how much residual sugar is left in a beer after the yeast has converted sugar to alcohol. A sweet tasting beer has more residual sugar. A dry taste means the yeast has consumed more sugar. A dry English style porter will allow the garlic and lemon flavors an opportunity to shine.
Suggestion: Heavy Seas Deep Six Robust Porter, Baltimore, Maryland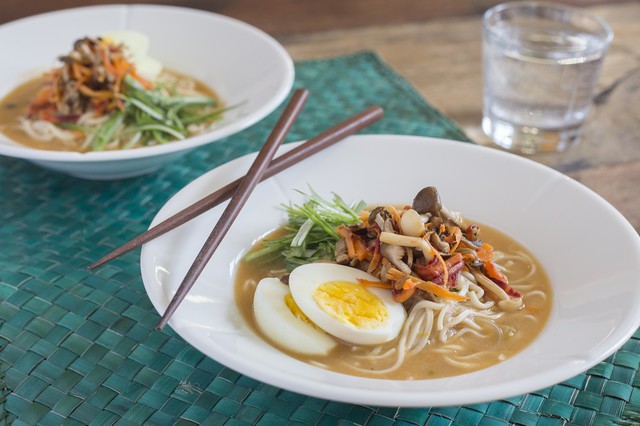 Shiro Miso Ramen with Soft­Cooked Egg, Mushrooms, Carrot & Shiso
The Saison: the proof that the French speaking Belgians can brew beer just as good as the Flemish speaking Belgians. Saisons were brewed for farm workers, who were entitled to five liters of beer per day. In a modern beer drinker's measurement, that's just shy of fourteen cans of beer. Saisons at the time were much lower in alcohol running about three percent, not the eight plus percent today. A spicy Saison will complement the miso heat in this ramen dish and also provide some needed sweetness.
Suggestion: Prairie Ale, Tulsa, Oklahoma
Seasonal Menus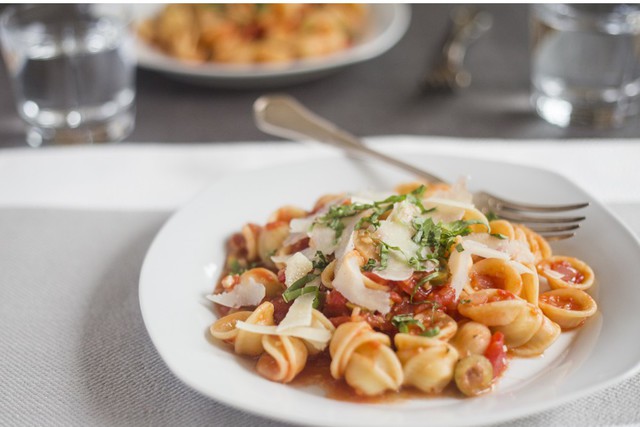 Spicy Puttanesca, Orecchiette, with Olives & Pecorino
The classic answer to this pairing would be to equate the tannins in a chianti to hops and choose an IPA. Kinda boring for a pairing. In this dish we would prefer to complement the fruity tomato with a fruity Belgian yeast. Consider a farmhouse ale. Yes, they have hops, but they also have fruity yeast esters that will complement the fruity tomato.
Suggestion: Ommegang Hennepin, Cooperstown, New York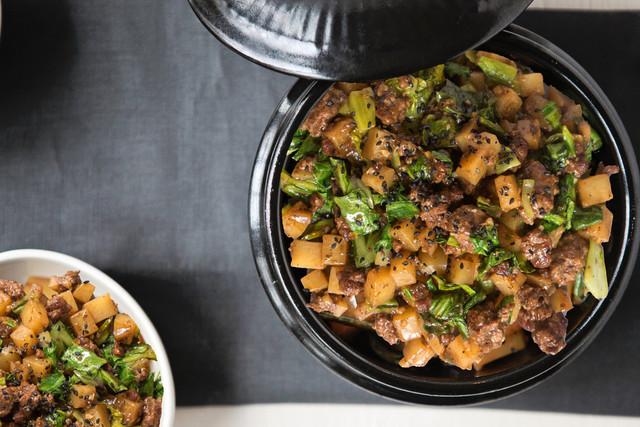 Beef Hot Pot with Asian Greens, Ginger and Potatoes
Serious beer fans often look down upon the wheat beer. Wheat beers tend to be sweeter with little emphasis on hop bitterness. Beer is about more than one dimension. Why do we like wheat beers? They are wonderful as a conveyance for other flavors. When you are at a bar ask the bartender if he would muddle some mint and add it to a wheat beer. Trust us, you will love it. As for this dish, I think a little lemon grass will make the ginger pop.
Georgia Local Recommendation: Second Self Thai Wheat, Atlanta, Georgia
Suggestion: Boulevard Unfiltered Wheat, Kansas City, Missouri (try adding some mint to it)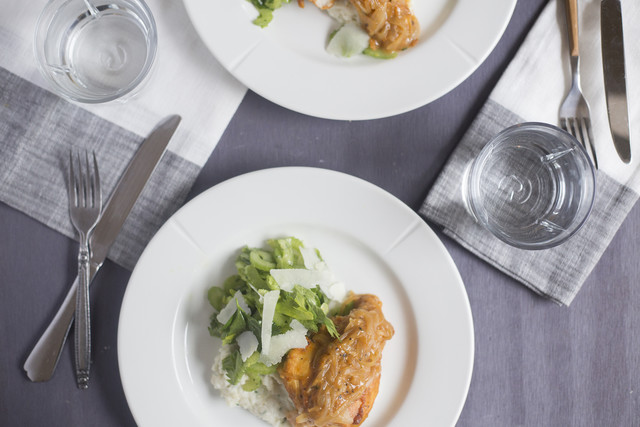 Virginia Willis' Smothered & Covered Chicken with Herb Grits and Celery Salad
Lactose has many uses in beer. You can take the lactic acid and sour a beer, or use the lactose sugar to sweeten a beer. Wait, wouldn't the yeast just eat the sugar and make more alcohol? Lactose sugar is un-fermentable which means adding it not only allows the brewer to add the milk monicker but also to sweeten the beer without increasing the alcohol content. Milk stouts are the comfort food of beer and will complement the "smothering."
Suggestion: Left Hand Milk Stout Nitro, Longmont, Colorado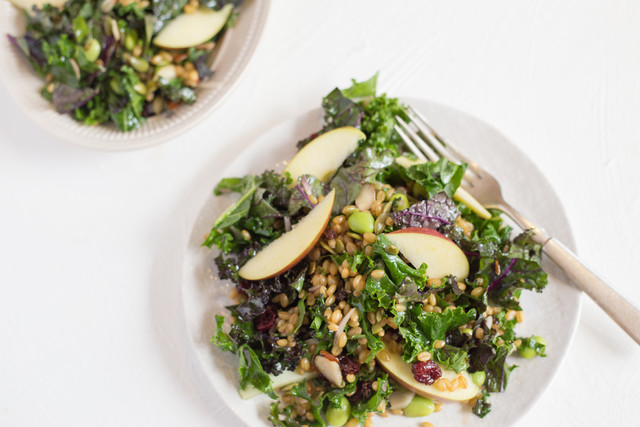 SuperFood Salad
Got to say this is a tough meal for a beer pairing, however, we are up to the task. Brewers love to experiment which leads us to kombucha beer. Is kombucha beer really a beer or is it just hopped kombucha tea? Well, that question is certainly up for debate, but if you are a fan of sour beers and kombucha it might just be your new go-to drink. With the cornucopia of flavors in this dish, a tart beer with its own superfood might be just the ticket.
Suggestion: Unity Vibration Kombucha Beer, Ypsilanti, Michigan