Beer Pairings for the Week of March 7th, 2016
Looking for the perfect brew to go along with your PeachDish meals? We've got you covered. We've partnered with the owners of BeerGirl, a local Atlanta shop, to help you select the perfect beverage. BeerGirl's passionate owners, Alexia Ryan and Erik Lewis opened their shop with the dream of connecting the people of their community with delicious craft beer from the South and beyond. Here are this week's suggested pairings: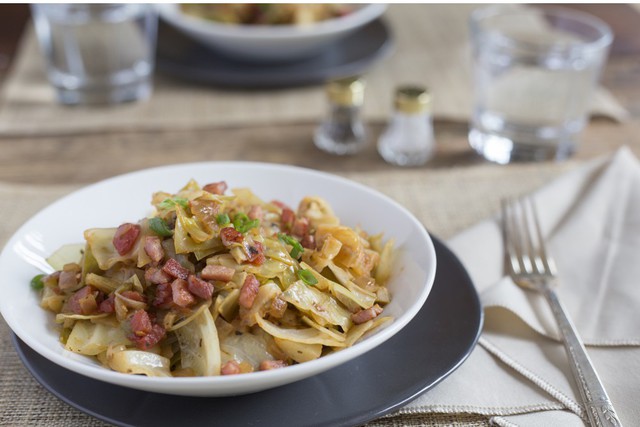 Uncle Pableaux's Cabbage with Smoked Ham & Olives
We take for granted beer can be brewed all the time, however, that wasn't always the case. Prior to refrigeration most brewing occurred in colder months, so cool cellars could protect the beer over summer. Cellar temperature probably originally started off as marketing, but we have found that it is the magic temperature to taste the hidden flavors in a beer. We think a sweet saison as the perfect complement to the salty ham and olives.
Suggestion: 21st Amendment Sneak Attack Saison, San Francisco, California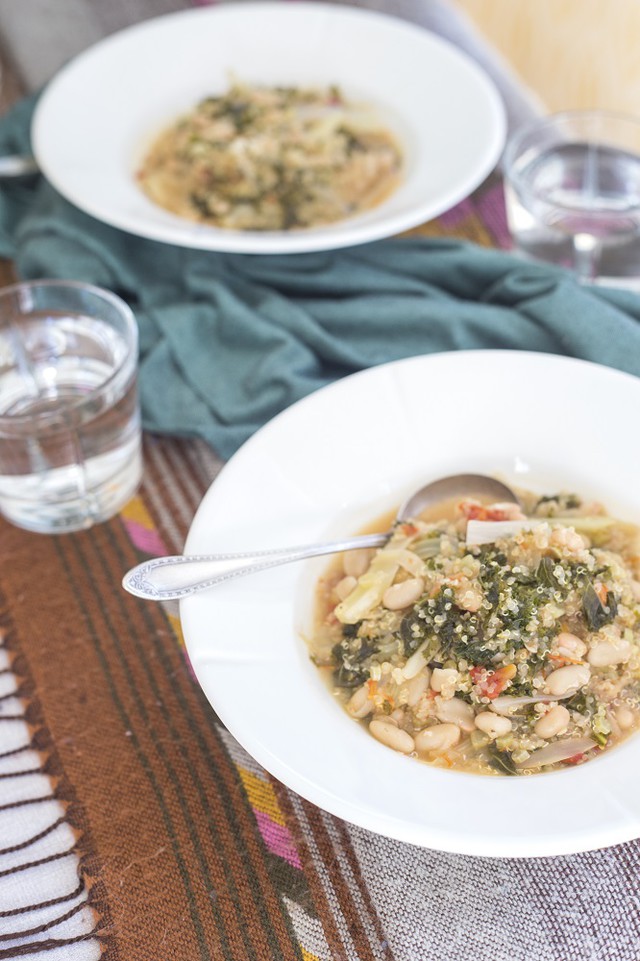 Quinoa & White Bean Porridge with Fennel & Preserved Tomato
Did you know that in Bavaria it was illegal to brew from April until September thanks to a 1553 ordinance? That is seriously unfriendly beer law. Luckily brewing in March was allowed hence the märzen. The slightly nutty flavor of this beer should pair well with the quinoa.
Suggestion: Weihentaphner Festbier, Freising, Germany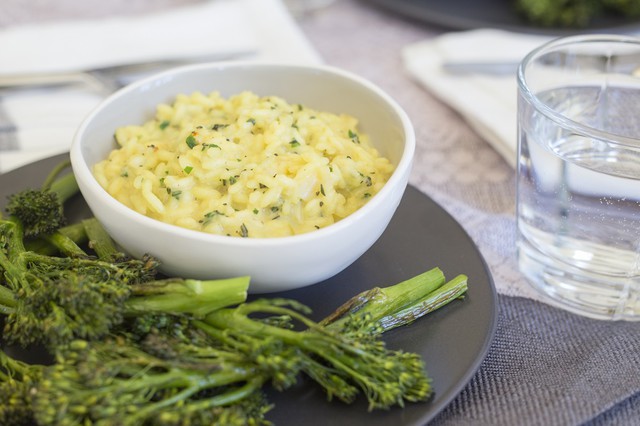 Saffron-­Herb Risotto with Roasted Broccolini
What is the difference between and Abbey Dubbel and a Trappist Dubbel? Monks! Seriously a Trappist beer must be brewed by the Trappist Order. Abbey is a term that gets bandied about by breweries that aren't associated with a monastery. For this pairing, the saffron needs to stand out so we will contrast the bitter saffron with a sweet Abbey Dubbel.
Suggestion: Ommegang Abbey Ale, Cooperstown, New York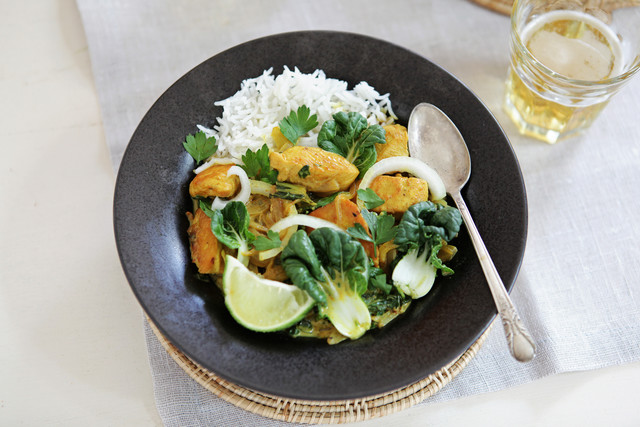 Curried Chicken Breasts with Bok Choy & Basmati Rice
Because of the craft beer industry's penchant for experimentation, we now have beers with virtually every spice profile available in the market. So, when looking to pair a dish with some regional flavor profiles, why not try a beer with the same or similar regional flavor profiles? Try something like a witbier with lemongrass and ginger that will enhance those complex curry spices.
Suggestion: Westbrook White Thai, Mount Pleasant, South Carolina
Georgia local recommendation: Second Self Thai Wheat, Atlanta, Georgia
Seasonal Menus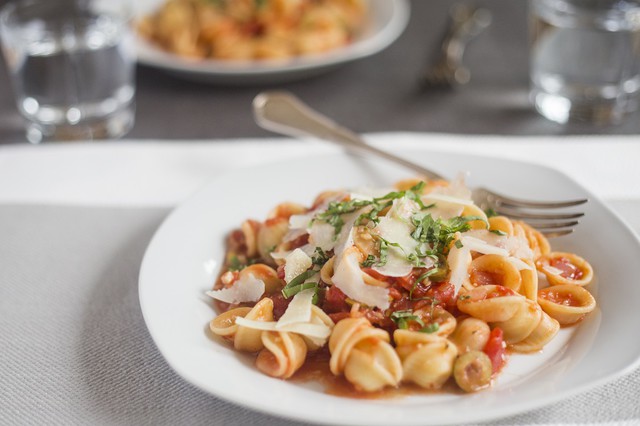 Spicy Puttanesca, Orecchiette, with Olives & Pecorino
The classic answer to this pairing would be to equate the tannins in a chianti to hops and choose an IPA. Kinda boring for a pairing. In this dish we would prefer to complement the fruity tomato with a fruity Belgian yeast. Consider a farmhouse ale. Yes, they have hops, but they also have fruity yeast esters that will complement the fruity tomato.
Suggestion: Ommegang Hennepin, Cooperstown, New York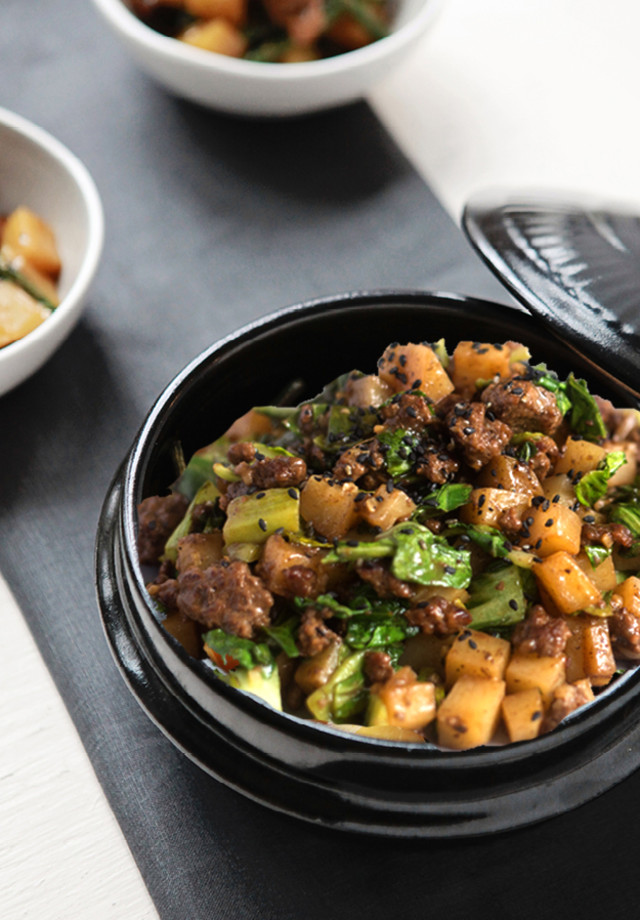 Beef Hot Pot with Asian Greens, Ginger and Potatoes
Serious beer fans often look down upon the wheat beer. Wheat beers tend to be sweeter with little emphasis on hop bitterness. Beer is about more than one dimension. Why do we like wheat beers? They are wonderful as a conveyance for other flavors. When you are at a bar ask the bartender if he would muddle some mint and add it to a wheat beer. Trust us, you will love it. As for this dish, I think a little lemon grass will make the ginger pop.
Georgia Local Recommendation: Second Self Thai Wheat, Atlanta, Georgia
Suggestion: Boulevard Unfiltered Wheat, Kansas City, Missouri (try adding some mint to it)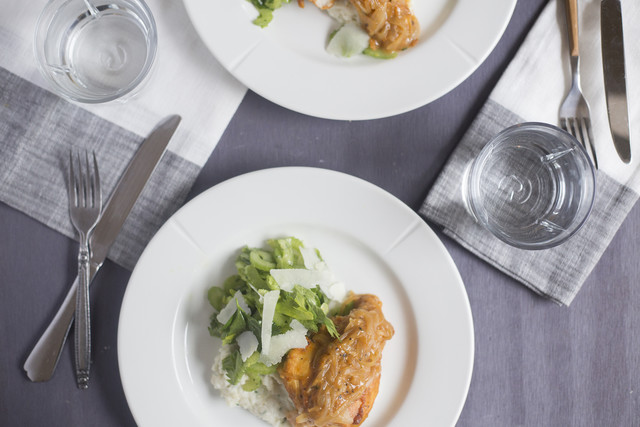 Virginia Willis' Smothered & Covered Chicken with Herb Grits and Celery Salad
Lactose has many uses in beer. You can take the lactic acid and sour a beer, or use the lactose sugar to sweeten a beer. Wait, wouldn't the yeast just eat the sugar and make more alcohol? Lactose sugar is un-fermentable which means adding it not only allows the brewer to add the milk monicker but also to sweeten the beer without increasing the alcohol content. Milk stouts are the comfort food of beer and will complement the "smothering."
Suggestion: Left Hand Milk Stout Nitro, Longmont, Colorado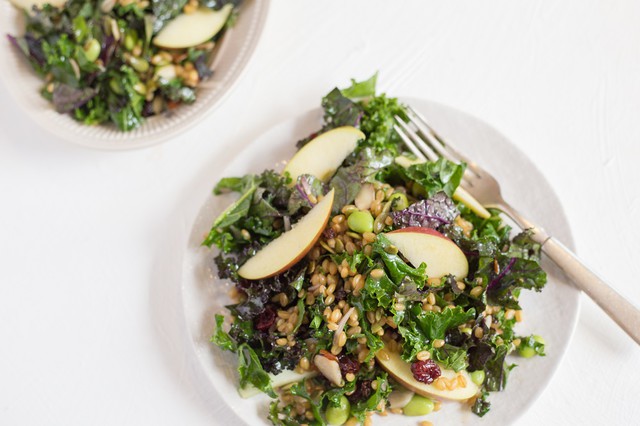 SuperFood Salad
Got to say this is a tough meal for a beer pairing, however, we are up to the task. Brewers love to experiment which leads us to kombucha beer. Is kombucha beer really a beer or is it just hopped kombucha tea? Well, that question is certainly up for debate, but if you are a fan of sour beers and kombucha it might just be your new go-to drink. With the cornucopia of flavors in this dish, a tart beer with its own superfood might be just the ticket.
Suggestion: Unity Vibration Kombucha Beer, Ypsilanti, Michigan