Your Guide to Risotto Done Right
Risotto has a reputation for being a complicated dish reserved for those blessed with talent and patience in the kitchen. That reputation, however, is exaggerated, to say the least. Risotto is actually a very simple rice dish that's delicious when prepared simply with a bit of butter and white wine, but also an excellent blank canvas for herbs, veggies and more to lend their flavors. Still mystified by this creamy comfort food? No worries - with this handy guide, you'll be ready to risotto in no time!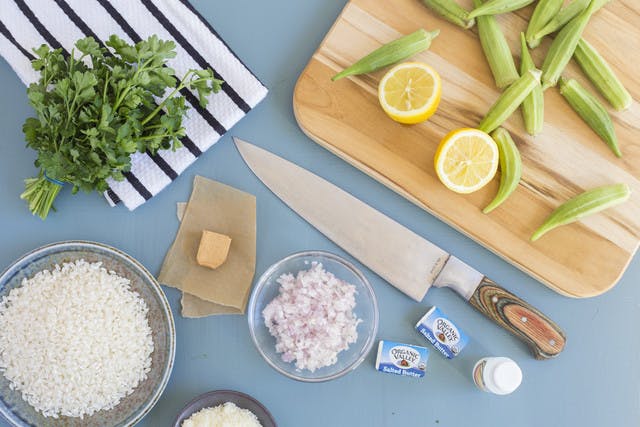 Risotto has its roots in the humble Italian cucina, where it has been prepared arguably as regularly as the Italian pasta. It was in Milan where the dish gained much popularity given the significant Spanish population and their preference for rice dishes. In Milan, risotto was traditionally cooked with saffron and white wine, giving us a traditional Milanese dish. This combo is surely delicious, but risotto can be adorned with any seasonal vegetable and herbs you please. It also pairs well with any seafood, chicken or sausage you wish to showcase, and many cheeses are perfectly happy blended into the mix.
But how does it work?
Risotto is created using a short-grain rice such as Arborio rice, which is named after the town of Arborio in Italy. There are two types of starches in rice: "hard" amylose and "soft" amylopectin, and Arborio rice has a relatively high ratio of amylopectin that yields a creamy texture when cooked. Making risotto is all about manipulating the starches in your rice - first, you'll toast the rice lightly in a hot pan in order to "open the starch" and initiate the breakdown of the grains. If using, you'll want to put butter and onions to the pan at this first step - the rule of "fat carries flavor" applies here as the bold, rich flavors permeate the rice grains as they simmer. Next, you'll introduce hot liquid - probably broth - to help release amylopectin, which is water-soluble and easily broken down. You don't go all in at once, though! You need just enough liquid in the pan to encourage the soft starch to release from the rice, and adding too much can disturb the temperature and give your risotto a less-than-desired texture.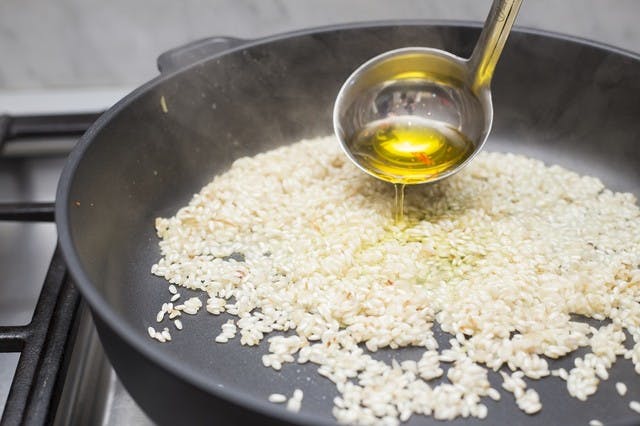 Why add wine? Other than the way that it pleasantly cuts through the rich butterfat and creamy texture, cooking with wine is a smart idea because, in addition to water-soluble and fat-soluble compounds, there are also alcohol-soluble flavor compounds just begging to be brought into the spotlight. It also makes both cooking and eating a delightful experience, especially with company, so it doesn't hurt to buy an extra bottle or two before dinnertime rolls around.
Because of its creamy, hearty texture, risotto can be a wonderful vehicle for many combinations of sauces, vegetables and meats. This dish can literally be prepared near endless variations; fresh parsley, lemon and grilled shrimp make for a nice summer meal, while hearty mushrooms and oregano result in an elegant comfort food dish to combat the wintertime chill.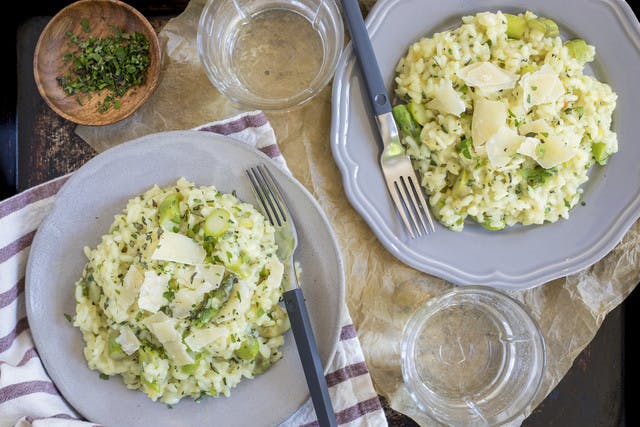 Ready to risotto? Try these recipes:
ASPARAGUS RISOTTO WITH LEMON, OREGANO & PARMESAN
SWEET POTATO RISOTTO WITH PARMESAN & NUTMEG
SAFFRON RISOTTO WITH SPINACH & PARMESAN
CORN & SUMMER SQUASH RISOTTO WITH BASIL & GRUYERE CHEESE
RISOTTO CAPRESE WITH TOMATOES, CHEESE & BASIL PESTO