Ingredient Spotlight: Grits
While it's been nearly fourteen years since Georgia declared grits as the official prepared food of the state, Georgians and Southerners alike still consider this humble dish a staple on any good soul food menu. We can thank the Native American Muskogee tribe for inventing grits by grinding corn or hominy into that gritty texture we still know and enjoy today. We can also thank the Gullah Geechee in the marshlands of the Carolinas for pairing grits with the fish they caught with the nets they cast from the low-country shores.
Finally, another tip-of-the hat goes to North Carolina chef, Bill Neal, for elevating grits beyond our grandmother's breakfast table all the way to a proper breakfast menu when he served them in a bowl of cheesey goodness and topped them with jumbo gulf shrimp. Voila! Shrimp and grits.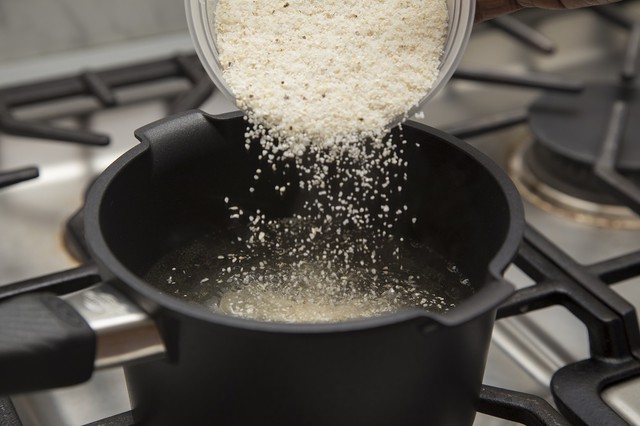 Today shrimp and grits lovers can experience literally hundreds of varieties of this dish paired with shrimp, bacon, sausage, fish or chicken during all times of the day – not only for breakfast. Grits dishes can be smothered in tomato gravy (another Southern staple) or cheese-based sauces, and adorned with a variety of toppings from roasted red peppers to fresh green onions. Top them with a fried egg, cracked black pepper and freshly grated parmesan cheese and you have a dish that earns the approval of even the most discerning of Southern chefs.
Grits and (enter your protein of choice here) can be served as a stand-alone dish or, for a healthier spin, paired with another Southern delight such as collard greens, mustard greens, and roasted tomatoes. Also pair this dish with grilled Portobello mushrooms or creamed spinach.
For our menu this week, we've chosen to pair our grits with Springer Mountain Farms chicken and collard greens to create Chicken and Grits with Collard Gravy.
Enjoy exploring this dish - the options are truly endless!
We're also loving Virginia Willis' ShortStack Edition on Grits. Find it here.