Beer Pairings for the Week of February 29th, 2016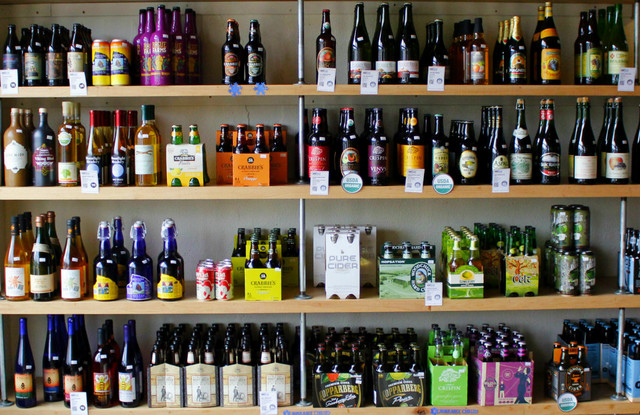 Looking for the perfect brew to go along with your PeachDish meals? We've got you covered. We've partnered with the owners of BeerGirl, a local Atlanta shop, to help you select the perfect beverage. BeerGirl's passionate owners, Alexia Ryan and Erik Lewis opened their shop with the dream of connecting the people of their community with delicious craft beer from the South and beyond. Here are this week's suggested pairings: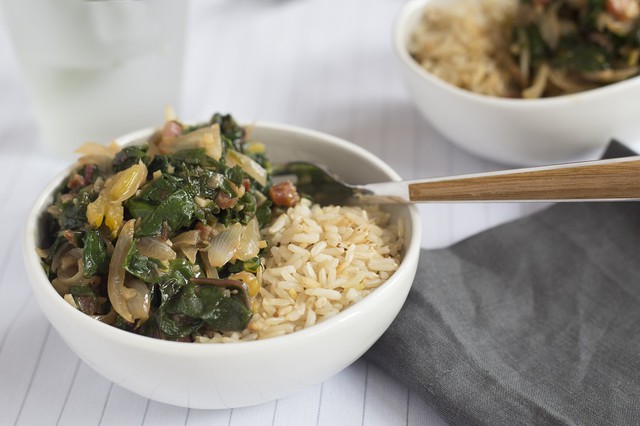 Coconut Swiss Chard over Jasmine Rice
To those who like bitter there is nothing better than a hop bittered beer. Though as we have noted the IPA mellowed considerably on the long India voyage, allowing the malt to shine. The bitterness of the chard is going to stand out from sweet coconut milk making pairing a beer against that sweetness tricky. Rather than muddle the sweet we will suggest a bitter IPA as a complement to the chard.
Suggestion: Uinta Hop Nosh, Salt Lake City, Utah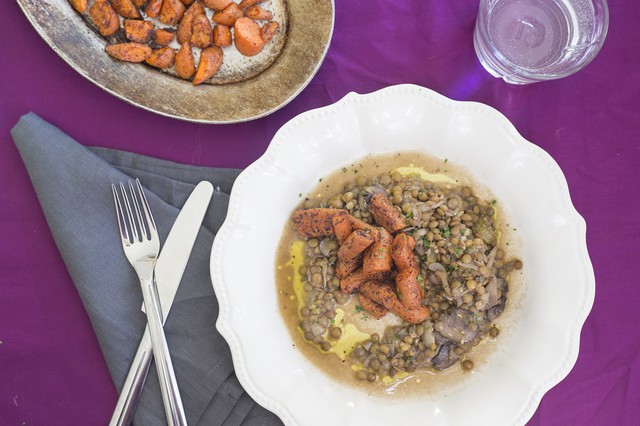 Sumac-Roasted Carrots with Lentils & Mushrooms
Why isn't there a widely available wheat beer flavored with sumac? Seriously this is a flavor that has fruit and tart all in one. Since we know of no sumac beer we are going to suggest the tart wheat beer known as gose. A traditional gose is a mix of sour beer, salt, and coriander which oddly works. We think the tart sumac will stand well against the soured wheat gose.
Suggestion: Anderson Valley Kimmie, The Yink, and the Holy Gose, Boonville, California
Georgia Local Recommendation: Blue Tarp Funk-Weiss, Decatur, Georgia
Chicken Paprikash with Brussels Sprouts and Egg Noodles
Smoke in beer has a long tradition, usually related to over-toasting the malt (the polite way of saying burning). The more toasted the malt the easier it is to mill, however over-toasted malt suffers from the husk trapping and concentrating the smoke which can have interesting effects on the grains. There are times when a smoky beer will excel, one of them is when there is a smoky complement, in this case, paprika.
Suggestion: Stone Smoked Porter, Escondido, California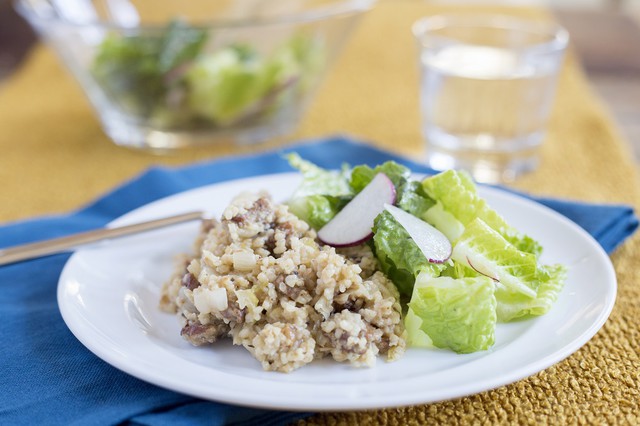 Riverview Farms Pork & Gold Rice Middlins with Baby Romaine Salad
We mostly eschew color as a beer description according to the beer judges (who clearly are ignoring Belgian white ales, American ambers, and German schwartzbier). Seriously the color of malt has long been associated with the naming conventions so a brown ale is not an oddity. As Americans, we believe in hopping it, but we hop everything. Pork just goes well with the caramel and chocolate malt profile of a brown ale.
Suggestion: New Holland Cabin Fever, Holland, Michigan
Seasonal Menus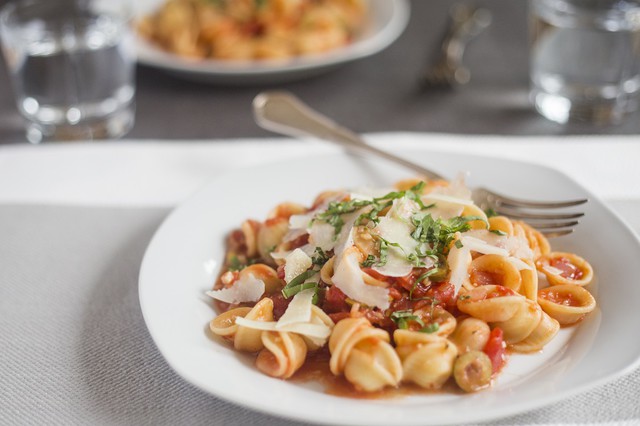 Spicy Puttanesca, Orecchiette, with Olives & Pecorino
The classic answer to this pairing would be to equate the tannins in a chianti to hops and choose an IPA. Kinda boring for a pairing. In this dish we would prefer to complement the fruity tomato with a fruity Belgian yeast. Consider a farmhouse ale. Yes, they have hops, but they also have fruity yeast esters that will complement the fruity tomato.
Suggestion: Ommegang Hennepin, Cooperstown, New York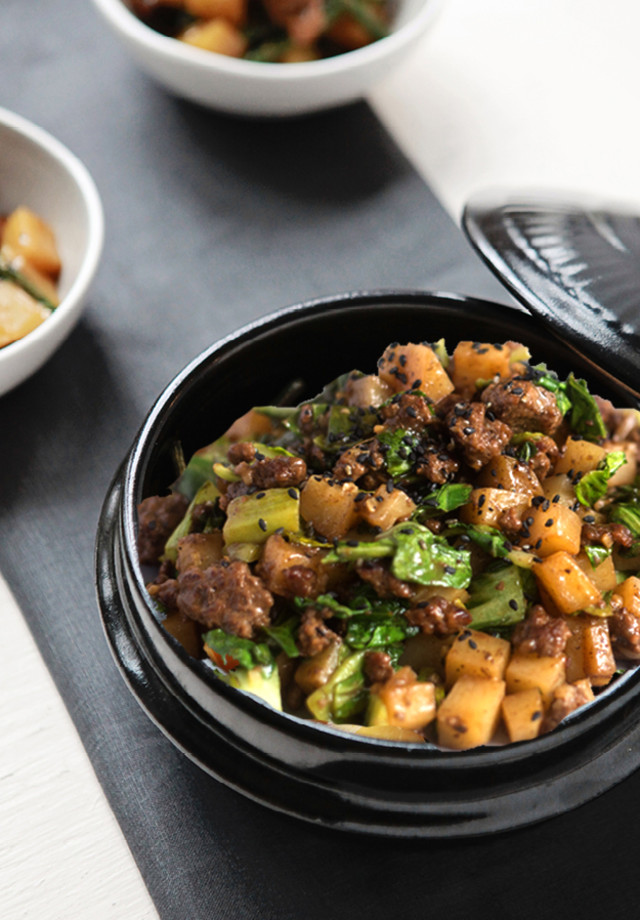 Beef Hot Pot with Asian Greens, Ginger and Potatoes
Serious beer fans often look down upon the wheat beer. Wheat beers tend to be sweeter with little emphasis on hop bitterness. Beer is about more than one dimension. Why do we like wheat beers? They are wonderful as a conveyance for other flavors. When you are at a bar ask the bartender if he would muddle some mint and add it to a wheat beer. Trust us, you will love it. As for this dish, I think a little lemon grass will make the ginger pop.
Georgia Local Recommendation: Second Self Thai Wheat, Atlanta, Georgia
Suggestion: Boulevard Unfiltered Wheat, Kansas City, Missouri (try adding some mint to it)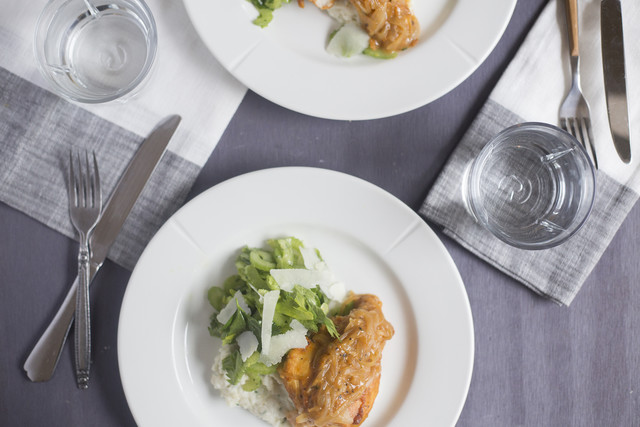 Virginia Willis' Smothered & Covered Chicken with Herb Grits and Celery Salad
Lactose has many uses in beer. You can take the lactic acid and sour a beer, or use the lactose sugar to sweeten a beer. Wait, wouldn't the yeast just eat the sugar and make more alcohol? Lactose sugar is un-fermentable which means adding it not only allows the brewer to add the milk monicker but also to sweeten the beer without increasing the alcohol content. Milk stouts are the comfort food of beer and will complement the "smothering."
Suggestion: Left Hand Milk Stout Nitro, Longmont, Colorado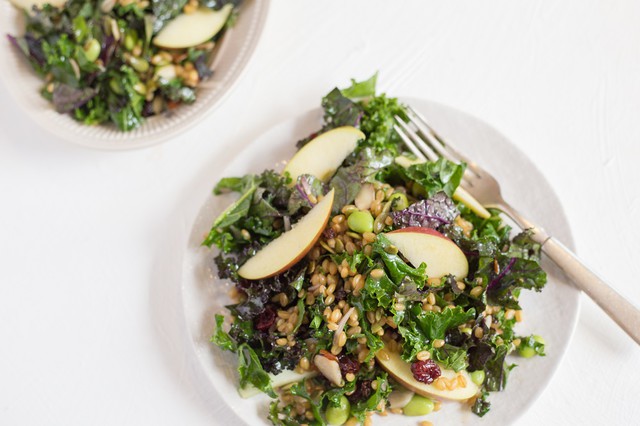 SuperFood Salad
Got to say this is a tough meal for a beer pairing, however, we are up to the task. Brewers love to experiment which leads us to kombucha beer. Is kombucha beer really a beer or is it just hopped kombucha tea? Well, that question is certainly up for debate, but if you are a fan of sour beers and kombucha it might just be your new go-to drink. With the cornucopia of flavors in this dish, a tart beer with its own superfood might be just the ticket.
Suggestion: Unity Vibration Kombucha Beer, Ypsilanti, Michigan