Wine Pairings for the Week of February 29th, 2016
Each week, Wine Specialist Sarah Pierre brings you suggestions to complement your PeachDish meals. Sarah is one of the owners at 3 Parks Wine Shop in Glenwood Park, Atlanta. She paired up with the team of The Shed at Glenwood and The Pig and The Pearl and opened 3 Parks in 2013. Prior to opening the store, she spent most of her career working and managing notable restaurants in Atlanta and New York City. Sarah selects all of the wines that are offered at 3 Parks Wine Shop and also assists in pairing wines for local events and dinners throughout Atlanta.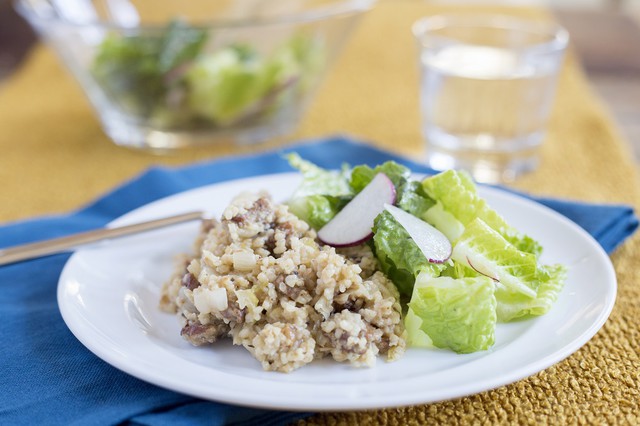 Riverview Farms Pork & Gold Rice Middlins with Baby Romaine Salad
Pinot Noir - A Russian River Pinot Noir is full and more rich in texture than many of the other California Pinot Noirs that you will find. The wines are fruit focused showing notes of strawberry, raspberry and cherry, but have nice structure and spice for this pork and rice dish. Suggestion: Joseph Jewell Pinot Noir, Russian River, California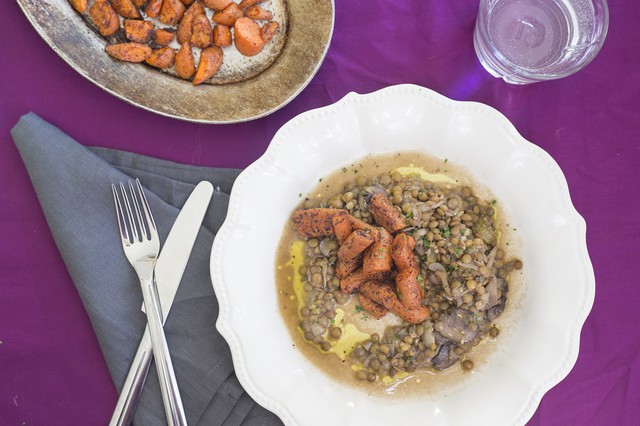 Sumac-Roasted Carrots with Lentils & Mushrooms
Grenache Blanc - Cotes du Rhone Blanc or most white blends from the South of France will work for this pairing. A blend of predominantly Grenache Blanc, this crisp white wine is perfect for this Middle Eastern flavored dish. Grenache Blanc is a neutral white wine known for its ability to pair well food. Suggestion: Domaine du Prince Costieres de Nimes Blanc, Rhone, France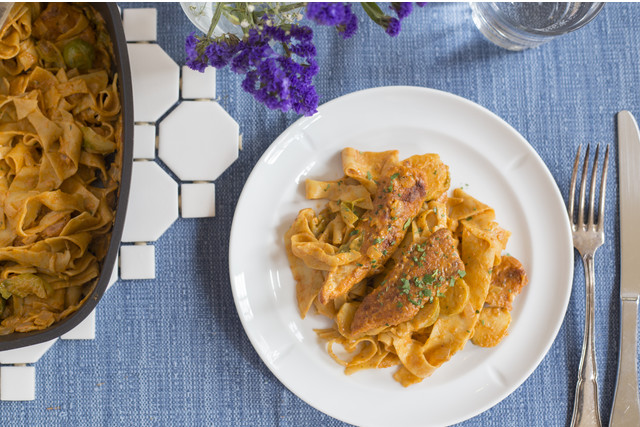 Chicken Paprikash with Brussels Sprouts and Egg Noodles
Dry Furmint - Why not pair a classic dry Hungarian white wine with this mouthwatering Hungarian pasta dish? Its acidity and minerality are present immediately on the palate followed by fresh white fruit, pear, apple, spice, and floral notes. The wine is extremely aromatic and will be so pleasurable with this dish. Suggestion: Tokaj Hétszőlő Dry Furmint, Tokaj, Hungary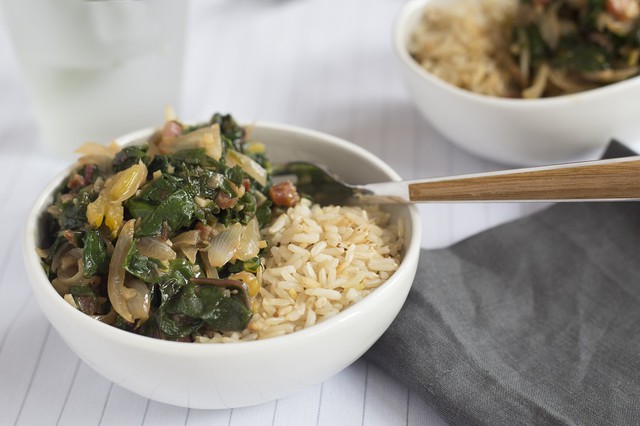 Coconut Swiss Chard over Jasmine Rice
Pinot Gris - A Pinot Gris from Oregon is the way to go when pairing a wine with this Thai influenced dish. I would not go the route of a sweeter style wine since there isn't any spice/heat to the dish, but rather a wine that has a touch of sweetness that is barely recognizable, or highly expressive fruit, which in Oregon is melon, pear, apricot, and peach. You'll even find a hint of ginger in the wines. Suggestion: Elk Cove Pinot Gris, Willamette Valley, Oregon
Seasonal Menus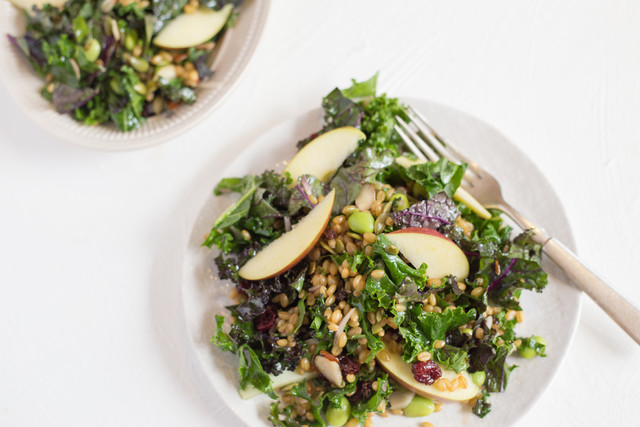 SuperFood Salad
Beaujolais - A red wine that screams superfood. It is a light, fresh red wine, 100% Gamay, with bright fruit - cherry, pomegranate, red berry, and juicy acidity. A glass of Beaujolais will only mirror the salad, not overpower it. Suggestion: Chateau Pizay, Morgon, France
Rosé - It is never too cold outside to enjoy a glass of Rosé. I promise! Especially when it is the perfect pairing for a SuperFood Salad. Suggestion: Elk Cove Pinot Noir, Willamette Valley, Oregon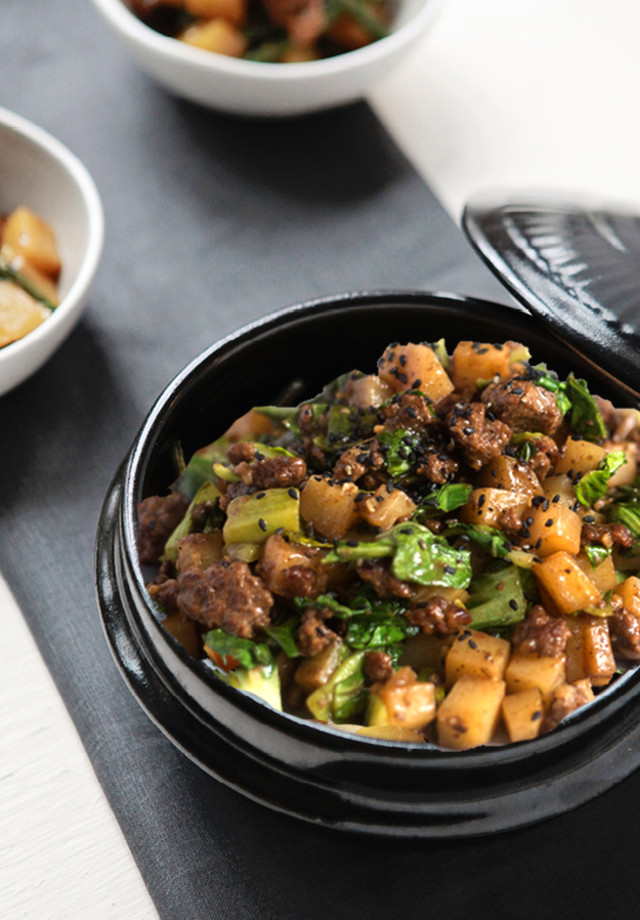 Beef Hot Pot with Asian Greens, Ginger and Potatoes
Côtes du Rhône - A grenache based Côtes du Rhône will be medium bodied, have moderate alcohol, and will be a perfect fruit forward wine partner with this Korean inspired dish. Suggestion: Domaine Mas de Jallon Côtes du Rhône
Viognier - A Viognier from California would be a great match for the ginger and onion based soy sauce glaze. Try Idle Cellars Viognier Sonoma County, California.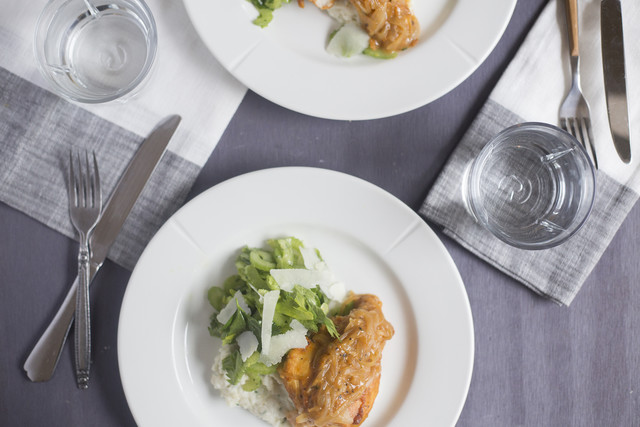 Virginia Willis' Smothered & Covered Chicken with Herb Grits and Celery Salad
Chardonnay - Not only is Chardonnay a classic go-to for chicken dishes, it's also a perfect pairing for rich and creamy chicken dishes. Well oaked or fuller, round Chardonnays are best paired with cream sauce or gravy. Suggestion: Cyprus Chardonnay, Russian River Valley, CA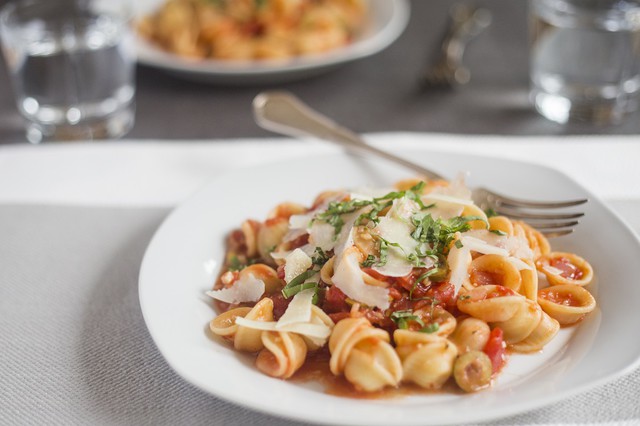 Spicy Puttanesca, Orecchiette, with Olives & Pecorino
Nero d'Avola - Indulge in a glass of red wine from southern Italy with this Orecchiette Puttanesca. Sicilian wines are nothing to be overlooked. The wines have more exposure and presence in the US than they have ever had, and we're fortunate to have some talented Sicilian producers being imported into the States. Suggestion: COS Nero d'Avola, Sicily, Italy