Meet the Chef: Virginia Willis
We feel honored to be able to present to you a dish from legendary Southern chef, Virginia Willis. Virginia is the author of "Lighten Up, Y'all," "Bon Appétit, Y'all," "Basic to Brilliant, Y'all," "Okra: A Savor the South Cookbook" and "Grits." The Chicago Tribune praised her as one of "Seven Food Writers You Need to Know." Her legion of fans love her knack for giving classic French cooking a down-home feel and reimagining Southern recipes en Français. She is currently in development with WGBH for a series called "Secrets of the Southern Table: A Food Lover's Tour of the Global South" to air nationally on public television stations.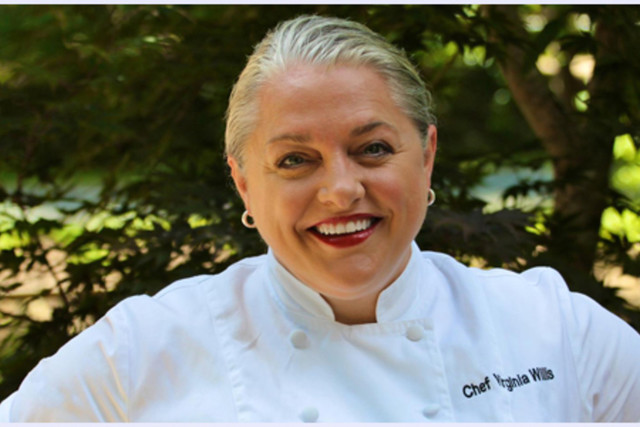 Virginia recently visited our Test Kitchen to prepare her Smothered & Covered Chicken with Herb Grits and Celery Salad. In her latest book "Lighten Up, Y'all" she reduces the calorie load in a traditional Southern "smothered and covered" sauce (which is not unlike a French velouté sauce) by using a scant amount of flour and skinless chicken breasts, and by pan­searing, instead of deep­frying, the meat. Willis writes, "This is old­style cooking that is more down­home diner than dinner party, and great for a simple and inexpensive weeknight supper. I'm suggesting a crisp celery salad, bright with lemon, to accompany the chicken."
Because this dish shows a lighter method for preparing a typically more fatty dish, we call it a Healthy Choice. A Seasonal Menu offering, Virginia Willis' Smothered & Covered Chicken with Herb Grits and Celery Salad will be available through mid­ April.
Hear our interview with Virginia below!
Why did you select this particular recipe as your PeachDish?
What's the best thing you've ever eaten?
How would you describe your style of cooking?
Where do you draw inspiration for your recipes?
What's your 'guilty pleasure' food?
Who is your favorite Southern cook?
What charities do you love and support?
What was it like to work with Julia Child?
Check out more on Virginia through her: