Wine Pairings for the Week of February 15th, 2016
Each week, Wine Specialist Sarah Pierre brings you suggestions to complement your PeachDish meals. Sarah is one of the owners at 3 Parks Wine Shop in Glenwood Park, Atlanta. She paired up with the team of The Shed at Glenwood and The Pig and The Pearl and opened 3 Parks in 2013. Prior to opening the store, she spent most of her career working and managing notable restaurants in Atlanta and New York City. Sarah selects all of the wines that are offered at 3 Parks Wine Shop and also assists in pairing wines for local events and dinners throughout Atlanta.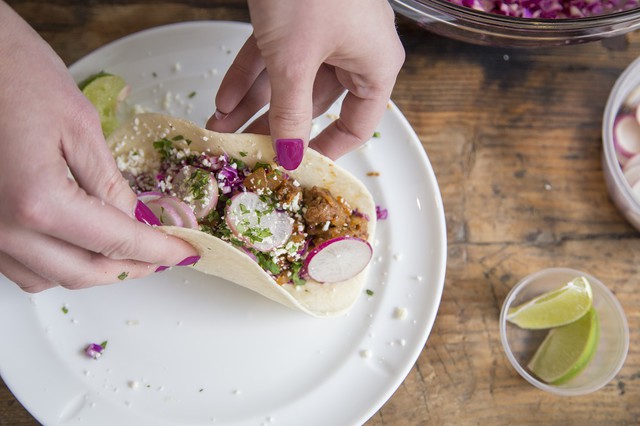 Beef Tacos with Red Cabbage Slaw, Radish & Lime
Garnacha - Pair these PeachDish tacos with a cellar temperature glass of Garnacha from Spain. Generally speaking, it's the perfect pairing for tacos due to its resistance to spice (jalapenos and seasonings), citrus (lime), cheese, herbs and vegetables (cilantro, cabbage, onions). The PeachDish twist to these beef tacos is the addition of cranberries incorporated with the slaw...coincidentally a flavor profile of Garnacha! Suggestion: Príncipe de Viana Garnacha Roble, Navarra, Spain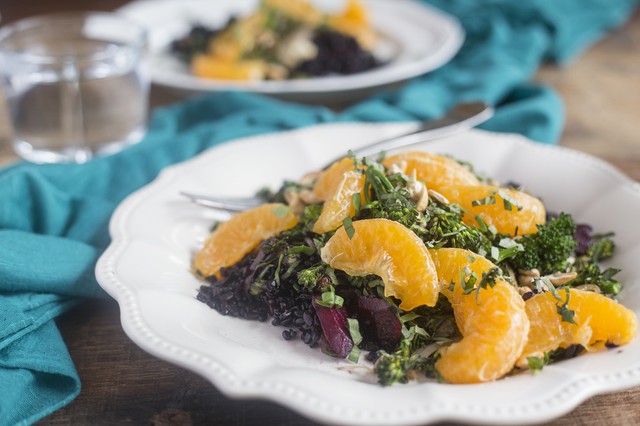 Sautéed Broccolini with Beet Rice, Citrus & Cashews
Rosé or Sparkling Rosé - I tend to suggest Rosé to be paired with beets, whether it be Sparkling or Still Rosé. Beets can be a tricky pairing in itself, but then you have to also take into consideration what is served alongside of them e.g. goat cheese, blue cheese, citrus, nuts, and spicy green such as arugula. So voila! Rosé it is - pairing with each and every one of those. Suggestion: Chateau Valcombe Rosé, Provence, France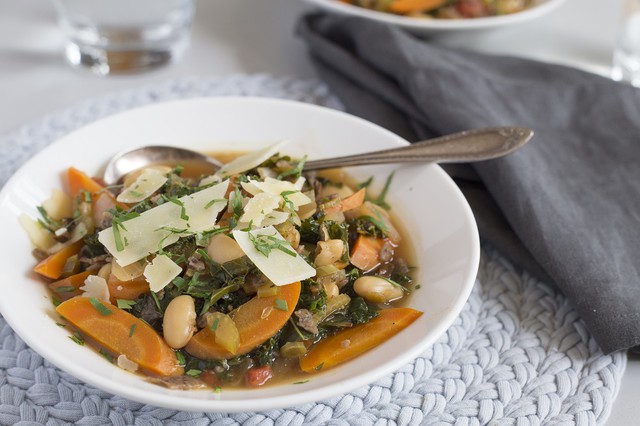 Tuscan Cannellini Bean & Kale Stew
Sangiovese - It only makes sense to go to the origin of the dish to select the ideal wine pairing. For this Tuscan stew a glass of Sangiovese, even a lighter style Sangiovese blend, will be the winner. It's always a classic pairing for a rustic, tomato based soup. The bright fruit, balance and acidity go hand in hand with sweet and tangy tomatoes. Suggestion: Scarpetta Frico Rosso, Tuscany, Italy (blend of Sangiovese, Cabernet, Merlot) Pinot Grigio - You'll be surprised with how well Pinot Grigio pairs with tomatoes. I don't mean the bottom shelf grocery story Pinot Grigio, I mean the well thought out, intentional, exceptional Pinot Grigio. Suggestion: Ornella Molon Pinot Grigio, Veneto, Italy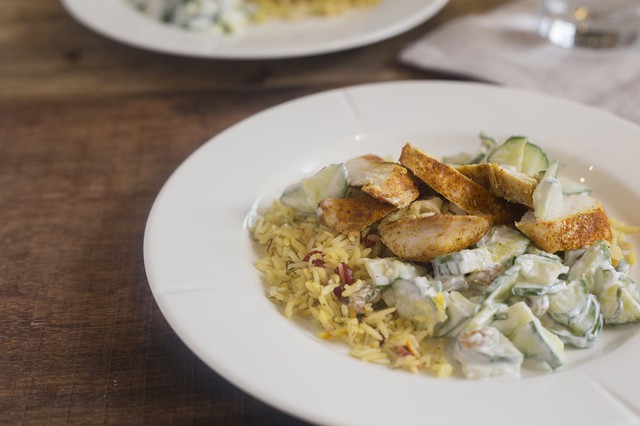 Curry Spiced Chicken with Saffron-Barberry Rice & Creamy Cucumber Salad
Dao Red Blend - Portuguese red blends have an elegance and finesse that works really well with Middle Eastern dishes…especially with a sweet addition like sultanas to the meal! Suggestion: Alvaro Castro Tinto, Dao, PortugalRosé - When pairing wine with Mediterranean/Middle Eastern style dishes that have a complexity of flavors, spice and heat, go for something pink. Rosés are light, refreshing, and fruit forward. Be sure to avoid anything on the sweeter style. It's not a spicy dish, so it will the opposite effect of what you'd want. Suggestion: Gabriel Meffre La Chasse Cotes du Rhone Prestige Rose, Rhone, France
Seasonal Menus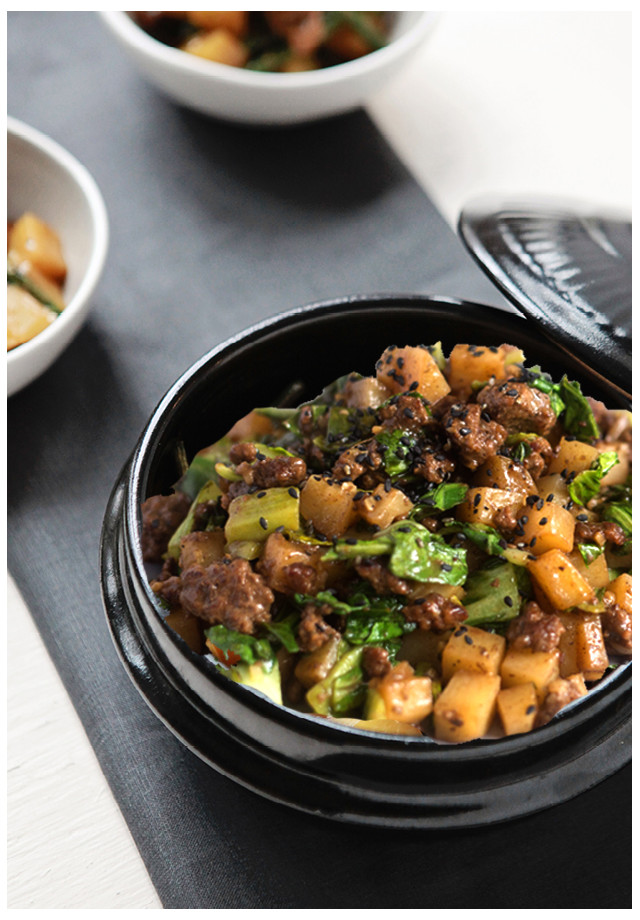 Beef Hot Pot with Asian Greens, Ginger and Potatoes
Côtes du Rhône - A grenache based Côtes du Rhône will be medium bodied, have moderate alcohol, and will be a perfect fruit forward wine partner for this Korean inspired dish. Suggestion: Domaine Mas de Jallon Côtes du Rhône
Viognier - A Viognier from California would be a great match for the ginger and onion based soy sauce glaze. Try Idle Cellars Viognier Sonoma County, California.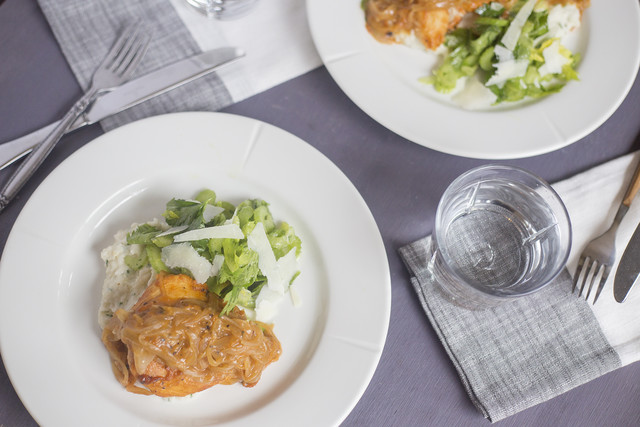 Virginia Willis Smothered & Covered Chicken with Herb Grits and Celery Salad
Chardonnay - Not only is Chardonnay a classic go-to for chicken dishes, it's also a perfect pairing for rich and creamy chicken dishes. Well oaked or fuller, round Chardonnays are best paired with cream sauce or gravy. Suggestion: Cyprus Chardonnay, Russian River Valley, CA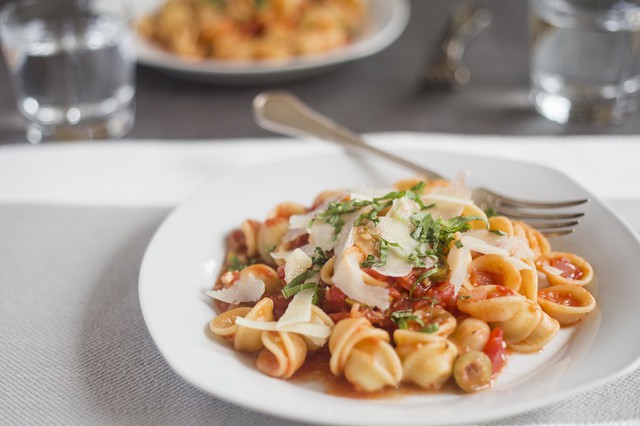 Spicy Puttanesca, Orecchiette, with Olives & Pecorino
Nero d'Avola - Indulge in a glass of red wine from southern Italy with this Orecchiette Puttanesca. Sicilian wines are nothing to be overlooked. The wines have more exposure and presence in the US than they have ever had, and we're fortunate to have some talented Sicilian producers being imported into the States. Suggestion: COS Nero d'Avola, Sicily, Italy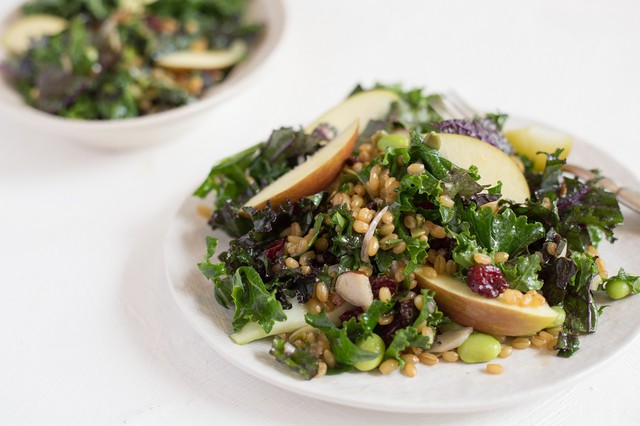 SuperFood Salad
Beaujolais - A red wine that screams superfood. It is a light, fresh red wine, 100% Gamay, with bright fruit - cherry, pomegranate, red berry, and juicy acidity. A glass of Beaujolais will only mirror the salad, not overpower it. Suggestion: Chateau Pizay, Morgon, France
Rosé - It is never too cold outside to enjoy a glass of Rosé. I promise! Especially when it is the perfect pairing for a SuperFood Salad. Suggestion: Elk Cove Pinot Noir, Willamette Valley, Oregon