Wine Pairings for the Week of February 1st, 2016
Each week, Wine Specialist Sarah Pierre brings you suggestions to complement your PeachDish meals. Sarah is one of the owners at 3 Parks Wine Shop in Glenwood Park, Atlanta. She paired up with the team of The Shed at Glenwood and The Pig and The Pearl and opened 3 Parks in 2013. Prior to opening the store, she spent most of her career working and managing notable restaurants in Atlanta and New York City. Sarah selects all of the wines that are offered at 3 Parks Wine Shop and also assists in pairing wines for local events and dinners throughout Atlanta.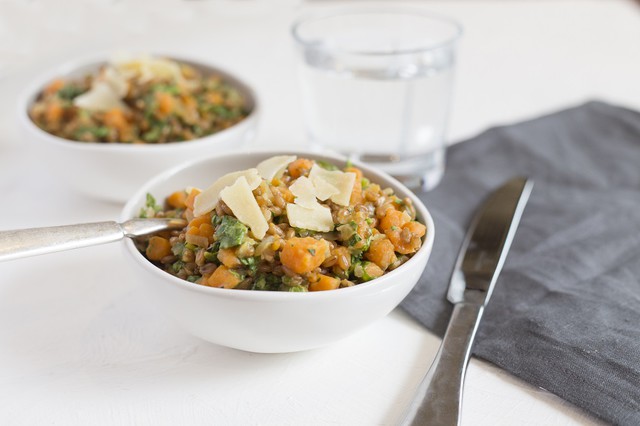 "Farrotto" with Sweet Potatoes & Arugula
Sangiovese - Look for an IGT Sangiovese/Chianti which you can identify by looking at the white regulation label on the neck of the bottle. The wines tend to be less complex and more fruit forward. The wine also tends to pair nicely with dishes that contain oregano.
Albarino - The Spanish white grape varietal, Albarino, exhibits lots of warm mandarin and floral notes that will pair well with the nutmeg and sweet potatoes. There is minerality present in this wine for the parmesan cheese, and of course, acid is your friend and is perfect for a creamy "Farrotto".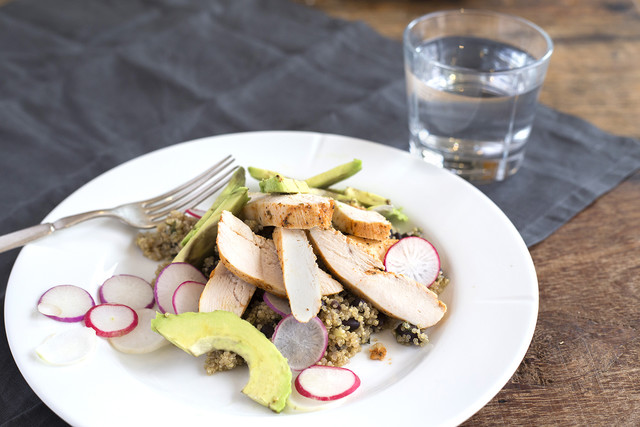 Spice-Roasted Chicken with Avocado, Quinoa & Black Beans
Grüner Veltliner - This Austrian white wine pairs wonderfully with herbal dishes; this one containing cilantro and green onion. The squeeze of lemon on the chicken breast adds the bright, fresh component to the meal which will be enhanced with the glass of Grüner. Suggestion: Berger Grüner Veltliner, Kremstal, Austria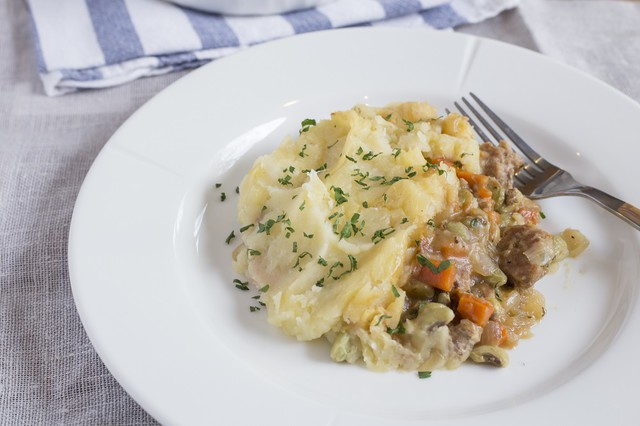 Cottage Pie with Pork, Carrots & Field Peas
Barbera - A 'Southern' Cottage Pie paired with a glass of Barbera is the way to go. I would be sure to find a bottle of Barbera d'Alba rather than Barbera d'Asti. You'll find more rich flavor, intensity and body in the d'Alba - perfect for the creamy, butter mashed potatoes. Suggestion: Vietti Barbera d'Alba, Piedmont, Italy
Godello - (go-day-oh) This spanish grape varietal makes a wine that is extremely food-friendly and tends to be a great alternative to Chardonnay. You'll be pleasantly surprised. Suggestion: Palacios Louro Godello, Valdeorras, Spain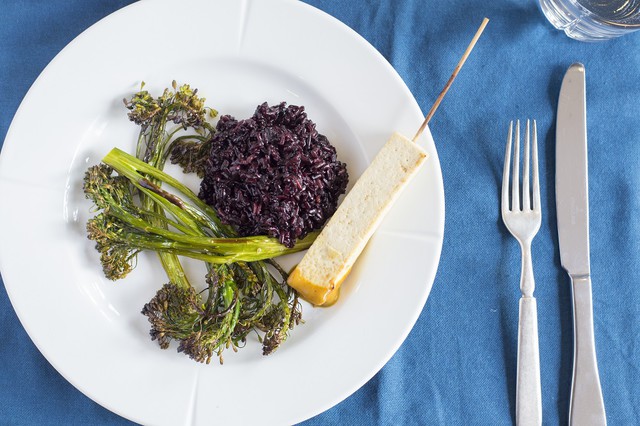 Tofu Satay with Peanut Sauce, Purple Rice & Broccolini
Sylvaner - This fun white grape variety, primarily grown in Alsace, France, pairs really well with Asian dishes. That being such a general statement, Sylvaner with Thai or Japanese dishes should not be overlooked. I would avoid the Thai dishes with a significant amount of heat/spice, but the subtle spice that you will find in this tofu satay will complement the slight sweetness that you will find in the Sylvaner. Suggestion: Albert Seltz Sylvaner, Mittelbergheim, France.
Seasonal Menus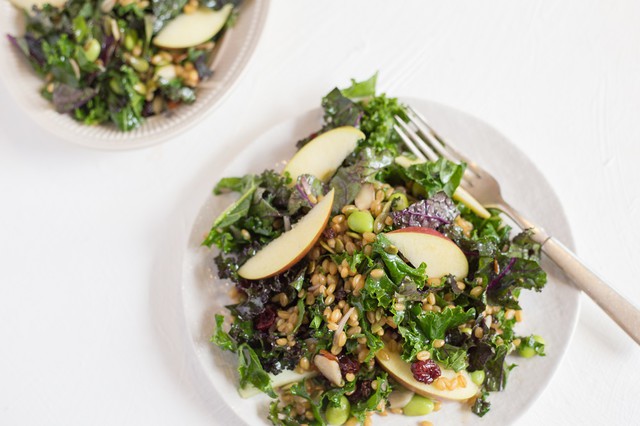 SuperFood Salad
Beaujolais - A red wine that screams superfood. It is a light, fresh red wine, 100% Gamay, with bright fruit - cherry, pomegranate, red berry, and juicy acidity. A glass of Beaujolais will only mirror the salad, not overpower it. Suggestion: Chateau Pizay, Morgon, France
Rosé - It is never too cold outside to enjoy a glass of Rosé. I promise! Especially when it is the perfect pairing for a SuperFood Salad. Suggestion: Elk Cove Pinot Noir, Willamette Valley, Oregon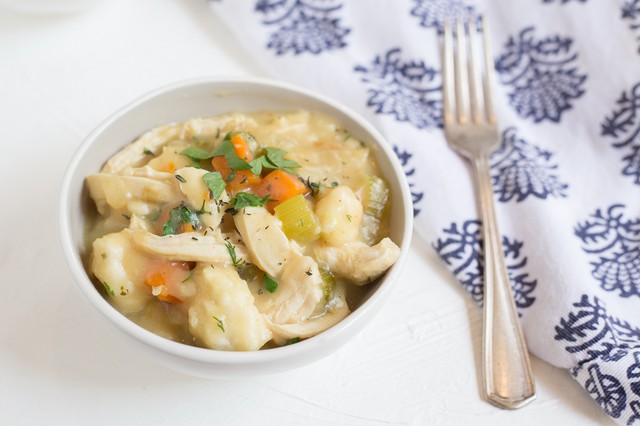 Zeb Stevenson's Chicken & Dumplings
Pinot Noir - An earthy Pinot Noir will hit the spot. You'll want to find a red wine that has a nice amount of acidity that will cut through the delicate richness of the soup and the dumplings. The wine is also light enough to really allow all of the flavors and ingredients in the soup to be expressed. Suggestion: Nicolas Pinot Noir, France
Châteauneuf-du-Pape Blanc - This Southern, creamy soup can stand up to a full bodied white wine. If you can find a Châteauneuf-du-Pape Blanc at your local wine shop, you might have a new white wine go-to. The wines are full and rich in texture with spice and fruit jumping out of the glass. Enjoy a glass with this Southern classic! Suggestion: Mont Redon Châteauneuf-du-Pape Blanc, Rhone, France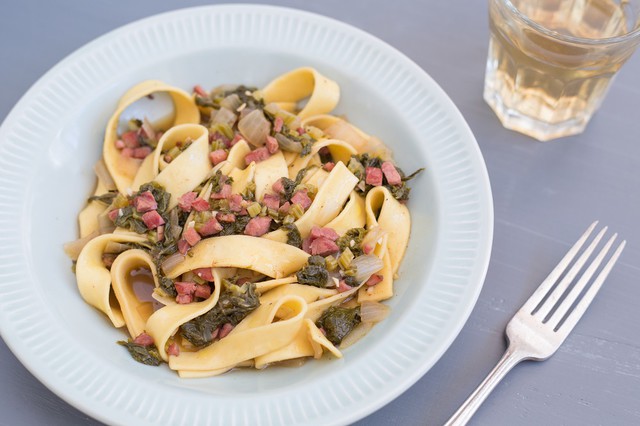 Mustard Greens & Tasso Potlikker with Noodles
Dolcetto - This Italian red grape varietal grown mainly in Piedmont, Italy means "little sweet one," but doesn't necessarily mean it's sweet. It ranges from medium bodied and slightly tannic to super fruit forward with little to no tannin. For this PeachDish, you'll want the fruit forward Dolcetto with little tannin. You'll want to balance the saltiness from the tasso and the earthiness from the mustard greens with a fruity, soft, red wine. Suggestion: Pecchenino San Luigi Dogliani, Piedmont, Italy
Pinot Gris - You'll want a wine that is off dry with this dish- not necessarily a sweet wine since there isn't any spice/heat to the dish, but a wine that has a touch of sweetness or highly expressive fruit. Suggestion: Elk Cove Pinot Gris, Willamette Valley, Oregon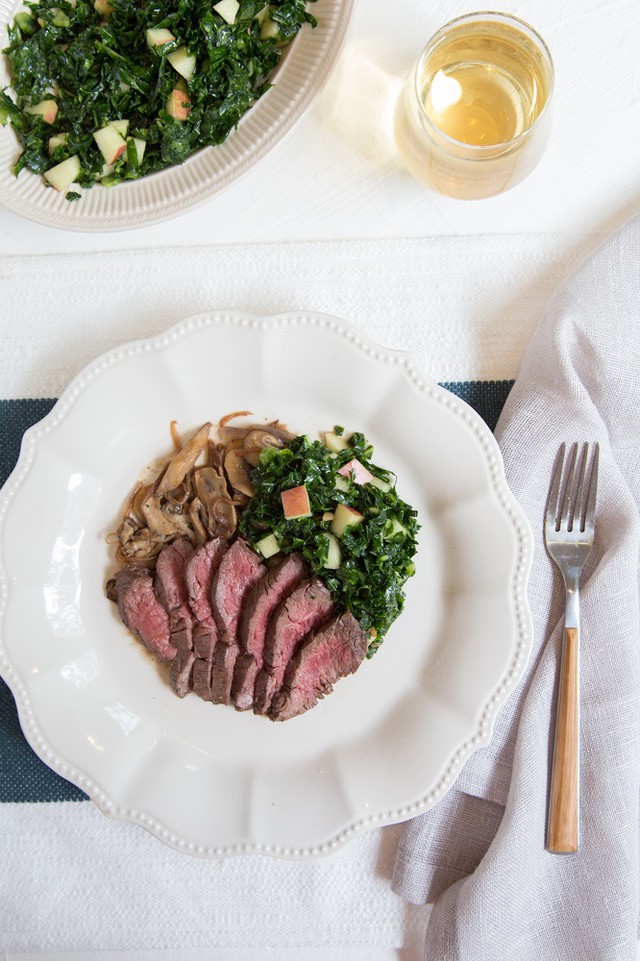 Hanger Steak with Mushroom-Shallot Sauce, Kale & Apple Salad
Oregon Pinot Noir - Just because you're eating a steak doesn't mean you have to pair it with a Cabernet. A nice glass of Oregon Pinot Noir will pair perfectly with this PeachDish. Here's why: there's an earthiness in the wine that mirrors the earthiness in the dish coming from the kale and the mushroom. The sweetness of the shallots and apples works alongside the ripe red fruit in the Pinot Noir. Suggestion: Van Duzer Pinot Noir, Willamette Valley, Oregon