Beer Pairings for the Week of January 25th, 2016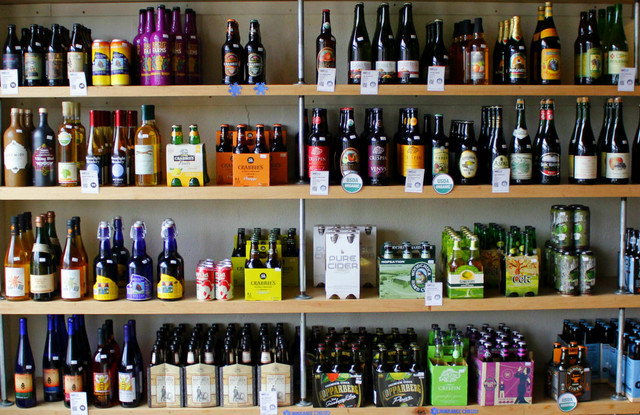 Looking for the perfect brew to go along with your PeachDish meals? We've got you covered. We've partnered with the owners of BeerGirl, a local Atlanta shop, to help you select the perfect beverage. BeerGirl's passionate owners, Alexia Ryan and Erik Lewis opened their shop with the dream of connecting the people of their community with delicious craft beer from the South and beyond. Here are this week's suggested pairings: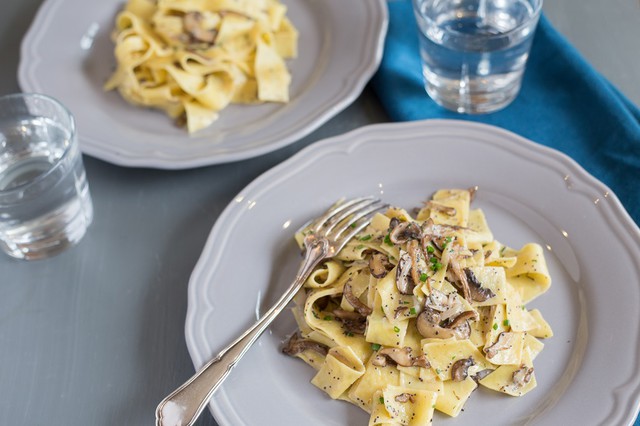 Creamy Egg Noodles with Mushrooms & Poppy Seeds
The cold weather outside and the sour cream in this dish demand a Czech pilsner. Fun fact about pilsners: the geography of the Czech Republic makes them ideal for cold brewed beer thanks to the tunnels naturally running through the country. The tunnels are helpful when dealing with invaders who lack an understanding of geology when you must hide your villagers underground. The tangy creamy sour cream and the umami mushrooms will benefit from a crisp beer that clears the palate.
Suggestion: Budweiser/Budvar Cezchvar, České Budějovice, Czech Republic
Bonus trivia: Czechvar is the original Budweiser but due to trademark must be sold under a different name outside of Europe.
Give it a try to see how wonderful the original recipe actually was.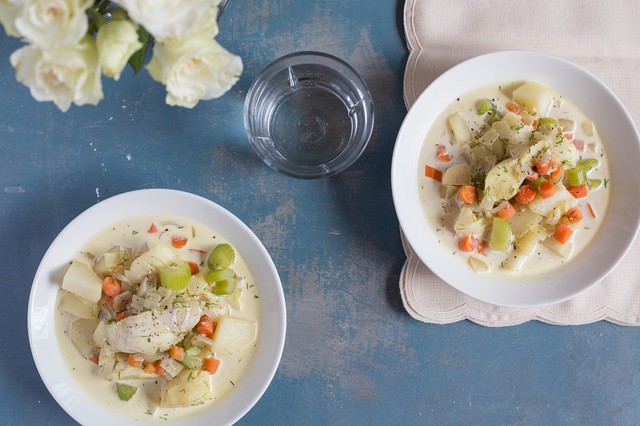 Cod & Root Vegetable Chowder with Dill
We know- a Scotch ale with a Scandinavian-inspired dish sounds odd. Well have you ever tried a smoky flavor with fish? Seriously, fish benefits from a little smoke, and in Scotland smoke is treated almost as a primary flavor. Why does the Scotsman love smoke? Well, one story says the damp wood they burn was particularly smoky and they just developed the taste for it like their whiskey. The other story in regards to a Scotch ale is the British would only sell them the "burnt" malt which lent a smoky flavor. Whatever the reason for the smoke flavor, the smoke will add another complementary component to this chowder.
Suggestion: Oskar Blues Old Chubb, Longmont, Colorado
Georgia Local Recommendation: Strawn Scotch Ale, Fairburn, Georgia
Sweet Potato Feijoada with Black Beans, Red Rice & Orange
It is said it takes a lot of beer to make good wine, and brewers will tell you it takes lots of beer to make beer. When peasants returned from working the fields they wanted a hearty beverage that packed a punch. Enter the fruity Saison that they could brew with the leftover grains they couldn't sell. Fruit forward thanks to the plentiful natural Belgian yeasts in the region, the Saison packs a high alcohol punch. We suggest a hearty stew can handle a higher alcohol beer plus the orange will benefit from a fruity Saison.
Suggestion: Prairie Artisan Ales Prairie Ale, Tulsa, Oklahoma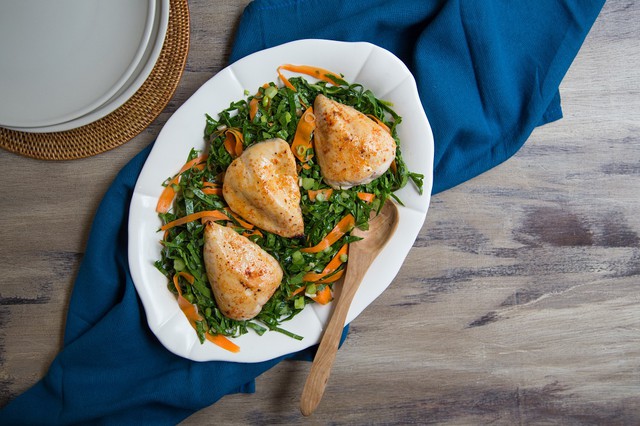 Mayhaw Glazed Chicken with Collard Slaw
Belgian golden ales are proof that not every beer brewed in Belgium requires prayer and thick wool robes. Pale in color, with fruity esters, and a little heat from the higher alcohol content, this ale style rose in popularity after World War Two. Mayhaw's crabapple flavor will play well with the heat in this Belgian ale.
Suggestion: Duvel, Breendonk, Belgium
Seasonal Menus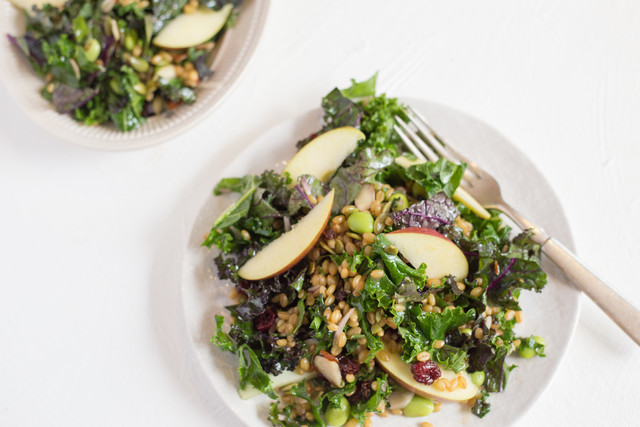 SuperFood Salad
Got to say this is a tough meal for a beer pairing, however, we are up to the task. Brewers love to experiment which leads us to kombucha beer. Is kombucha beer really a beer or is it just hopped kombucha tea? Well, that question is certainly up for debate, but if you are a fan of sour beers and kombucha it might just be your new go-to drink. With the cornucopia of flavors in this dish, a tart beer with its own superfood might be just the ticket.
Suggestion: Unity Vibration Kombucha Beer, Ypsilanti, Michigan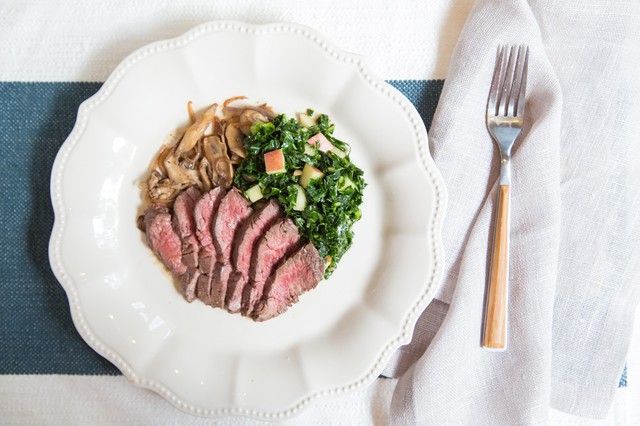 Hanger Steak with Mushroom-Shallot Sauce, Kale & Apple Salad
Bourbon barrel aging grants a stout the opportunity to soak up caramel and charred flavors left in bourbon barrels. Barrel aging is all the rage in many styles of beer, but malty stouts really shine when aged in bourbon barrels. The meaty steak texture and umami from the mushrooms will pair perfectly with the sweetness from a barrel aged stout.
Suggestion: Full Sail Bourbon Barrel Imperial Stout Bomber, Hood River, Oregon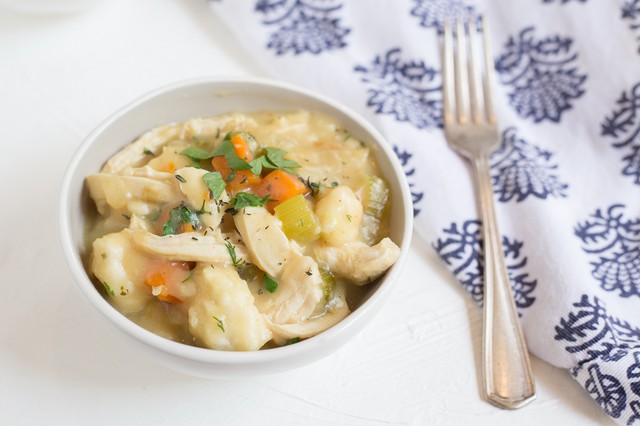 Zeb Stevenson's Chicken & Dumplings
"Extra" means a beer brewed for a foreign market. Drier and roastier in character, Dutch Extra Stouts almost disappeared when Heineken bought the last brewery brewing them in 2000 and promptly proceeded to retire the style. Luckily, tales of their demise were greatly exaggerated as other Dutch brewers picked up the torch. For a creamy dish, like Chicken & Dumplings, dry will work because a sweet stout would get lost in the background.
Suggestion: Jopen Extra Stout, Haarlem, Netherlands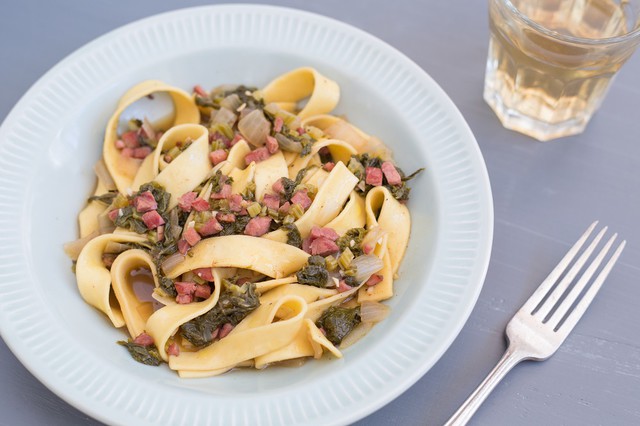 Mustard Greens & Tasso Potlikker with Noodles
Typically beer is carbonated with carbon dioxide, but nitrogen can also be used. Nitrogenated beer requires a brewer to employ additional gadgetry to get the beer to form the tiny bubble heads associated with nitrogen. This is because nitrogen does not dissolve as readily in beer as carbon dioxide. The tart mustard greens and salty potlikker should have a beer with a soft mouthfeel so those dominate flavors will shine.
Suggestion: Left Hand Nitro Milk Stout, Longmont, Colorado