Valentine's Day Dinner Cooked by You!
If you're looking to really impress your date (we mean really), may we suggest our Valentine's Date Night Meal-Kits? Choose between three options of three- and four-course meals that you can either prepare in advance for your special someone or enjoy cooking together. There's no need to make a reservation this year when you can stay in the comfort of your own home (with your own tunes!) for a restaurant-quality meal.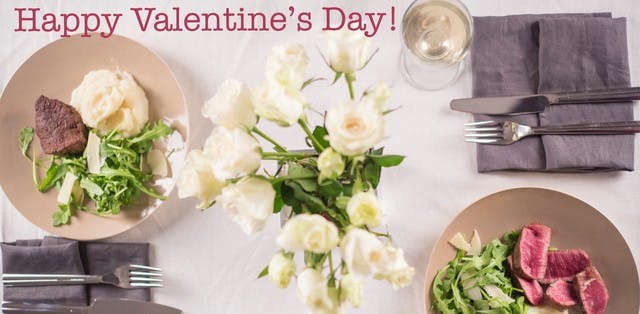 Order your Date Night Meal-Kit by Sunday, February 7th at midnight EST. Valentine's Day meals will ship the week of February 8th, just in time for your Valentine's Day dinner on the 14th.
Option #1:
Serves 2. Three courses that come together quickly, but are made for lingering enjoyment: Start the evening off with rich and creamy, hand-crafted WayPoint cheese from the Atlanta artisan cheesemakers at CalyRoad Creamery. Our beef tenderloin petite filet is an elegant and sumptuous cut of beef that will delight the senses, paired with fluffy mashed potatoes and a sharp arugula salad. The bourbon brownie trifle is a fun dessert to make that'll likely get you up and having a giggle with your date as you each shake your own jar of cream to a dense & sweet whip. Pocketful of Starlight vanilla sugar from our friends at Beautiful Briny Sea makes this the most delicious whip cream you can imagine. Layered with Nola Girl bourbon dark chocolate brownies, this dessert is sure to leave you pleased and satisfied! $69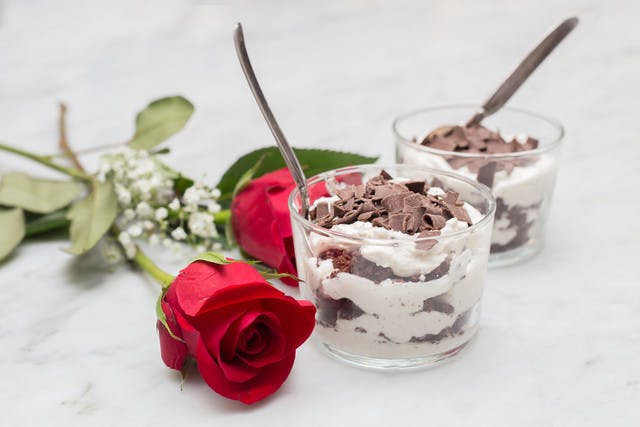 Option #2:
Serves 2. Three courses that come together quickly, but are made for lingering enjoyment: Start the evening off with rich and creamy, hand-crafted WayPoint cheese from the Atlanta artisan cheesemakers at CalyRoad Creamery. Lobster Risotto is usually a labor of love, but you'll love how easy we've made this for you. Yes, you'll poach the tails, and make a flavorful 'court bouillon' to cook the rice. Yes, you'll stand by the pan, stirring for each addition of liquid. But your date will appreciate the work you do for them to make their Valentines special and yummy. We've got everything you need to make it perfect, and an easy-to-follow recipe that will guide your hand the whole way through. The bourbon brownie trifle is a fun dessert to make that'll likely get you up and having a giggle with your date as you each shake your own jar of cream to a dense & sweet whip. Pocketful of Starlight vanilla sugar from our friends at Beautiful Briny Sea makes this the most delicious whip cream you can imagine. Layered with Nola Girl bourbon dark chocolate brownies, this dessert is sure to leave you pleased and satisfied! For that little extra sweetness at the end, we've included a 4 pack of chocolate perfection in beautiful little bites. Nicobella truffles are the perfect punctuation to this fun and tasty meal! $89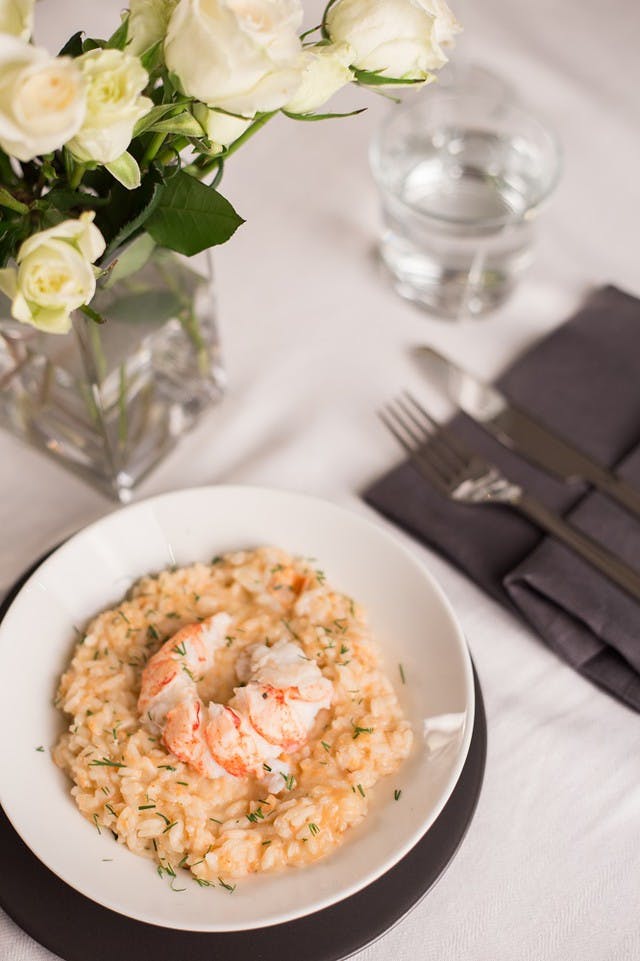 Option #3:
Serves 2. Three courses that come together quickly, but are made for lingering enjoyment: Start the evening off with rich and creamy, hand-crafted WayPoint cheese from the Atlanta artisan cheesemakers at CalyRoad Creamery. We've found the perfectly marbled, properly aged, Georgia-grown ribeye for your steak-loving date this Valentine's Day. The big steak rests on top of a fluffy mound of mashed potatoes, with a cider-vinaigrette dressed arugula salad keeping it balanced. The bourbon brownie trifle is a fun dessert to make that will likely get you up and having a giggle with your date as you each shake your own jar of cream to a dense & sweet whip. Pocketful of Starlight vanilla sugar from our friends at Beautiful Briny Sea makes this the most delicious whip cream you can imagine. Layered with Nola Girl bourbon dark chocolate brownies, this dessert is sure to leave you pleased and satisfied! For that little extra sweetness at the end, we've included a 6 pack of chocolate perfection in beautiful little bites. Chocolate-filled Nicobella truffles are the perfect punctuation to this fun and tasty meal! $109