Wine Pairings for the Week of January 11th, 2016
Each week, Wine Specialist Sarah Pierre brings you suggestions to complement your PeachDish meals. Sarah is one of the owners at 3 Parks Wine Shop in Glenwood Park, Atlanta. She paired up with the team of The Shed at Glenwood and The Pig and The Pearl and opened 3 Parks in 2013. Prior to opening the store, she spent most of her career working and managing notable restaurants in Atlanta and New York City. Sarah selects all of the wines that are offered at 3 Parks Wine Shop and also assists in pairing wines for local events and dinners throughout Atlanta.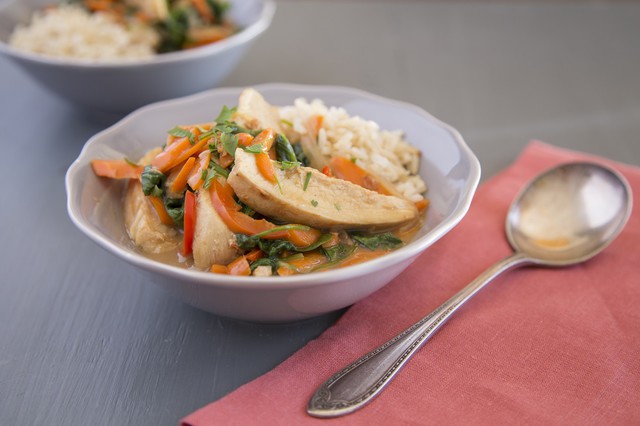 Coconut-Tamarind Chicken with Carrots & Spinach
Garnacha - You want a red wine that is not tannic/dry. The dryer the wine, the less it jives with a lot of Asian dishes. Garnachas are fresh, and there is a perfect amount of fruit on the wine to tackle the spiciness of the dish. Try to avoid a garnacha with oak aging if you can. Suggestion: Príncipe de Viana Garnacha Tinto Roble, Navarra, Spain
Vouvray - 100% Chenin Blanc. It's a great pairing for a spicy, sweet & salty Asian dish. Suggestion: Jardin en Fleurs Vouvray, Loire, France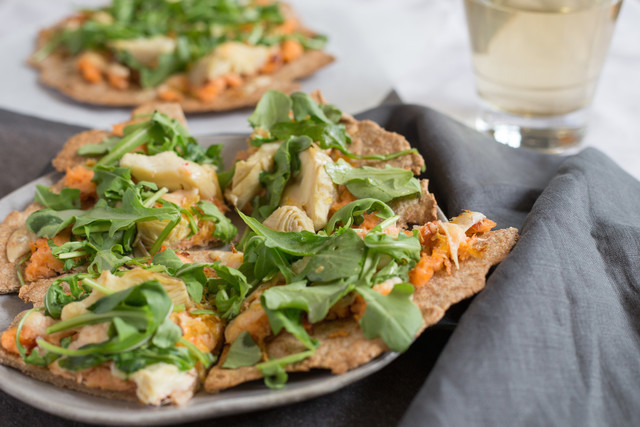 Flatbread with Smoked Salmon, Artichoke & Arugula
Artichokes are commonly considered a difficult ingredient to pair with wine. Getting a bit technical here but wanted to explain - artichokes contain a naturally occurring chemical called Cynarin which makes everything taste sweeter, including wine, but not in a good way. To counter that, you want to find an extremely dry, crisp wine that is higher in acid. Additionally, incorporating a salty component, smoked salmon, to the dish also minimizes the effect of Cynarin.
Vinho Verde - Grab a glass of this crisp, slightly effervescent, zingy white wine from Portugal. This young wine is light, fresh, and easy to drink. It's perfect with fish, and yes, artichokes. Suggestion: Calamares Vinho Verde, Portugal
Picpoul de Pinet- Not only is Picpoul the best pairing for shellfish and oysters, it also pairs with smoked salmon. This white wine from the Languedoc region in the south of France is crisp, refreshing, and possesses a touch of salinity that is exactly what those artichokes need. Suggestion: Le Jade Picpoul de Pinet, Languedoc, France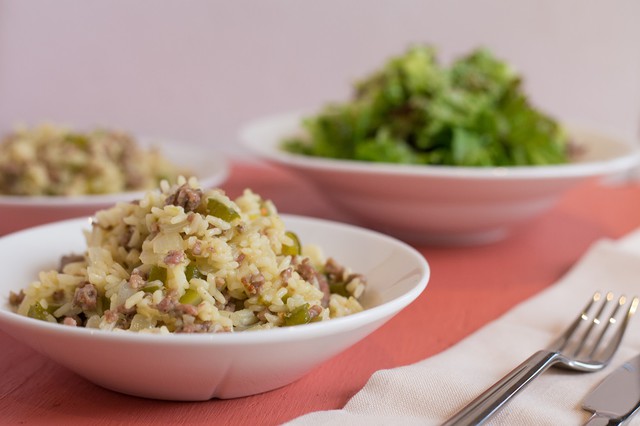 St. Paul's Rice with Salad Dressed in Honey-Tarragon Vinaigrette
Sauvignon Blanc - A Sauvignon Blanc from California will pair nicely with this pot luck style dish. You'll find the wine to be a bit more fruit forward with more weight and body. Suggestion: Rock Wall Sauvignon Blanc, Lake County, CA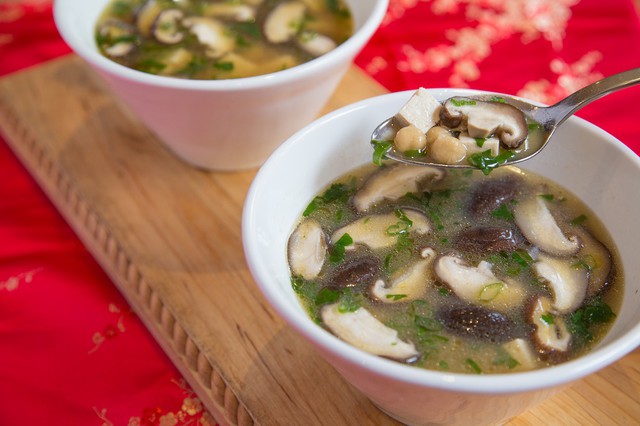 Miso Soup with Shiitake, Tofu & Chickpeas
If you decide to skip pairing this dish with a beer, then you should go in the direction of Sake, the Japanese Rice Wine. A glass of rich Sake, not hot but cold or room temperature, will be a great pairing. One of my favorites: Funaguchi Kikusui Ichiban Shibori Yellow Can Sake
Seasonal Menus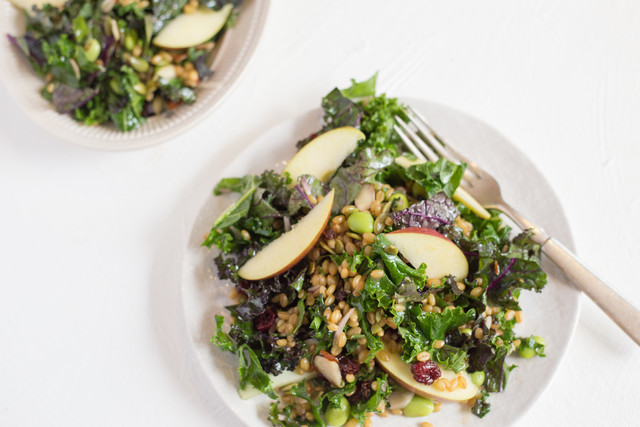 SuperFood Salad
Beaujolais - A red wine that screams superfood. It is a light, fresh red wine, 100% Gamay, with bright fruit - cherry, pomegranate, red berry, and juicy acidity. A glass of Beaujolais will only mirror the salad, not overpower it. Suggestion: Chateau Pizay, Morgon, France
Rosé - It is never too cold outside to enjoy a glass of Rosé. I promise! Especially when it is the perfect pairing for a SuperFood Salad. Suggestion: Elk Cove Pinot Noir, Willamette Valley, Oregon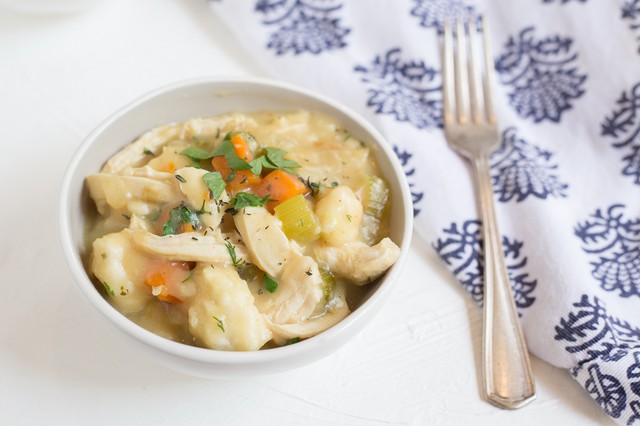 Zeb Stevenson's Chicken & Dumplings
Pinot Noir - An earthy Pinot Noir will hit the spot. You'll want to find a red wine that has a nice amount of acidity that will cut through the delicate richness of the soup and the dumplings. The wine is also light enough to really allow all of the flavors and ingredients in the soup to be expressed. Suggestion: Nicolas Pinot Noir, France
Châteauneuf-du-Pape Blanc - This Southern, creamy soup can stand up to a full bodied white wine. If you can find a Châteauneuf-du-Pape Blanc at your local wine shop, you might have a new white wine go-to. The wines are full and rich in texture with spice and fruit jumping out of the glass. Enjoy a glass with this Southern classic! Suggestion: Mont Redon Châteauneuf-du-Pape Blanc, Rhone, France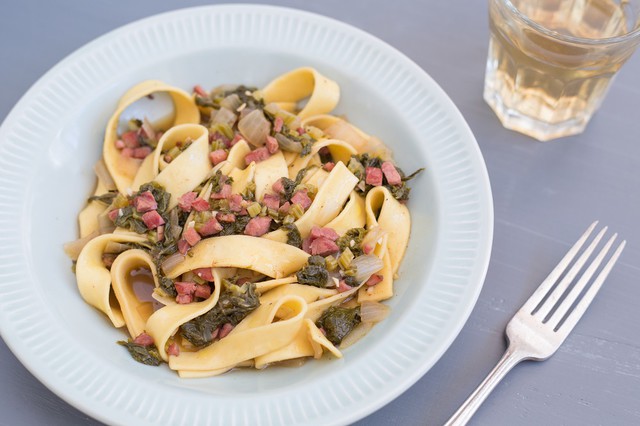 Mustard Greens & Tasso Potlikker with Noodles
Dolcetto - This Italian red grape varietal grown mainly in Piedmont, Italy means "little sweet one," but doesn't necessarily mean it's sweet. It ranges from medium bodied and slightly tannic to super fruit forward with little to no tannin. For this PeachDish, you'll want the fruit forward Dolcetto with little tannin. You'll want to balance the saltiness from the tasso and the earthiness from the mustard greens with a fruity, soft, red wine. Suggestion: Pecchenino San Luigi Dogliani, Piedmont, Italy
Pinot Gris - You'll want a wine that is off dry with this dish- not necessarily a sweet wine since there isn't any spice/heat to the dish, but a wine that has a touch of sweetness or highly expressive fruit. Suggestion: Elk Cove Pinot Gris, Willamette Valley, Oregon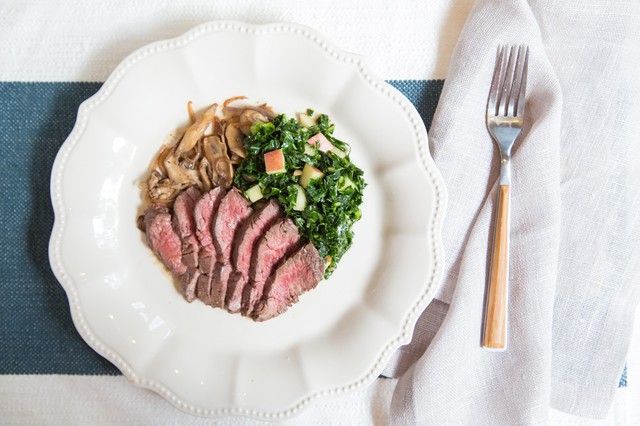 Hanger Steak with Mushroom-Shallot Sauce, Kale & Apple Salad
Oregon Pinot Noir - Just because you're eating a steak doesn't mean you have to pair it with a Cabernet. A nice glass of Oregon Pinot Noir will pair perfectly with this PeachDish. Here's why: there's an earthiness in the wine that mirrors the earthiness in the dish coming from the kale and the mushroom. The sweetness of the shallots and apples works alongside the ripe red fruit in the Pinot Noir. Suggestion: Van Duzer Pinot Noir, Willamette Valley, Oregon