Wine Pairings for the Week of January 4th, 2016
Each week, Wine Specialist Sarah Pierre brings you suggestions to complement your PeachDish meals. Sarah is one of the owners at 3 Parks Wine Shop in Glenwood Park, Atlanta. She paired up with the team of The Shed at Glenwood and The Pig and The Pearl and opened 3 Parks in 2013. Prior to opening the store, she spent most of her career working and managing notable restaurants in Atlanta and New York City. Sarah selects all of the wines that are offered at 3 Parks Wine Shop and also assists in pairing wines for local events and dinners throughout Atlanta.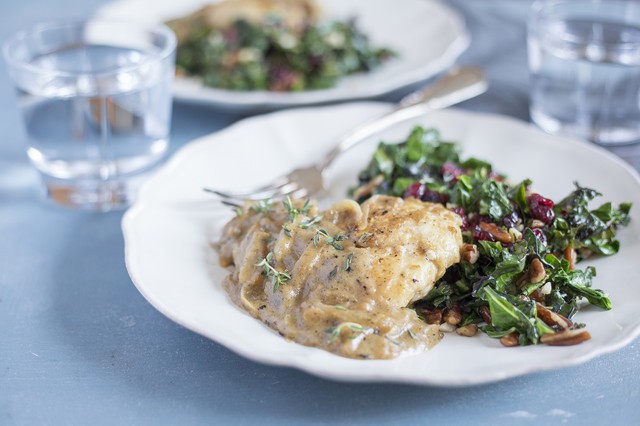 Sheri Castle's Smothered Chicken with Snappy Cream Gravy & Skillet Greens
Malbec - Well hello, Chicken and Gravy!! A rich red wine like Malbec won't be too tannic/dry to overpower the meal but will be full bodied enough to satisfy that winter red wine craving that you might be having. The wine is also fruity complementing the cranberries and cookie crumbles. Suggestion: Maal Biutiful Malbec, Mendoza, Argentina
Chardonnay - Not only is Chardonnay a classic go-to for chicken dishes, it's also a perfect pairing for rich and creamy chicken dishes. Well oaked or fuller, round Chardonnays are best paired with cream sauce or gravy. Suggestion: Cypress Chardonnay, Russian River Valley, CA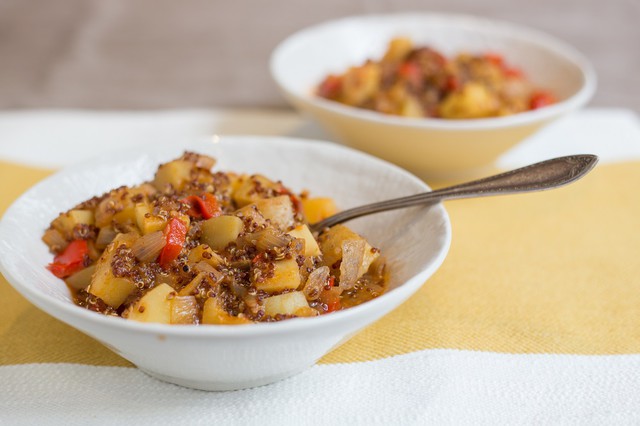 Smoky Red Quinoa, Potato & Parsnip Chowder
Tempranillo - All the Spanish flavors in one bowl of soup. Pour a glass of this food friendly red wine that will give you big, bold flavors, without it being full bodied, rich, or concentrated.
Sauvignon Blanc - Pair this chowder with a glass of Sauvignon Blanc. This white wine is crisp, acidic, bursting with flavors of citrus and herbs, and most importantly pairs wonderfully with every ingredient in this South American Style Chowder. Suggestion: Petit Clos Sauvignon Blanc, Marlborough, New Zealand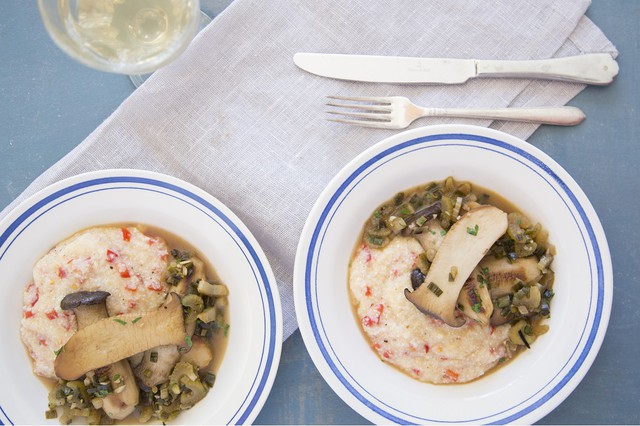 Braised King Oyster Mushrooms with Red Pepper Grits
Pinot Noir - Grab a glass of Pinot Noir for this earthy PeachDish, particularly one from Oregon or France which tend to be more elegant and terroir driven rather than fruit driven. Suggestion: Bethel Heights Pinot Noir, Willamette Valley, Oregon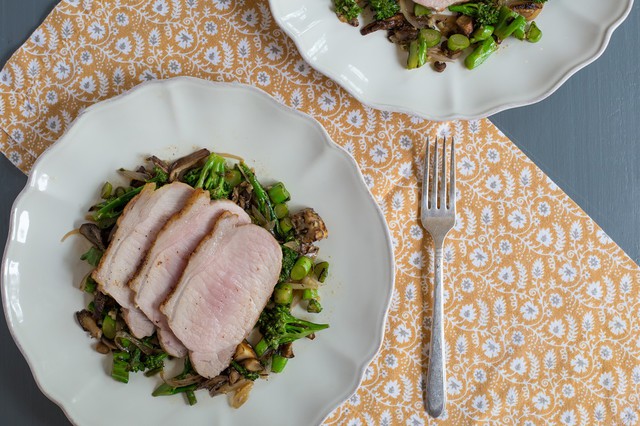 Thyme Roasted Pork Loin with Mushrooms & Broccolini
Syrah - A Washington State Syrah will pair nicely with the herb crusted pork loin. Wines from Washington are slowly becoming household favorites, so you should be able to find one in your local wine shop. The Syrah will have nice savory notes and dark berry fruit that will really round out the dish- especially if you find one that is a little lighter in style, similar to a French Rhone Syrah. Suggestion: Amavi Cellars Syrah, Walla Walla, Washington
Seasonal Menus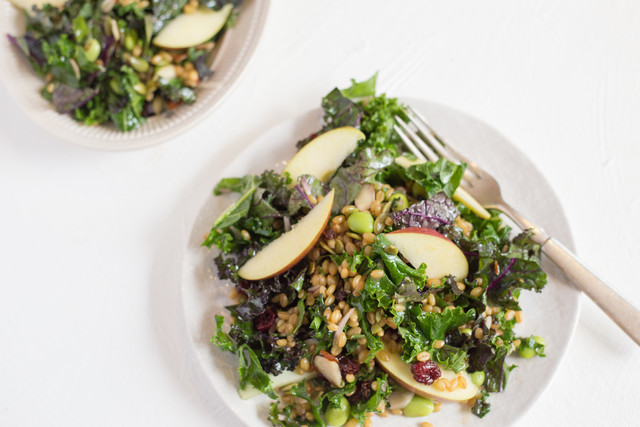 SuperFood Salad
Beaujolais - A red wine that screams superfood. It is a light, fresh red wine, 100% Gamay, with bright fruit - cherry, pomegranate, red berry, and juicy acidity. A glass of Beaujolais will only mirror the salad, not overpower it. Suggestion: Chateau Pizay, Morgon, France
Rosé - It is never too cold outside to enjoy a glass of Rosé. I promise! Especially when it is the perfect pairing for a SuperFood Salad. Suggestion: Elk Cove Pinot Noir, Willamette Valley, Oregon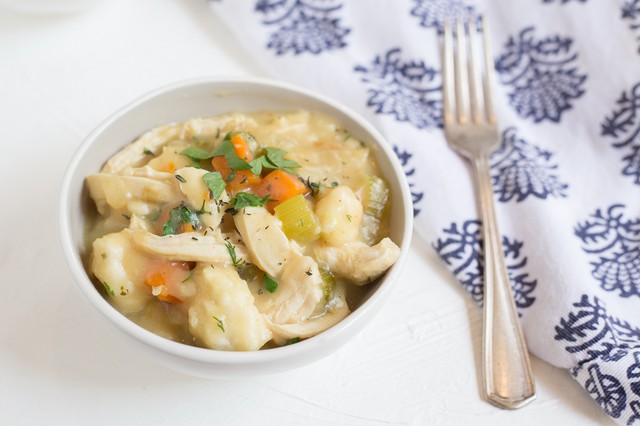 Zeb Stevenson's Chicken & Dumplings
Pinot Noir - An earthy Pinot Noir will hit the spot. You'll want to find a red wine that has a nice amount of acidity that will cut through the delicate richness of the soup and the dumplings. The wine is also light enough to really allow all of the flavors and ingredients in the soup to be expressed. Suggestion: Nicolas Pinot Noir, France
Châteauneuf-du-Pape Blanc - This Southern, creamy soup can stand up to a full bodied white wine. If you can find a Châteauneuf-du-Pape Blanc at your local wine shop, you might have a new white wine go-to. The wines are full and rich in texture with spice and fruit jumping out of the glass. Enjoy a glass with this Southern classic! Suggestion: Mont Redon Châteauneuf-du-Pape Blanc, Rhone, France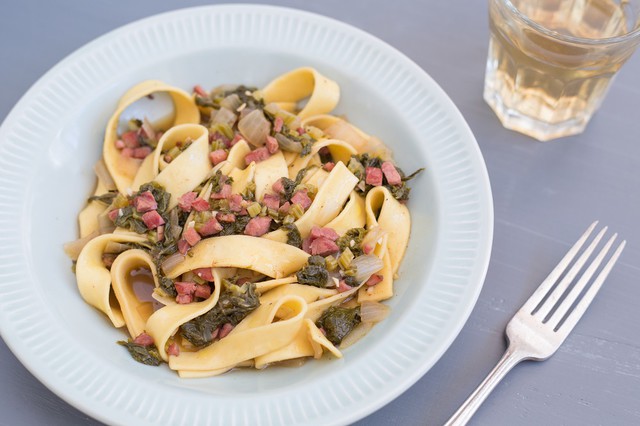 Mustard Greens & Tasso Potlikker with Noodles
Dolcetto - This Italian red grape varietal grown mainly in Piedmont, Italy means "little sweet one," but doesn't necessarily mean it's sweet. It ranges from medium bodied and slightly tannic to super fruit forward with little to no tannin. For this PeachDish, you'll want the fruit forward Dolcetto with little tannin. You'll want to balance the saltiness from the tasso and the earthiness from the mustard greens with a fruity, soft, red wine. Suggestion: Pecchenino San Luigi Dogliani, Piedmont, Italy
Pinot Gris - You'll want a wine that is off dry with this dish- not necessarily a sweet wine since there isn't any spice/heat to the dish, but a wine that has a touch of sweetness or highly expressive fruit. Suggestion: Elk Cove Pinot Gris, Willamette Valley, Oregon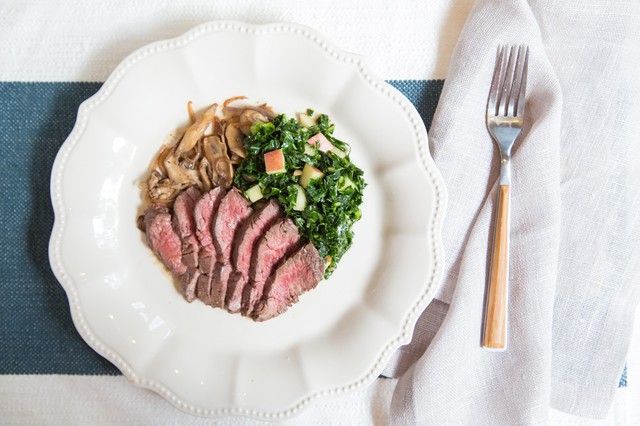 Hanger Steak with Mushroom-Shallot Sauce, Kale & Apple Salad
Oregon Pinot Noir - Just because you're eating a steak doesn't mean you have to pair it with a Cabernet. A nice glass of Oregon Pinot Noir will pair perfectly with this PeachDish. Here's why: there's an earthiness in the wine that mirrors the earthiness in the dish coming from the kale and the mushroom. The sweetness of the shallots and apples works alongside the ripe red fruit in the Pinot Noir. Suggestion: Van Duzer Pinot Noir, Willamette Valley, Oregon