Beer Pairings for the Week of January 4th, 2016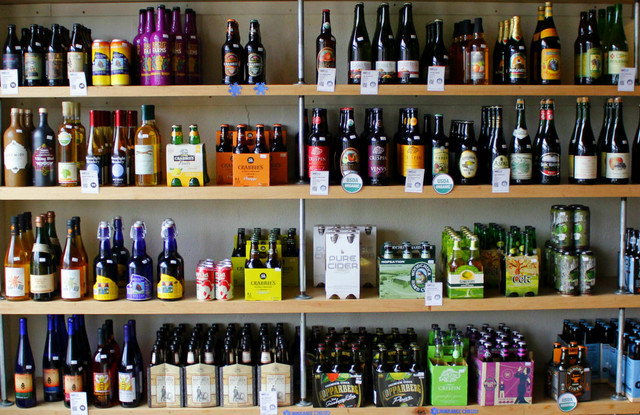 Looking for the perfect brew to go along with your PeachDish meals? We've got you covered. We've partnered with the owners of BeerGirl, a local Atlanta shop, to help you select the perfect beverage. BeerGirl's passionate owners, Alexia Ryan and Erik Lewis opened their shop with the dream of connecting the people of their community with delicious craft beer from the South and beyond. Here are this week's suggested pairings: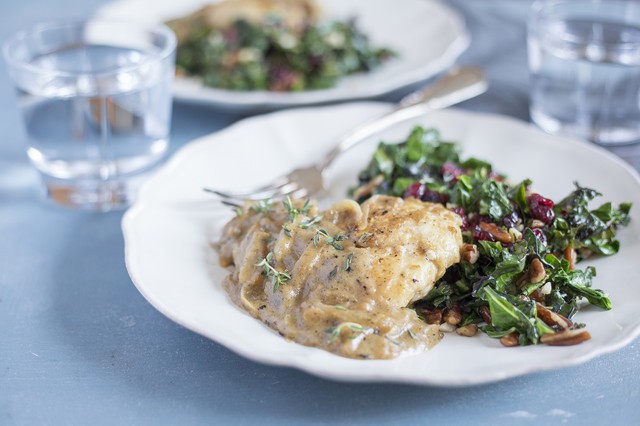 Sheri Castle's Smothered Chicken with Snappy Cream Gravy & Skillet Greens
Porters were the original beer shipped to India, and they did not travel well on the 6-month journey that involved crossing the equator twice. Stale, infected, down right disgusting described the beer and Hodgson's Brewing was about to lose its contract to supply beer for the army when they decided to try something different. The conventional wisdom was only a dark beer could make the journey, but, looking at their experience shipping beer to Russia, they determined the key wasn't dark, but hoppy. So they took their pale ale, added enough hops to make a Tsar happy, and sent it towards India - creating the first IPA. With this dish, a little hop bitterness will help cut the cream and let the chicken and onions pop.
Suggestion: Boulevard Singlewide IPA, Kansas City, Missouri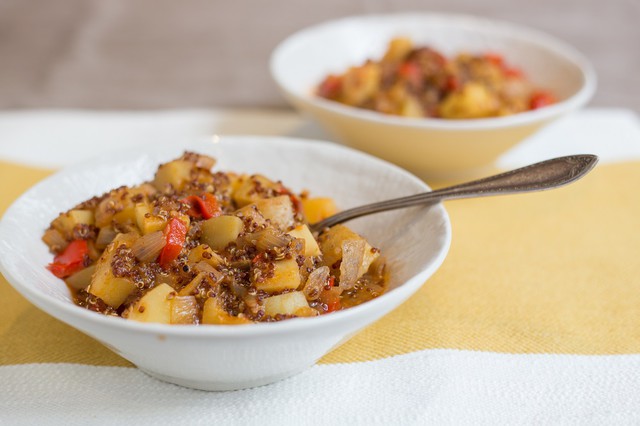 Smoky Red Quinoa, Potato & Parsnip Chowder
Complicated doesn't begin to describe how hard cream ale is to brew. Cream ale starts as regular pale ale using top fermenting ale yeast. After stopping the initial fermentation, the liquid cools and a bottom fermenting lager yeast is added for a secondary fermentation. The result is beer that tastes smooth and clean and is without the fruity esters. A cream ale will allow the smoke and potato flavors to share the spotlight in this dish.
Suggestion: Ballast Point Calm Before the Storm, San Diego, California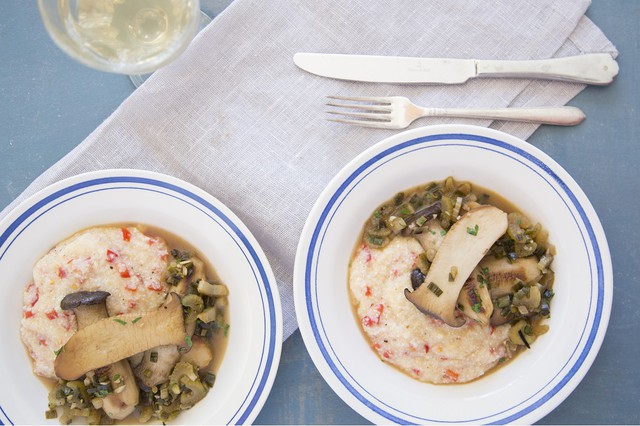 Braised King Oyster Mushrooms with Red Pepper Grits
Beers were originally barrel aged, but modern beer production put that to a stop long ago. Now only special releases get the barrel aged treatment because barrels are expensive and can only be used a few times. Most brewers favor bourbon barrels purchased from the distiller wet, meaning the bourbon has just left the barrel. Aging in the "wet" barrel imparts the characteristic bourbon flavors and finish to the beer. I often find umami flavor of mushrooms become more pronounced when paired with a bourbon flavor so this should make for a nice combination.
Suggestion: Innis & Gunn Bourbon Aged Dark Ale, Edinburgh, Scotland Georgia Local Recommendation: Jailhouse Brewing Last Request, Hampton, Georgia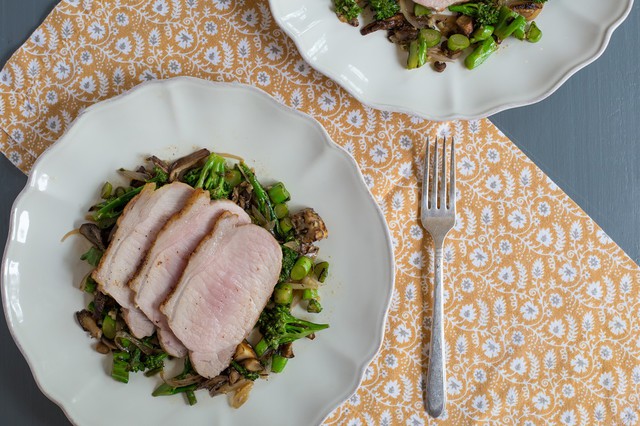 Thyme Roasted Pork Loin with Mushrooms & Broccolini
What's the difference between Belgian Strong Dark Ale and a Quad? Good question: the answer is nothing. The malt bill is the same and they both add candied beet sugar. Heck, even the Beer Judges Certification Program does not recognize any difference and categorizes all quads as strong dark ale. So why would we pair a Belgian Strong Dark Ale with the pork loin? Pork is a protein that is actually enhanced by sweet flavors, hence the Belgian Strong Dark Ale.
Suggestion: Unibroue Trois Pistoles, Chambly, Quebec
Seasonal Menus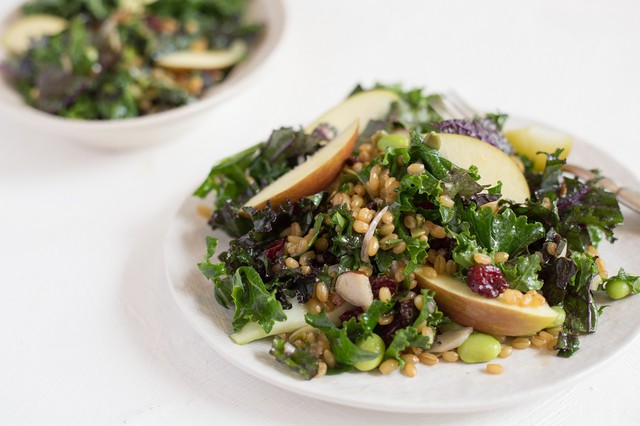 SuperFood Salad
Got to say this is a tough meal for a beer pairing, however, we are up to the task. Brewers love to experiment which leads us to kombucha beer. Is kombucha beer really a beer or is it just hopped kombucha tea? Well, that question is certainly up for debate, but if you are a fan of sour beers and kombucha it might just be your new go-to drink. With the cornucopia of flavors in this dish, a tart beer with its own superfood might be just the ticket.
Suggestion: Unity Vibration Kombucha Beer, Ypsilanti, Michigan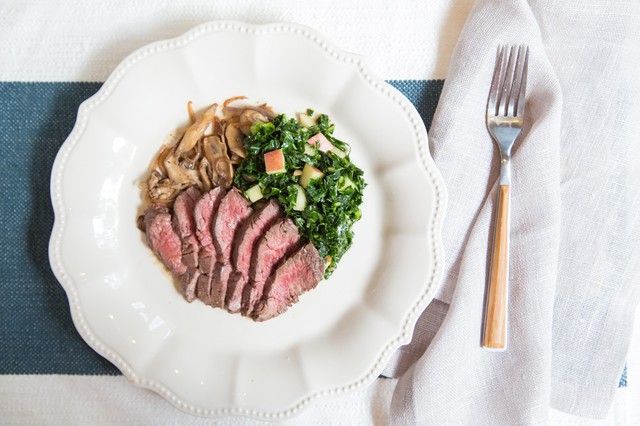 Hanger Steak with Mushroom-Shallot Sauce, Kale & Apple Salad
Bourbon barrel aging grants a stout the opportunity to soak up caramel and charred flavors left in bourbon barrels. Barrel aging is all the rage in many styles of beer, but malty stouts really shine when aged in bourbon barrels. The meaty steak texture and umami from the mushrooms will pair perfectly with the sweetness from a barrel aged stout.
Suggestion: Full Sail Bourbon Barrel Imperial Stout Bomber, Hood River, Oregon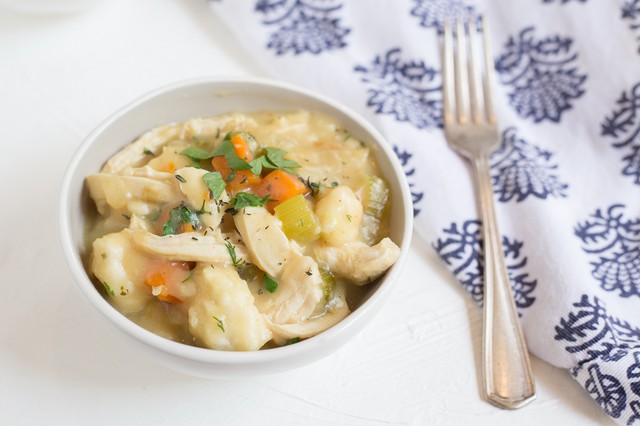 Zeb Stevenson's Chicken & Dumplings
"Extra" means a beer brewed for a foreign market. Drier and roastier in character, Dutch Extra Stouts almost disappeared when Heineken bought the last brewery brewing them in 2000 and promptly proceeded to retire the style. Luckily, tales of their demise were greatly exaggerated as other Dutch brewers picked up the torch. For a creamy dish, like Chicken & Dumplings, dry will work because a sweet stout would get lost in the background.
Suggestion: Jopen Extra Stout, Haarlem, Netherlands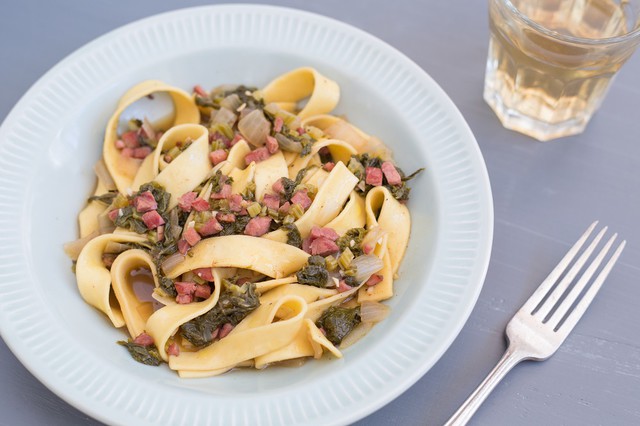 Mustard Greens & Tasso Potlikker with Noodles
Typically beer is carbonated with carbon dioxide, but nitrogen can also be used. Nitrogenated beer requires a brewer to employ additional gadgetry to get the beer to form the tiny bubble heads associated with nitrogen. This is because nitrogen does not dissolve as readily in beer as carbon dioxide. The tart mustard greens and salty potlikker should have a beer with a soft mouthfeel so those dominate flavors will shine.
Suggestion: Left Hand Nitro Milk Stout, Longmont, Colorado