Southern Traditions: Hoppin' John
A New Year's meal is not complete without the classic dish of Hoppin' John, and this year we are bringing you a vegetarian version of this dish that is traditionally seasoned with ham hock. Our Vegetarian Hoppin' John & Greens features a fresh vegetable medley for a spin on the traditional dish.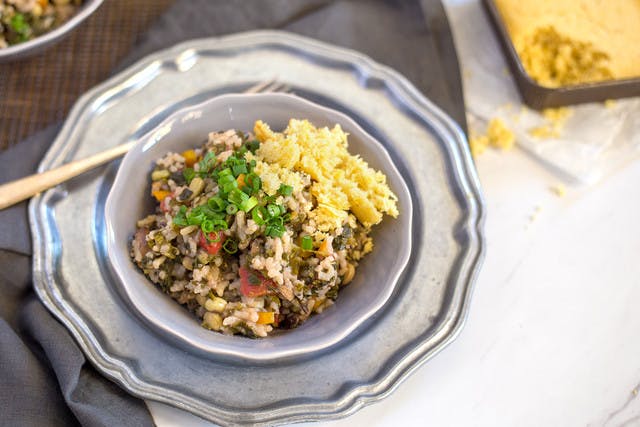 Most agree that the title "Hoppin' John" derives from the French phrase "pois à pigeon" or "pigeon peas" (also called cowpeas or field peas). This dish is typically very simple comprised of field peas and rice with a side of greens. Like many traditional dishes, there are several variations that have developed with Hoppin' John over time. We've spiced ours up with the addition of local veggies and a bouillon cube instead of the ham hock. In our version, we add fresh collard greens directly to the pot for added heartiness and depth. We also use Charleston Gold rice to stay true to this dish's Gullah heritage.
As legend has it, the ingredients of this dish are symbolic of wishes for the new year. Collard greens represent prosperity and wealth while the rice and field peas symbolize good luck and peace. We like to think our added touch of a side of cornbread to this dish will not only bring you well wishes but also a full belly and positive outlook for 2018!
Curious for more on Hoppin' John and Lowcountry cuisine? Check out John Martin Taylor's book Hoppin' John's Lowcountry Cooking.