Beer Pairings for the Week of January 11th, 2016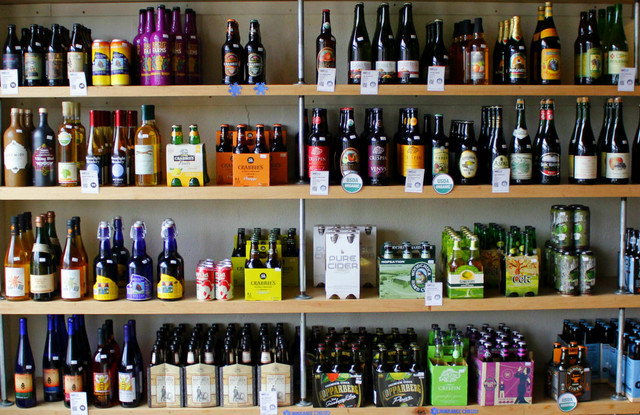 Looking for the perfect brew to go along with your PeachDish meals? We've got you covered. We've partnered with the owners of BeerGirl, a local Atlanta shop, to help you select the perfect beverage. BeerGirl's passionate owners, Alexia Ryan and Erik Lewis opened their shop with the dream of connecting the people of their community with delicious craft beer from the South and beyond. Here are this week's suggested pairings: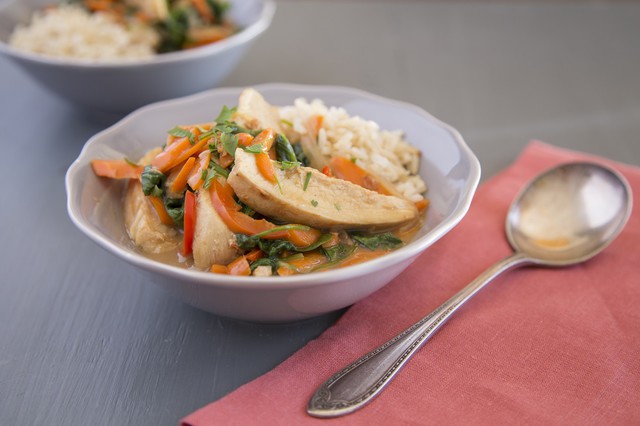 Coconut-Tamarind Chicken with Carrots & Spinach
When you're looking for a comforting beer, how about the first beer brewed in America? Porter- the beer that built the British Empire and the beer that the navy sailed on- was the beer settlers craved. Smooth and creamy with the toasted flavors of coffee and just a little chocolate, a traditional porter will enhance this sweet and spicy dish while allowing the coconut to shine.
Suggestion: Fuller's London Porter, London, England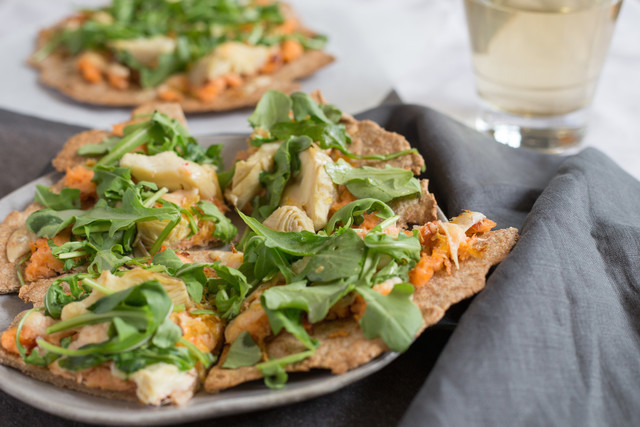 Flatbread with Smoked Salmon, Artichoke & Arugula
We've said it before: wheat beers are under appreciated for their ability to convey flavors. Hefeweizen or wit the wheat beer can be as complicated as the brewer's imagination. Recently, brewers have started realizing that wheat beer should be embraced and celebrated; hopefully the hop heads amongst us will realize every beer does not have to be bitter to be good. To help the hop lovers make that tradition, we suggest a hoppy wheat beer to complement the bitter arugula while not overshadowing the other flavors.
Suggestion: 80 Acre Hoppy Wheat, Kansas City, Missouri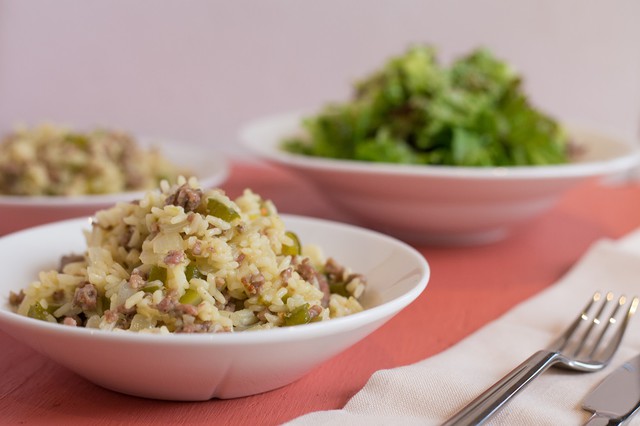 St. Paul's Rice with Salad Dressed in Honey-Tarragon Vinaigrette
Lagers often represent a concept and not a brewing technique in the minds of many occasional beer drinkers. While we have gone on ad nauseam about the colder yeast and lower fermenting temperatures producing a lighter crisper beer, that doesn't resonate with those not devoting their life to the beer. Light and crisp are what someone is asking for when requesting a lager. In a dish with sweet and acidic components, it's best to not get in their way- for this meal a light lager that can clean a palate is best.
Suggestion: Full Sail Session Lager, Hood River, Oregon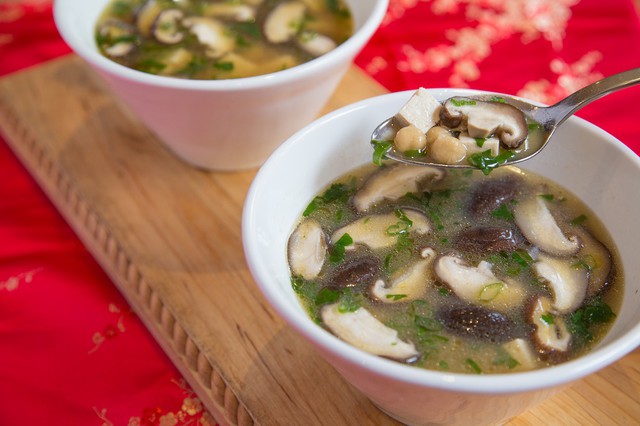 Miso Soup with Shiitake, Tofu & Chickpeas
The traditional beer to pair with miso soup would be a Japanese pale lager, which if we follow that logic would have us all drinking Budweiser with every classic American dish. Pairing with umami flavors can be challenging, but, in this case, let's go sour. Goses are the wild card of German beers, flying in the face of purity laws by adding coriander and salt as well as being purposefully infected with lactobacillus bacteria. In this case, the slightly sour salty flavor should prove an interesting counterpoint to this broth.
Suggestion: Anderson Valley The Kimmie, The Yink, and the Holy Gose, Booneville, California
Seasonal Menus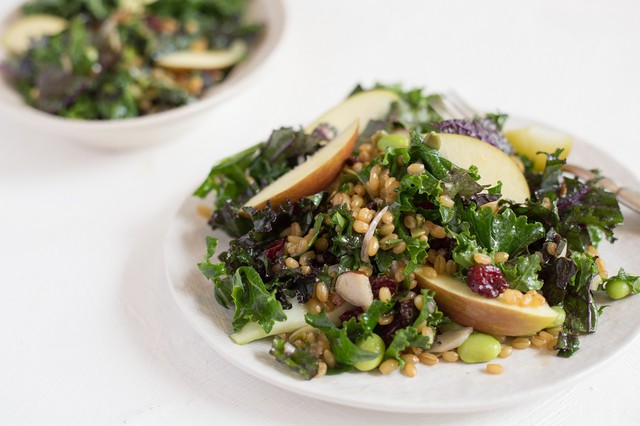 SuperFood Salad
Got to say this is a tough meal for a beer pairing, however, we are up to the task. Brewers love to experiment which leads us to kombucha beer. Is kombucha beer really a beer or is it just hopped kombucha tea? Well, that question is certainly up for debate, but if you are a fan of sour beers and kombucha it might just be your new go-to drink. With the cornucopia of flavors in this dish, a tart beer with its own superfood might be just the ticket.
Suggestion: Unity Vibration Kombucha Beer, Ypsilanti, Michigan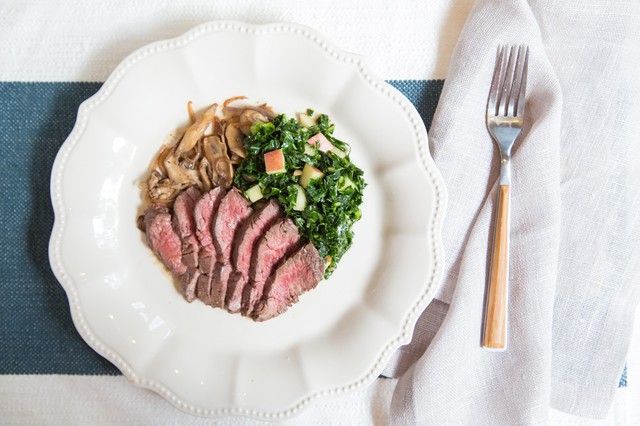 Hanger Steak with Mushroom-Shallot Sauce, Kale & Apple Salad
Bourbon barrel aging grants a stout the opportunity to soak up caramel and charred flavors left in bourbon barrels. Barrel aging is all the rage in many styles of beer, but malty stouts really shine when aged in bourbon barrels. The meaty steak texture and umami from the mushrooms will pair perfectly with the sweetness from a barrel aged stout.
Suggestion: Full Sail Bourbon Barrel Imperial Stout Bomber, Hood River, Oregon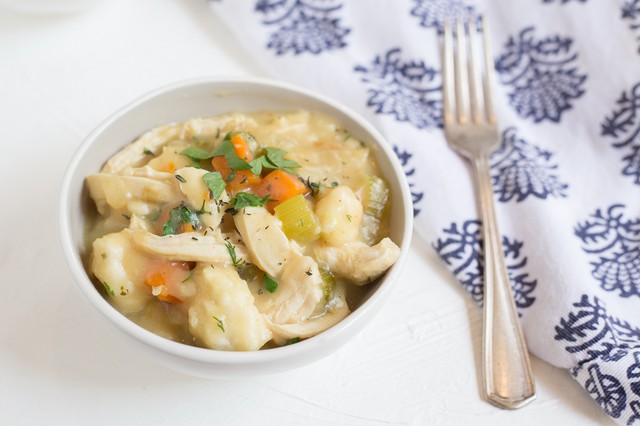 Zeb Stevenson's Chicken & Dumplings
"Extra" means a beer brewed for a foreign market. Drier and roastier in character, Dutch Extra Stouts almost disappeared when Heineken bought the last brewery brewing them in 2000 and promptly proceeded to retire the style. Luckily, tales of their demise were greatly exaggerated as other Dutch brewers picked up the torch. For a creamy dish, like Chicken & Dumplings, dry will work because a sweet stout would get lost in the background.
Suggestion: Jopen Extra Stout, Haarlem, Netherlands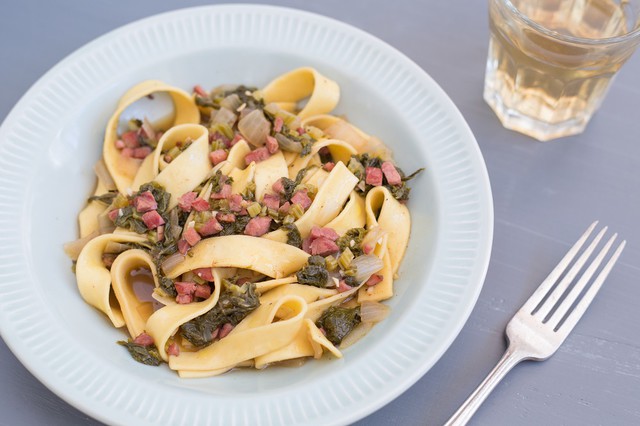 Mustard Greens & Tasso Potlikker with Noodles
Typically beer is carbonated with carbon dioxide, but nitrogen can also be used. Nitrogenated beer requires a brewer to employ additional gadgetry to get the beer to form the tiny bubble heads associated with nitrogen. This is because nitrogen does not dissolve as readily in beer as carbon dioxide. The tart mustard greens and salty potlikker should have a beer with a soft mouthfeel so those dominate flavors will shine.
Suggestion: Left Hand Nitro Milk Stout, Longmont, Colorado