Beer Pairings for the Week of December 28th, 2015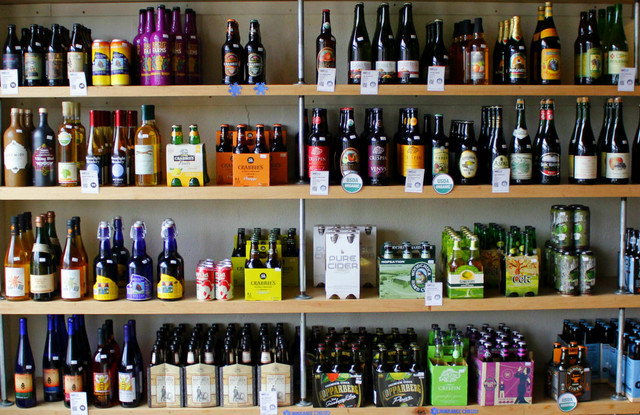 Looking for the perfect brew to go along with your PeachDish meals? We've got you covered. We've partnered with the owners of BeerGirl, a local Atlanta shop, to help you select the perfect beverage. BeerGirl's passionate owners, Alexia Ryan and Erik Lewis opened their shop with the dream of connecting the people of their community with delicious craft beer from the South and beyond. Here are this week's suggested pairings: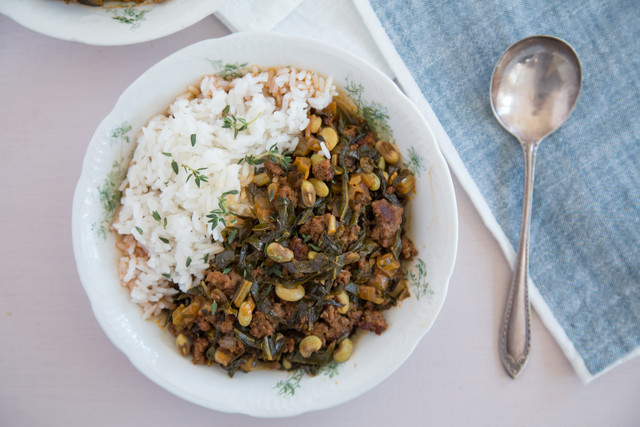 New Year's Chili with Field Peas & Collard Greens
In Bavaria, the tradition is to drink a wheat beer or hefeweizen on New Year's Day. Hefeweizen or Weissbier- literally meaning "white beer"- is brewed with wheat malt and top fermenting yeast imparting a banana flavor into the beer. For a spicy dish, a wheat beer should provide needed sweetness for the next bite of hot chili.
Suggestion: Erdinger Weissbier, Erding, Germany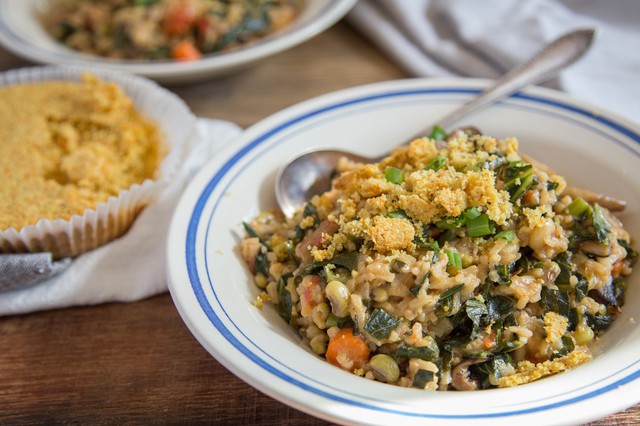 Vegetarian Hoppin' John & Greens
A Southern New Year's tradition deserves an ale- not like we were brewing a whole lot of lagers and pilsners in the heat of the American South. Beer boils down to styles based on how the yeast ferments. Bottom fermenting lager yeast requires lower temperatures and ferment slower than top fermenting ale yeasts that ferment quickly at higher temperatures. For this dish, let's go with a Scotch ale with a higher alcohol content to celebrate the New Year and the fact we have a three day weekend. The toasty, slightly smoky ale should play well with the umami of the mushrooms.
Suggestion: Oskar Blues Old Chubb, Longmont, Colorado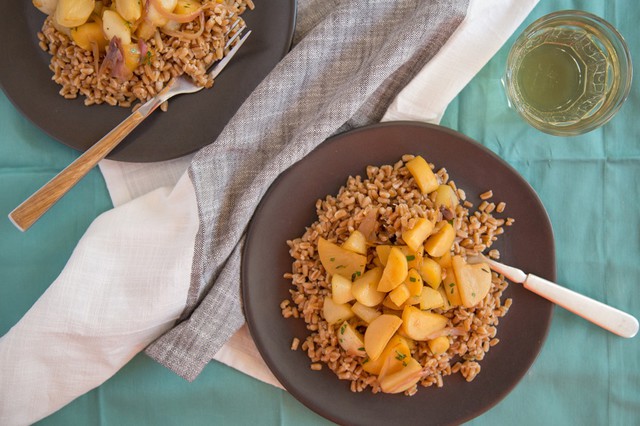 Sorghum Glazed Turnips, Parsnips & Pears with Farro
Smoke as a beer flavoring component is largely ignored now, but it has a long tradition in beer making. Working with "green" malts means you can't extract as much sugar from the boil. Toasting young malts dries them out while at the same time imparting a smoked flavor. The degree of smokiness can be unpredictable which is why modern scientific brewers tend to use liquid smoke for precision control. A smoky beer should highlight the earthy turnips and parsnips without detracting from the sweet sorghum and pear flavors.
Suggestion: Stone Smoked Porter, Escondido, California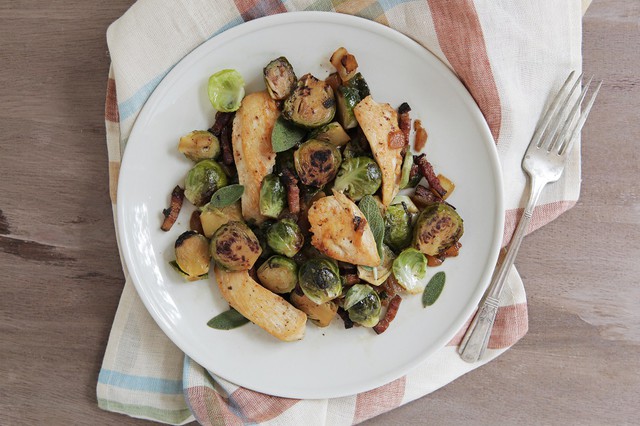 Chicken with Brussels Sprouts & Bacon
An amber colored weisse, like Schneider Weisse Original, has all of the warm spices of fall and round malty flavors that a chilly evening calls for and a hearty meal like this needs. The perfect pairing to show that hefeweizens aren't just for summer!
Suggestion: Schneider Weisse Hefeweizen, Kelheim, Bavaria Germany
Seasonal Menus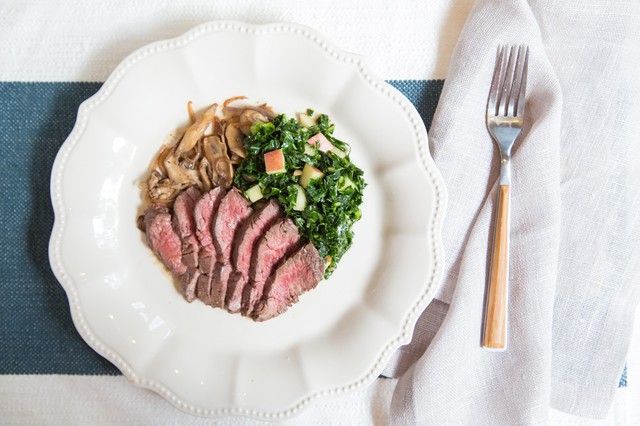 Hanger Steak with Mushroom-Shallot Sauce, Kale & Apple Salad
Bourbon barrel aging grants a stout the opportunity to soak up caramel and charred flavors left in bourbon barrels. Barrel aging is all the rage in many styles of beer, but malty stouts really shine when aged in bourbon barrels. The meaty steak texture and umami from the mushrooms will pair perfectly with the sweetness from a barrel aged stout.
Suggestion: Full Sail Bourbon Barrel Imperial Stout Bomber, Hood River, Oregon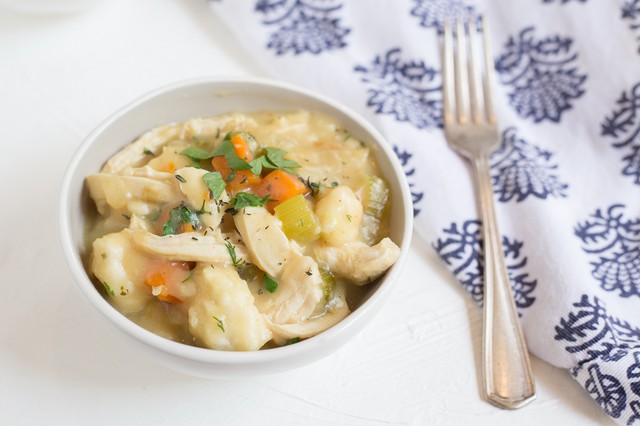 Zeb Stevenson's Chicken & Dumplings
"Extra" means a beer brewed for a foreign market. Drier and roastier in character, Dutch Extra Stouts almost disappeared when Heineken bought the last brewery brewing them in 2000 and promptly proceeded to retire the style. Luckily, tales of their demise were greatly exaggerated as other Dutch brewers picked up the torch. For a creamy dish, like Chicken & Dumplings, dry will work because a sweet stout would get lost in the background.
Suggestion: Jopen Extra Stout, Haarlem, Netherlands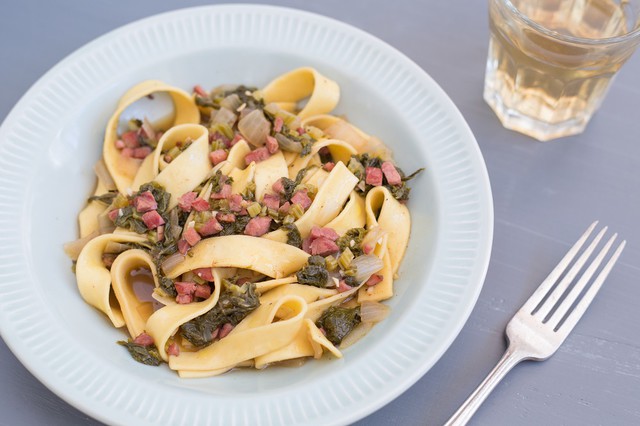 Mustard Greens & Tasso Potlikker with Noodles
Typically beer is carbonated with carbon dioxide, but nitrogen can also be used. Nitrogenated beer requires a brewer to employ additional gadgetry to get the beer to form the tiny bubble heads associated with nitrogen. This is because nitrogen does not dissolve as readily in beer as carbon dioxide. The tart mustard greens and salty potlikker should have a beer with a soft mouthfeel so those dominate flavors will shine.
Suggestion: Left Hand Nitro Milk Stout, Longmont, Colorado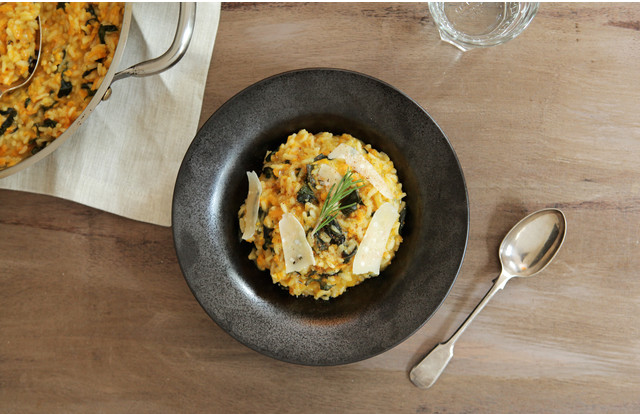 Sweet Potato & Chard Risotto with Parmesan, Rosemary & Nutmeg
Pumpkin beers are the rage this time of year, but pairing a pumpkin beer can be tricky. You get the flavor of pumpkin, cinnamon, nutmeg, and brown sugar so most will think dessert. However, pumpkin and sweet potato are like flavors so they complement each other without diminishing the bitterness of the chard.
Suggestion: Dogfish Head Punkin Ale, Milton, Delaware