Beer Pairings for the Week of December 21st, 2015
Looking for the perfect brew to go along with your PeachDish meals? We've got you covered. We've partnered with the owners of BeerGirl, a local Atlanta shop, to help you select the perfect beverage. BeerGirl's passionate owners, Alexia Ryan and Erik Lewis opened their shop with the dream of connecting the people of their community with delicious craft beer from the South and beyond. Here are this week's suggested pairings: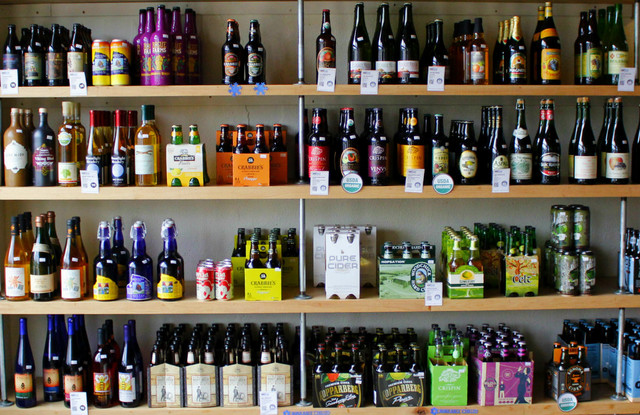 Holiday Meal Kit
Christmas beer in America goes back to 1975 when Anchor brewed the first rendition of their Christmas Ale. While Fritz Maytag started the ball rolling in the United States, Christmas beer had long been a European tradition being brewed off and on in Austria, Belgium, and Germany since the 1700s. Not beholden to any specific style, Christmas beer runs the gamut from shandys to stouts, with ale probably the most dominate style. Typically brewed with added spices like ginger, nutmeg, cinnamon, juniper, and allspice and usually higher in alcohol content, they make great beers to age. Some breweries even change it up every year to make new and exciting variations. With a meal as diverse as the Holiday Meal Kit, we suggest picking up a few types of Christmas beer and making a bottle share part of your holiday tradition.
Suggestions: Anchor Our Special Christmas Ale, San Francisco California Shiner Cheer, Shiner, Texas Breckenridge Holidale, Breckenridge, Colorado Magic Hat Feest of Fools, Burlington, Vermont
Georgia Local Recommendations: Sweetwater Festive Ale, Atlanta, Georgia Three Taverns Feest Noel, Decatur, Georgia
European Additions: Saint Bernardus Christmas Ale, Watou, Belgium Samichlaus, Vorchdorf, Austria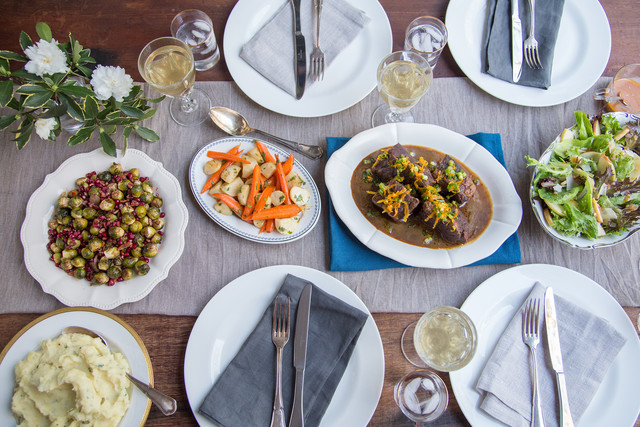 Seasonal Menus
Hanger Steak with Mushroom-Shallot Sauce, Kale & Apple Salad
Bourbon barrel aging grants a stout the opportunity to soak up caramel and charred flavors left in bourbon barrels. Barrel aging is all the rage in many styles of beer, but malty stouts really shine when aged in bourbon barrels. The meaty steak texture and umami from the mushrooms will pair perfectly with the sweetness from a barrel aged stout.
Suggestion: Full Sail Bourbon Barrel Imperial Stout Bomber, Hood River, Oregon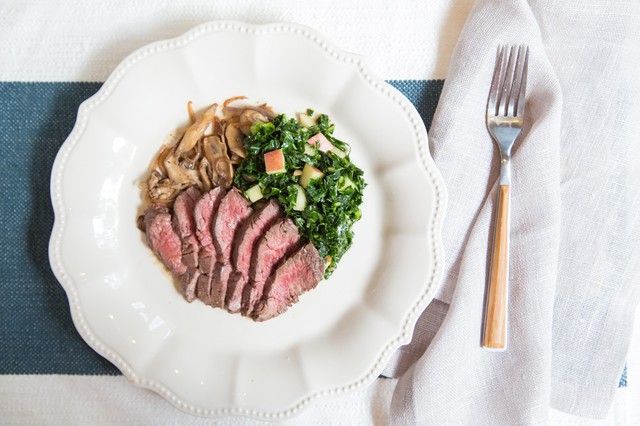 Zeb Stevenson's Chicken & Dumplings
"Extra" means a beer brewed for a foreign market. Drier and roastier in character, Dutch Extra Stouts almost disappeared when Heineken bought the last brewery brewing them in 2000 and promptly proceeded to retire the style. Luckily, tales of their demise were greatly exaggerated as other Dutch brewers picked up the torch. For a creamy dish, like Chicken & Dumplings, dry will work because a sweet stout would get lost in the background.
Suggestion: Jopen Extra Stout, Haarlem, Netherlands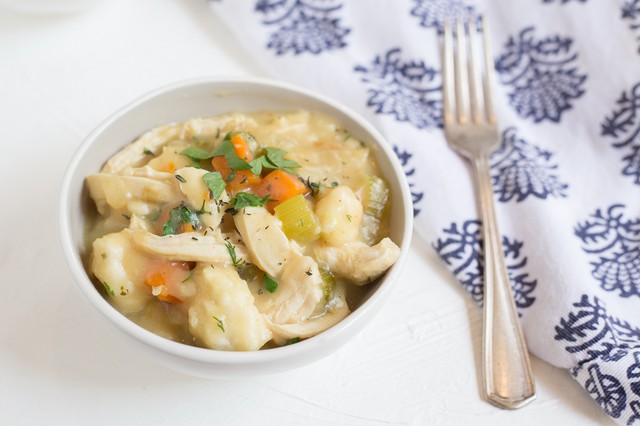 Mustard Greens & Tasso Potlikker with Noodles
Typically beer is carbonated with carbon dioxide, but nitrogen can also be used. Nitrogenated beer requires a brewer to employ additional gadgetry to get the beer to form the tiny bubble heads associated with nitrogen. This is because nitrogen does not dissolve as readily in beer as carbon dioxide. The tart mustard greens and salty potlikker should have a beer with a soft mouthfeel so those dominate flavors will shine.
Suggestion: Left Hand Nitro Milk Stout, Longmont, Colorado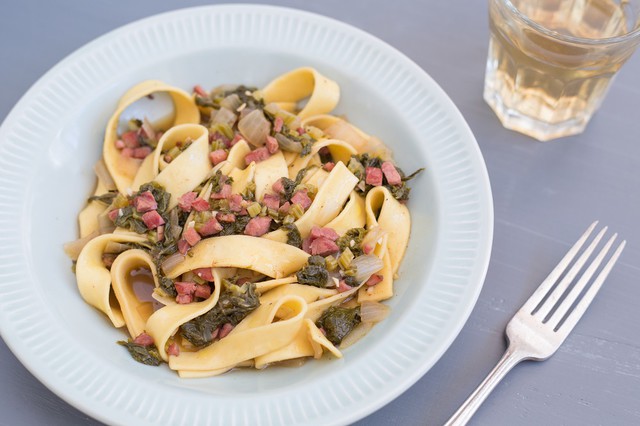 Sweet Potato & Chard Risotto with Parmesan, Rosemary & Nutmeg
Pumpkin beers are the rage this time of year, but pairing a pumpkin beer can be tricky. You get the flavor of pumpkin, cinnamon, nutmeg, and brown sugar so most will think dessert. However, pumpkin and sweet potato are like flavors so they complement each other without diminishing the bitterness of the chard.
Suggestion: Dogfish Head Punkin Ale, Milton, Delaware