Beer Pairings for the Week of November 30th, 2015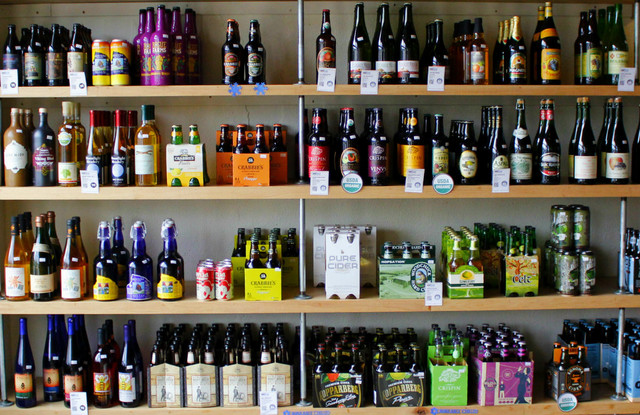 Looking for the perfect brew to go along with your PeachDish meals? We've got you covered. We've partnered with the owners of BeerGirl, a local Atlanta shop, to help you select the perfect beverage. BeerGirl's passionate owners, Alexia Ryan and Erik Lewis opened their shop with the dream of connecting the people of their community with delicious craft beer from the South and beyond. Here are this week's suggested pairings: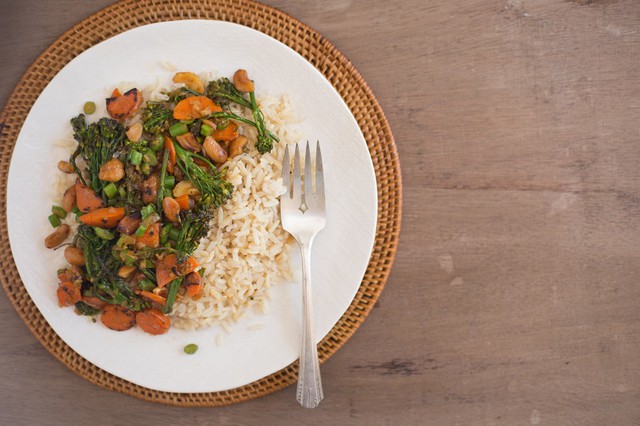 Broccolini & Cashew Stir-­Fry with Brown Basmati Rice
Steam beer is the original American craft beer. This is a style originating in California out of necessity by German brewers looking to brew classic lagers but lacking access to refrigeration. To deal with the lack of refrigeration they used cool ships- these were long shallow troughs that they pumped the hot wort into and allowed to cool. The name comes from the steam rising off the beer as the liquid cooled. With the mix of sweet and hot in this dish you want a malty beer that complements the broccolini and cashews while allowing the sriracha to stand out.
Suggestion: Anchor Steam, San Francisco, California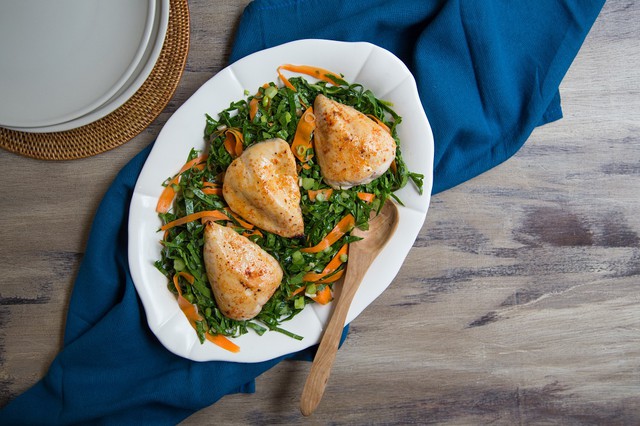 Mayhaw Glazed Chicken with Collard Slaw
Belgian golden ales are proof that not every beer brewed in Belgium requires prayer and thick wool robes. Pale in color, with fruity esters and a little heat from the higher alcohol content, this ale style rose in popularity after World War II. Mayhaw's crabapple flavor will play well with the heat in this Belgian ale.
Suggestion: Duvel, Breendonk, Belgium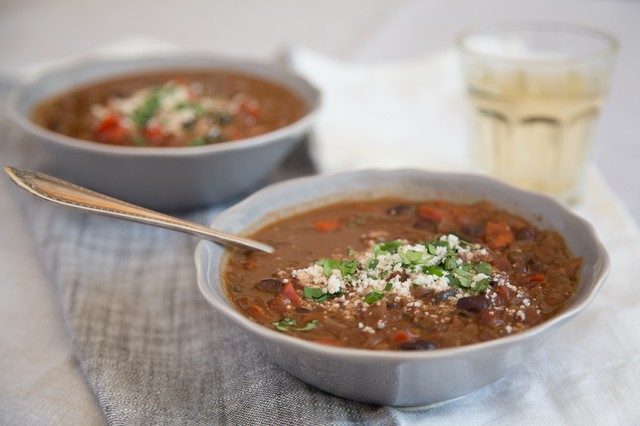 Black Bean "Mole" Chili with Cotija Cheese
Dunkels are brewed like a regular lager but use darker Munich malt. The maltier flavor is enhanced by decoction- a brewing technique where a second hotter and longer boil of wort is added to the mash. Decoction regulates the mash temperature and brings more malty flavor from the additional sugars extracted. A mole sauce requires a beer with sweet malt taste so the spice blend will shine (which is why a dunkel is perfect).
Suggestion: Weihenstephaner Dunkel, Freising, Germany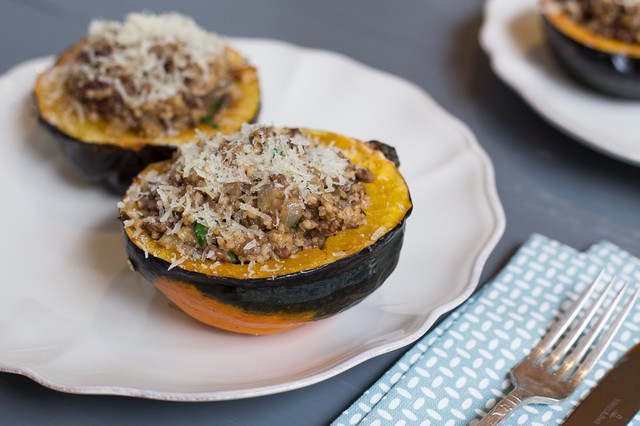 Beef, Rice & Manchego Stuffed Acorn Squash
Berliner weiss is a wheat beer soured with lactobacillus. While technically a sour, berliner weiss come across as more tart in flavor than a gose. In Berlin it is popular to add a green colored sweet raspberry syrup to the beer which completely changes the taste from sour to sweet. That is one beer trend that has not yet crossed the Atlantic. We will skip the syrup when pairing with manchego and use the sour of the berliner weiss as a counterpoint to the nutty flavors of the cheese.
Georgia Local Recommendation: Creature Comforts Athena, Athens, Georgia
Seasonal Menus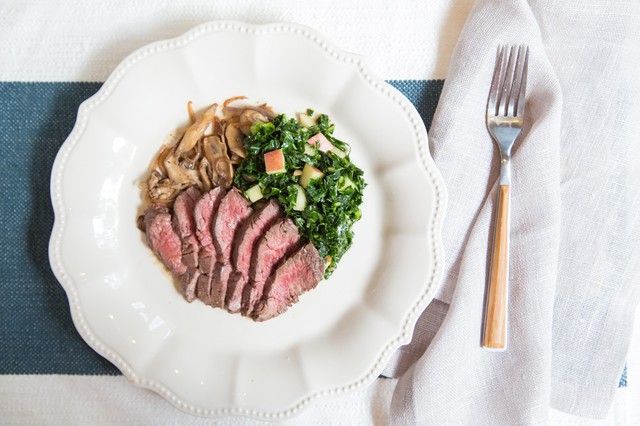 Hanger Steak with Mushroom-Shallot Sauce, Kale & Apple Salad
Bourbon barrel aging grants a stout the opportunity to soak up caramel and charred flavors left in bourbon barrels. Barrel aging is all the rage in many styles of beer, but malty stouts really shine when aged in bourbon barrels. The meaty steak texture and umami from the mushrooms will pair perfectly with the sweetness from a barrel aged stout.
Suggestion: Full Sail Bourbon Barrel Imperial Stout Bomber, Hood River, Oregon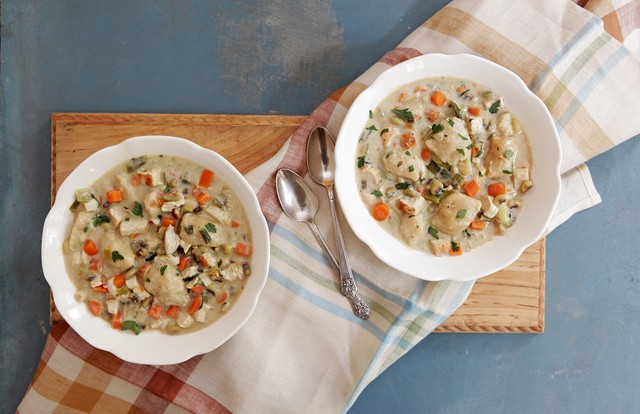 Zeb Stevenson's Chicken & Dumplings
"Extra" means a beer brewed for a foreign market. Drier and roastier in character, Dutch Extra Stouts almost disappeared when Heineken bought the last brewery brewing them in 2000 and promptly proceeded to retire the style. Luckily, tales of their demise were greatly exaggerated as other Dutch brewers picked up the torch. For a creamy dish, like Chicken & Dumplings, dry will work because a sweet stout would get lost in the background.
Suggestion: Jopen Extra Stout, Haarlem, Netherlands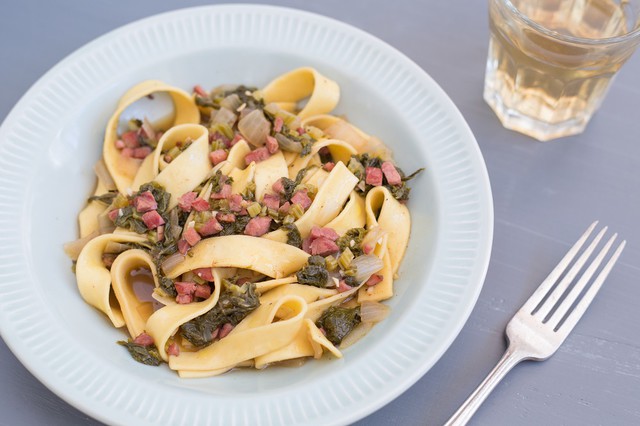 Mustard Greens & Tasso Potlikker with Noodles
Typically beer is carbonated with carbon dioxide, but nitrogen can also be used. Nitrogenated beer requires a brewer to employ additional gadgetry to get the beer to form the tiny bubble heads associated with nitrogen. This is because nitrogen does not dissolve as readily in beer as carbon dioxide. The tart mustard greens and salty potlikker should have a beer with a soft mouthfeel so those dominate flavors will shine.
Suggestion: Left Hand Nitro Milk Stout, Longmont, Colorado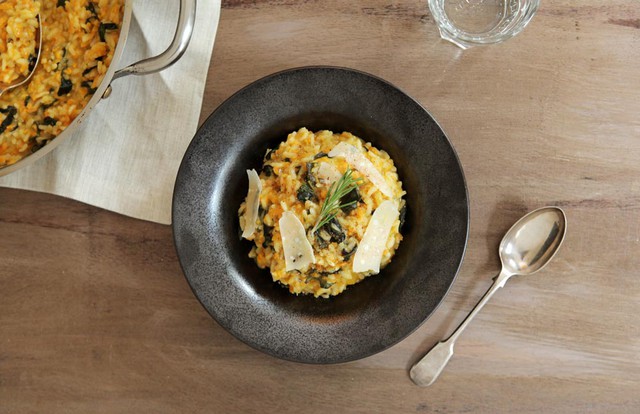 Sweet Potato & Chard Risotto with Parmesan, Rosemary & Nutmeg
Pumpkin beers are the rage this time of year, but pairing a pumpkin beer can be tricky. You get the flavor of pumpkin, cinnamon, nutmeg, and brown sugar so most will think dessert. However, pumpkin and sweet potato are like flavors so they complement each other without diminishing the bitterness of the chard.
Suggestion: Dogfish Head Punkin Ale, Milton, Delaware