Wine Pairings for the Week of November 30th, 2015
Each week, Wine Specialist Sarah Pierre brings you suggestions to complement your PeachDish meals. Sarah is one of the owners at 3 Parks Wine Shop in Glenwood Park, Atlanta. She paired up with the team of The Shed at Glenwood and The Pig and The Pearl and opened 3 Parks in 2013. Prior to opening the store, she spent most of her career working and managing notable restaurants in Atlanta and New York City. Sarah selects all of the wines that are offered at 3 Parks Wine Shop and also assists in pairing wines for local events and dinners throughout Atlanta.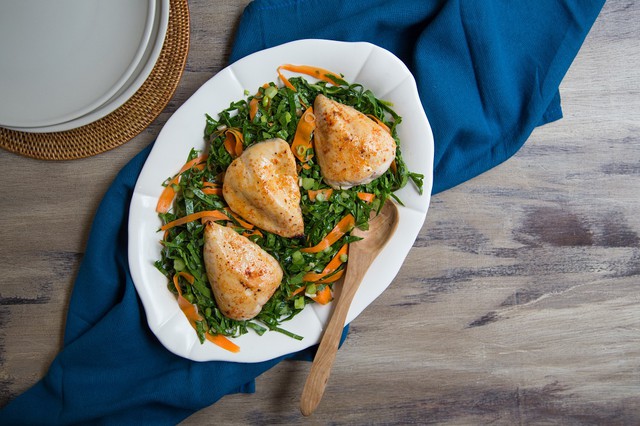 Mayhaw Glazed Chicken with Collard Slaw
Garnacha - This PeachDish meal might be simple in preparations, but there are lots of complexities in the meal. You have the sweet and spicy from the Mayhaw pepper jelly, and the tanginess and earthiness from the collard slaw. All this makes the red wine selection an important one - pour the wrong thing in the glass and you'll know it. Garnacha will be the best bet for this dish. The pronounced fruitiness of the wine and low tannins tend to give the impression of sweetness, and there is just enough acidity to be perfect with the slaw. Suggestion: Príncipe de Viana Garnacha Tinto Roble, Navarra, Spain
Chardonnay - Make sure you select a Chardonnay aged in stainless steel. The bottles usually have that notated on the front or the back wine label. A wine aged in stainless steel will be crisp, fresh, and won't have the toasted oak flavors that you want to avoid when pairing with this dish. Suggestion: Louis Jadot Steel Chardonnay, Burgundy, France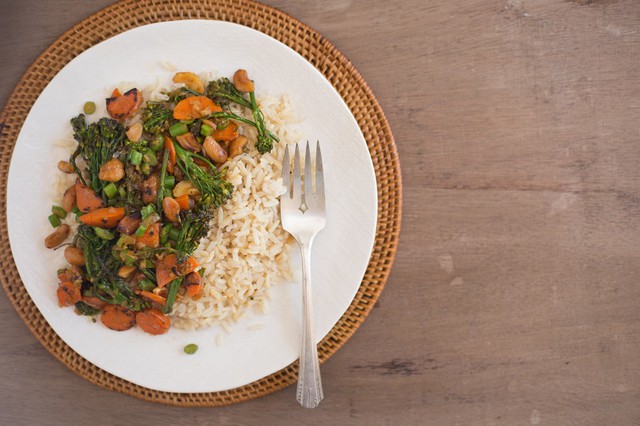 Broccolini & Cashew Stir-Fry with Brown Basmati Rice
Dolcetto - This wine is extremely versatile for so many reasons which is why it is often paired with Asian dishes. It's a light red with just the right amount of acid and expressive fruit, and it has light-medium tannins (dryness). Suggestion: Pertinace Dolcetto d'Alba, Piedmont, Italy
Vouvray - Chenin Blanc at its best. It's a great pairing for a spicy, sweet & salty Asian dish. Suggestion: Remy Pannier Vouvray, Loire, France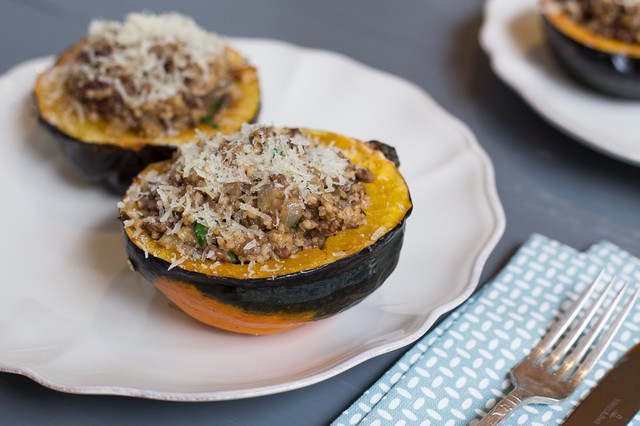 Beef, Rice & Manchego Stuffed Acorn Squash
Crianza - A Tempranillo aged for about a year in oak and a year in bottle before release, Crianza has more structure and depth. Aside from Tempranillo working well with dishes using thyme, it's a perfect pairing with Manchego cheese. Suggestion: Finca El Encinal Crianza Ribera del Duero, Spain
Verdejo - This slightly herbaceous, mineral driven, acidic white will pair perfectly with the Stuffed Acorn Squash. If Verdejo isn't accessible to you, grab a bottle of your favorite Sauvignon Blanc- preferably Sancerre. Suggestion: Vina Altamar Verdejo, Rueda, Spain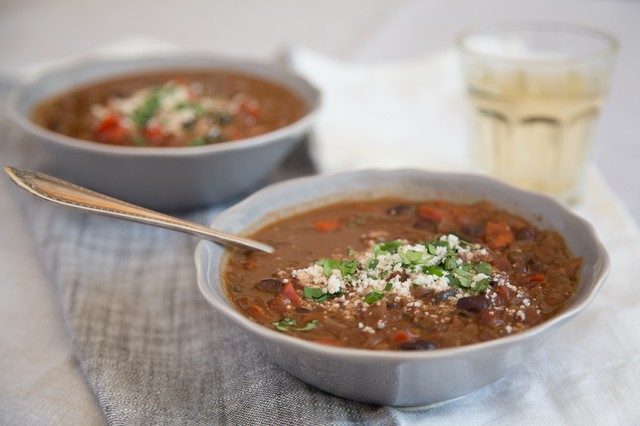 Black Bean "Mole" Chili with Cotija Cheese
Valpolicella Superior Ripasso - What a fun twist to the classic chili- mole chili! Chocolate makes everything better. A rich, velvety glass of Valpolicella Ripasso will be a nice complement to the stew - some even have a nice chocolate/cocoa flavor to them.
Bordeaux Blanc - A blend of Semillon/Sauvignon Blanc should do the trick. The Semillon adds the texture, weight, and fruit concentration to the wine - the Sauvignon Blanc will add the herbaceous notes that will mimic those in the chili, and the citrus and acid will act as a palate cleanser. Suggestion: Chateau Ferrande, Graves, Bordeaux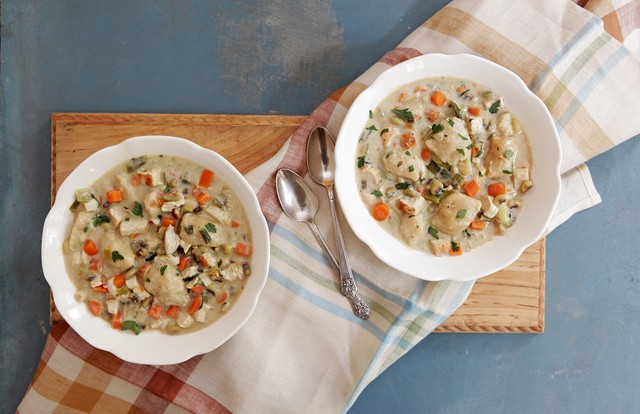 Zeb Stevenson's Chicken & Dumplings
Pinot Noir - An earthy Pinot Noir will hit the spot. You'll want to find a red wine that has a nice amount of acidity that will cut through the delicate richness of the soup and the dumplings. The wine is also light enough to really allow all of the flavors and ingredients in the soup to be expressed. Suggestion: Nicolas Pinot Noir, France
Châteauneuf-du-Pape Blanc - This Southern, creamy soup can stand up to a full bodied white wine. If you can find a Châteauneuf-du-Pape Blanc at your local wine shop, you might have a new white wine go-to. The wines are full and rich in texture with spice and fruit jumping out of the glass. Enjoy a glass with this Southern classic! Suggestion: Mont Redon Châteauneuf-du-Pape Blanc, Rhone, France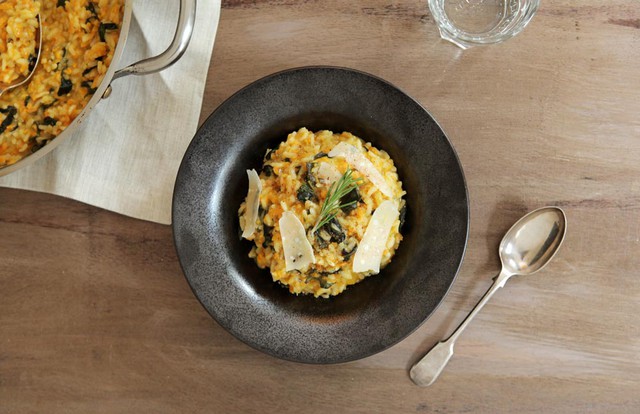 Sweet Potato & Chard Risotto with Parmesan, Rosemary & Nutmeg
Sangiovese - Look for an IGT Sangiovese/Chianti which you can identify by looking at the white regulation label on the neck of the bottle. The wines tend to be less complex and more fruit forward.
Albarino - The Spanish white grape varietal, Albarino, exhibits lots of warm mandarin and floral notes that will pair well with the nutmeg and the sweet potatoes. There is minerality present in this wine for the parmesan cheese, and of course, acid is your friend and is perfect for a creamy risotto.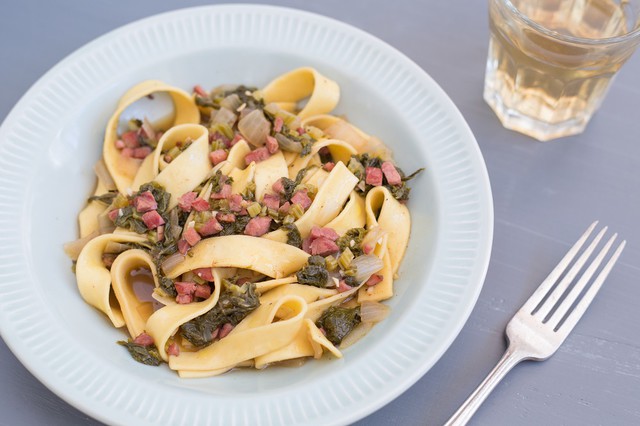 Mustard Greens & Tasso Potlikker with Noodles
Dolcetto - This Italian red grape varietal grown mainly in Piedmont, Italy means "little sweet one," but doesn't necessarily mean it's sweet. It ranges from medium bodied and slightly tannic to super fruit forward with little to no tannin. For this PeachDish, you'll want the fruit forward Dolcetto with little tannin. You'll want to balance the saltiness from the tasso and the earthiness from the mustard greens with a fruity, soft, red wine. Suggestion: Pecchenino San Luigi Dogliani, Piedmont, Italy
Pinot Gris - You'll want a wine that is off dry with this dish- not necessarily a sweet wine since there isn't any spice/heat to the dish, but a wine that has a touch of sweetness or highly expressive fruit. Suggestion: Elk Cove Pinot Gris, Willamette Valley, Oregon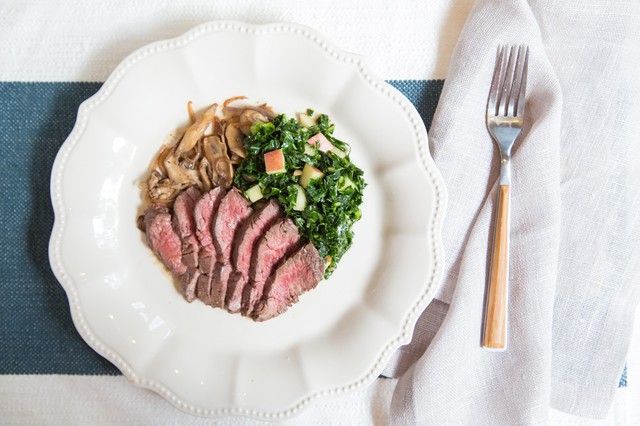 Hanger Steak with Mushroom-Shallot Sauce, Kale & Apple Salad
Oregon Pinot Noir - Just because you're eating a steak doesn't mean you have to pair it with a Cabernet. A nice glass of Oregon Pinot Noir will pair perfectly with this PeachDish. Here's why: there's an earthiness in the wine that mirrors the earthiness in the dish coming from the kale and the mushroom. The sweetness of the shallots and apples works alongside the ripe red fruit in the Pinot Noir. Suggestion: Van Duzer Pinot Noir, Willamette Valley, Oregon