Beer Pairings for the Week of November 17th, 2015
Looking for the perfect brew to go along with your PeachDish meals? We've got you covered. We've partnered with the owners of BeerGirl, a local Atlanta shop, to help you select the perfect beverage. BeerGirl's passionate owners, Alexia Ryan and Erik Lewis opened their shop with the dream of connecting the people of their community with delicious craft beer from the South and beyond. Here are this week's suggested pairings: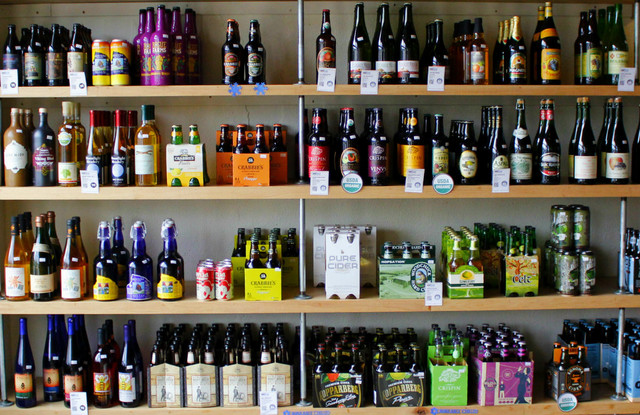 This Week's Highlight: Lagers
Lagers are brewed with bottom-fermenting yeasts that ferment at lower temperatures than ales. They generally have a cleaner, crisper flavor because the yeast itself doesn't impart as much flavor into the beer. That makes them great for pairing with food because you can really focus on complementary flavors of specific hops and malts. This week we're pairing dishes with a few different lager styles to illustrate how this brewing technique can be so much more flavorful and satisfying than the standard American macro-lager might lead you to believe.
Honey-Drizzled Cabbage with Pecans & Crumbled Feta
Pilsener originated in Bohemia and is one of the most popular styles of lagers in the world. The classic German style Pilsener is light in color and has a fair amount of hoppiness usually from Saaz hops. This will impart an almost citrus-like zestiness, perfect for pairing with the cabbage and feta in this dish.
Suggestion: Prima Pils, Victory Brewing Company, Downingtown, Pennsylvania
Chicken with Mac-n-Cheese & Broccolini
Bock beer is a stronger lager that takes some extra time in cold storage to smooth out the flavors. The dark amber color comes from the malt, and the maltiness of this style lends well to a chilly evening and belly-filling comfort food like chicken and mac-n-cheese.
Suggestion: Shiner Bock, Spoetzl Brewery, Shiner, Texas
Chorizo, Sweet Potato & Kale Caldo
Doppelbock literally means double Bock, so it's no surprise that this style has even more malty richness and character than its namesake. That extra malty character will come with some added sweetness to dampen the heat of the chorizo in this dish while keeping pace with the heartiness of the sweet potato and kale.
Suggestion: Ayinger Celebrator Doppelbock, Brauerei Aying, Aying, Germany
Sautéed Brussels Sprouts & Oyster Mushrooms with Gnocchi & Lemon
Brussels sprouts and mushrooms play the starring role in this dish with gnocchi as a starchy supporting element. The lemon brightens the flavors and brings them all together. The word "Helles" is German for "bright" and a Helles Bock or Helles Doppelbock will be lighter in color than a regular bock or doppelbock. The malty character still comes across in the body though, providing a starchy supporting element much like the gnocchi in this dish. And, the drier finish and hop flavors will lend a helping hand to the lemon when it comes to brightening flavors.
Suggestion: Andygator, Abita, Covington, Louisiana