Root to Leaf, a Cookbook by Steven Satterfield
We recently sat down with local Atlanta chef, Steven Satterfield, to learn more about his history in the kitchen. Steven is chef of the award-winning restaurant Miller Union and has a new cookbook, Root to Leaf.
Root to Leaf is a "must-have for the home cook" as it "elevates the bounty of the fruit and vegetable kingdom as never before." "Organized by seasons, and with a decidedly Southern flair, Satterfield's collection of mouthwatering recipes make the most of available produce from local markets, foraging, and the home garden."
Purchase your own copy of Root to Leaf in our online shop, and read more about Steven below: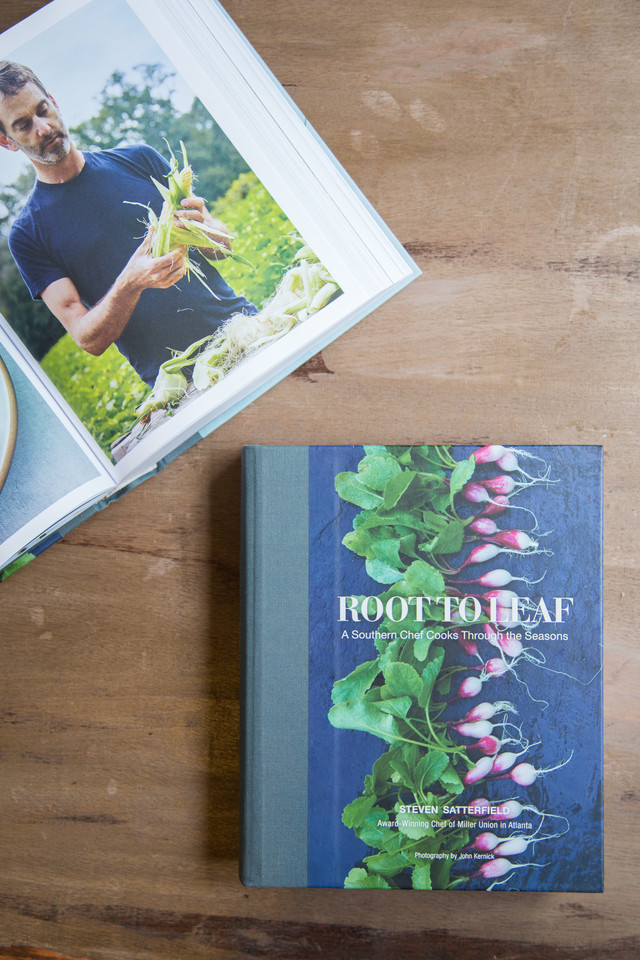 Why did you select this particular recipe as your PeachDish?
First off - it's broccoli and mustard greens season! Not everyone thinks about broccoli having a season but fall is the time for all the brassicas to shine - and mustard greens are popping right now too. It's also fun, easy and delicious. Once you get your prep done, the cook time is tremendously fast.
What are your first memories of cooking? Is there a special person in your life who fostered your love for cooking?
Early childhood memories of helping my grandmother punch out biscuits from her pillowy dough with a juice glass and baking them in a hot oven. They were crispy and lightly browned on the outside and flaky and steamy in the middle. We would smother them in cold butter and ruby red strawberry preserves from her cellar.
What's the most challenging part of your job?
I love to cook, but a restaurant is basically a small factory. The challenging part is translating your vision to a group of people and steering it in the right direction. The vision can easily go off course if you are not there to keep it in line.
How would you describe your style of cooking?
I would say that it is simple and rustic but multilayered. I always think about shape, texture, temperature, flavor when designing a dish. It may appear simpler that it really is, however. There is a lot of thought behind every move that I make, and much of it is editing, distilling, and reducing down to the most elemental ingredients. If it doesn't contribute, then it shouldn't go on the plate.
Where do you draw inspiration for your recipes?
I have several sources of inspiration. Historical recipes, or twists on classics, are a fun way to work. Taking an old idea and freshening it up can be fun and enlightening. I also like to try to pair things together that grow in the same season and experiment with different cooking techniques with fruits and vegetables.
What's the best thing you've ever eaten?
I hate to pick favorites - I think some of my fondest food memories were traveling in Greece two years ago. I did not have one bad morsel of food- everything was so simple, full-flavored and delicious.
What's your 'guilty pleasure' food?
Nachos, hands down.