The Holy Trinity in Cooking
In Guest Chef Nancie McDermott's Chicken & Sausage Gumbo, Cajun-Style, she utilizes "the holy trinity" of cooking. This phrase originated in Louisiana and refers to the combination of bell peppers, celery and onion to create the flavor used in most Cajun and Creole cuisine dishes. While garlic is typically included in these dishes, its absence leaves these ingredients with the simplified nickname, "the trinity."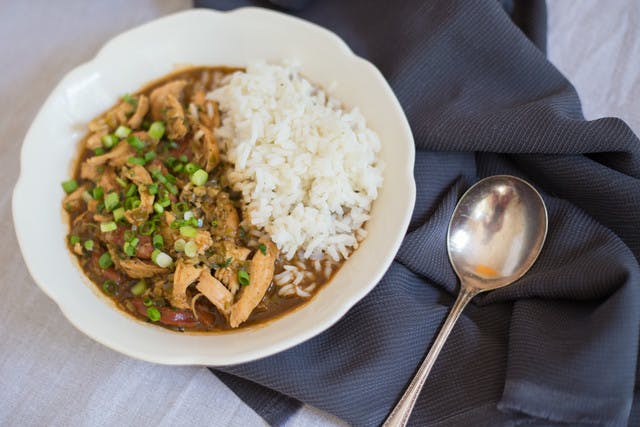 The holy trinity serves as the base for classics like gumbo, jambalaya and étouffée. Legendary celebrity Chef Paul Prudhomme, recently deceased, is often credited with using the term in his New Orleans restaurant, K-Paul's Louisiana Kitchen. In other cuisines, variations include the mirepoix (onion, carrot and celery), duxelles (onions, shallots and mushrooms), and soffritto (braised onion in fat with garlic, celery, parsley and carrot).
Order Nancie McDermott's Chicken & Sausage Gumbo, Cajun-Style, by Sunday, November 8th, at midnight, and you, too, can cook with the holy trinity!
Try our Faux Gumbo with Red Beans & Corn and Spicy Fingerling Potato, Green Bean and Mixed Pepper Curry over Basmati Rice with Cilantro for more Cajun and Creole delights!