Beer Pairings for Week of November 10th, 2015
Looking for the perfect brew to go along with your PeachDish meals? We've got you covered. We've partnered with the owners of Beer Girl, a local Atlanta shop, to help you select the perfect beverage. Beer Girl's passionate owners, Alexia Ryan and Erik Lewis opened their shop with the dream of connecting the people of their community with delicious craft beer from the South and beyond. Here are this week's suggested pairings: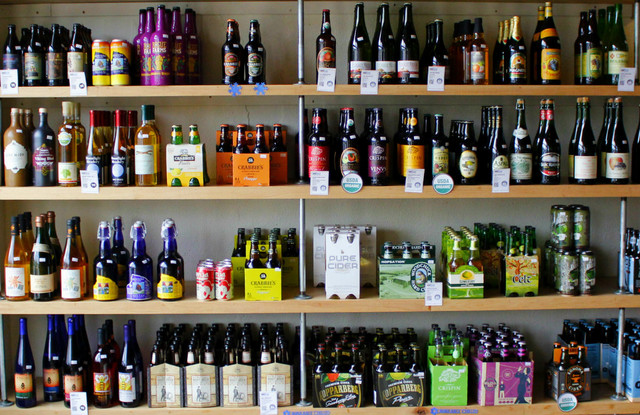 Stewed Mushrooms & Freekeh with Hazelnuts
Homebrewers love debating the difference between a stout and a porter. Truthfully, the styles started intermingled and have remained in controversy. The official distinction is that stouts are brewed with roasted malts while porters are made with un-roasted malts. That distinction means a porter typically brings less malt bitter and smoke flavors leaving a mellow mouth feel. In this dish hazelnut, being a more delicate flavor, could be overwhelmed by a stout, so we choose the mellower porter.
Suggestion: Meantime London Porter, Greenwich, England
Red Lentil & Celery Soup with Apple, Date & Arugula Salad
Some think India Pale Ales pair with everything while others feel they are only for Hop Heads and should be avoided. The IPAs we drink today have little relation to the IPAs brewed for the trek to India. In those days, the hops were used as a preservative, not a flavor, expected to fade into the background over the long ocean voyage. With this dish, hop bitterness will act like pepper adding additional spice and making the sweet date and apple flavors stand out above all.
Suggestion: Uinta Brewing Hop Nosh, Salt Lake City Utah
Pork & Apple Stuffed Collard Greens
Barley wines are among the oldest beers in the world and bring loads of caramel flavors. The Romans brewed beer by reboiling grains to make progressively weaker beers. The first boil produced the highest sugar content which reached the highest alcohol content (hence the comparison to wine). Barley wines are noted for their deep caramel flavors which will complement the pork and apple. After all, who doesn't like a caramel apple?
Georgia Local Recommendation: Wild Heaven Civilization, Decatur, Georgia Suggestion: Lagunitas Gnarlywine, Petaluma, California
Nancie McDermott's Chicken & Sausage Gumbo, Cajun-Style
Brown ales are a staple with Cajun-inspired food because they go well with spicy foods. The chocolate and caramel malt bill in this ale combine to tame the fire from a peppery dish.
Suggestion: Abita Turbodog, New Orleans, Louisiana