Meet the Chef: Nancie McDermott
We are thrilled to offer Chicken & Sausage Gumbo, Cajun-Style by guest chef, Nancie McDermott this week! Nancie is a Southern food writer and cooking teacher who has authored ten cookbooks. This recipe comes from her latest cookbook, "Southern Soups & Stews" (which you can purchase in our online shop!). Read more about Nancie below, and be sure to order Nancie McDermott's Chicken & Sausage Gumbo, Cajun-Style by Sunday, November 8th, at midnight!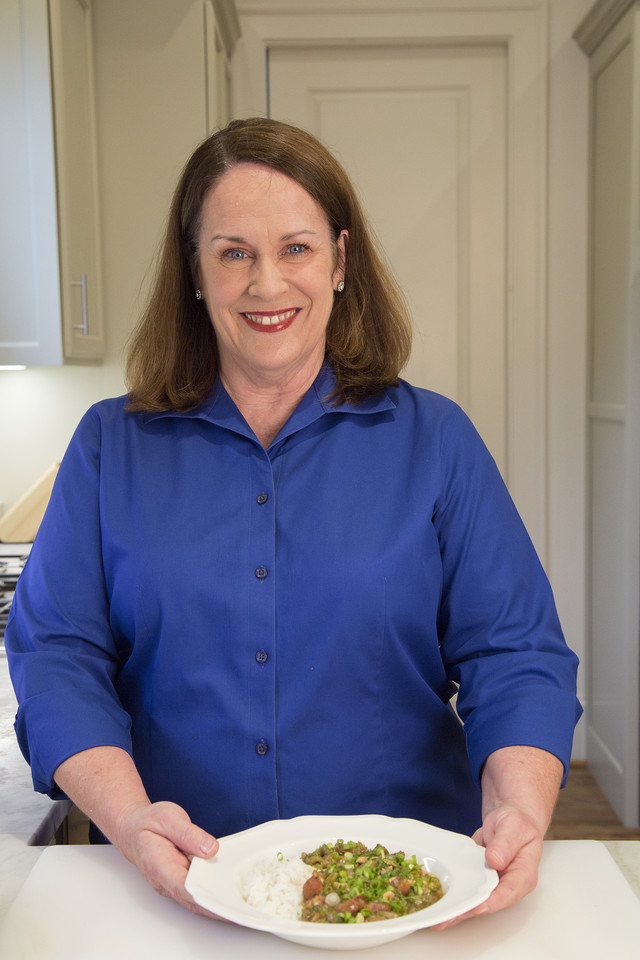 Why did you select this particular recipe as your PeachDish?
Gumbo is the superstar in the universe of Southern soups and stews. Even though this Cajun-style gumbo is a Louisiana treasure, it's so good and so powerfully loved that people know about it and adore it from Seattle and San Diego to New York and everywhere in between. I wanted my PeachDish to bring people big flavor and a big smile, and this gumbo from the land of "Let the Good Times Roll" seemed like a way to make that happen.
What are your first memories of cooking? Is there a special person in your life who fostered your love for cooking?
My first memories of cooking involve being in the kitchen with my grandmother when I was very small, 5 or 6, watching her make biscuits. My grandparents had a dairy farm about an hour away from our suburban home, and I got to go stay with her during the summer and on weekends. I thought I was cooking, because that's how she made me feel, but I'm sure I was anything but helpful in truth. What I remember is an enormous bowl and lots of flour, and her energy and pleasure in being in her kitchen, working and creating, keeping me happy, and making something for us to enjoy. I didn't learn a thing about how to make biscuits (except that making a mess with flour is part of the deal), but I learned that the kitchen is a good, fun, busy place, and that it's fun to cook with and for people you love.
What's the most challenging part of your job?
Keeping track of many projects unfolding at the same time. Planning, groceries, cooking, emails, recipes, writing, pitching new work, meeting deadlines, bank, bills, laundry, repeat. It's just real life and I've got it easy with flexible time and the blessings of being able to travel, explore, and pursue stories I love. But I want it to be linear; to Just Do This; Finish It; and then Start On That. This is not possible; I need to do a little of this, a little of that, focus on now, plan for later, handle something that just popped up --- there's a Caught Up and Organized state that I dream of, which has never existed in my life. Working on being at home in the circus that is always in progress, and embracing its interestingness, chaos, and delights.
How would you describe your style of cooking?
My style of cooking? I'm a home cook at heart, with a deep affection for traditional cooking, for dishes that people have been cooking over time in a certain place; food that has a story. I love thinking about where a given dish came from, who got it started and why it's become a classic that people remember, love, and keep on cooking long after the original need or inspiration for it. Gumbos and curries and stews are big, hearty, quantity cooking, making a big delicious family-and-friends-serving meal out of water, some meat you raised or caught, and some vegetables and herbs you gathered or grew. Cajun cooks make a roux out of flour and fat; Thai cooks make a rich, creamy, flavor-carrying milk from the grated meat of mature coconuts. I love the substantial go-alongs, rice or tortillas or potatoes or dumplings or grits or cornbread, which fill out the big pot of heartiness with satisfying simple goodness. I love watching chefs, eating out, keeping up with What's Hot, but when it's time to cook, I am looking back: I am a food detective, hunting for clues and leads and versions of dishes so I can serve up the story along with my can-do recipe for making worthy old-time dishes in home kitchens today.
Where do you draw inspiration for your recipes?
I get inspired every time I visit a little cafe where people are cooking everyday dishes to satisfy their people. Might be a meat-and-three in Asheboro, North Carolina, with Southern-style stew beef or chicken and dumplings (meat) and greens, candied yams, and succotash (three sides). Might be a tortilleria, where a big pot of posole is the daily special, studded with hominy and rusty-red with chiles and tomatoes and fragrant with herbs. I start scribbling notes on the take-out menu, and clicking around the internet or flipping through my gigantic library of cookbooks, which includes Big Award winners, spiral bound community cookbooks, out of print old timers and more. Inspiration is everywhere: Food Network shows, New Yorker features, food blogger friends' posts, the everyday grocery store where unique, old-school mills in my area sell their cornmeals and seafood breader right next to the Duncan Hines Brownies mixes and Italian-seasoned bread crumbs. I always carry a few hard-cover notebooks in my purse, because you never know when a fantastic resource is going to show up right in front of you, making change or minding the store where boiled peanuts or tamales or traditional Welsh cookies are on sale by the cash register.
Catch Nancie via Facebook, Twitter, Instagram and her website.