Beer Pairings for the Week of November 3rd, 2015
Looking for the perfect brew to go along with your PeachDish meals? We've got you covered. We've partnered with the owners of BeerGirl, a local Atlanta shop, to help you select the perfect beverage. BeerGirl's passionate owners, Alexia Ryan and Erik Lewis opened their shop with the dream of connecting the people of their community with delicious craft beer from the South and beyond. Here are this week's suggested pairings: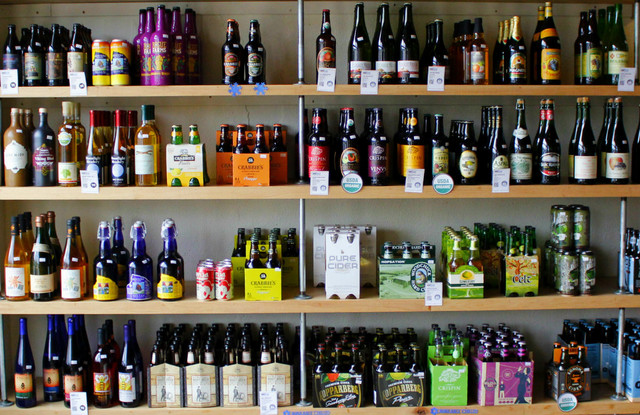 Though generally thought of for summertime drinking, Hefeweizens are great for pairing with food year round. The word "hefeweizen" quite literally means "yeast wheat" and although its cloudiness comes from the unfiltered yeast that is left in the beer, the color, maltiness and spicy esters of these German beers can be quite different even if they are all called "weisse". This week we're pairing each dish with an authentic weissebier whose unique characteristics make it suited to the flavor profiles of that dish.
Thai-Style Beef Salad
The citrus character and delicate mouth feel of a drier wheat beer makes it a great accompaniment to salads made with citrus based dressing. Ayinger Brauweisse is considered a "brut" beer and has a slightly tart palate with almost champagne-like effervescence that will enhance all the Thai flavors in this dish.
Suggestion: Ayinger Brauweisse, Aying, Bavaria, Germany
Butternut Squash & Shiitake Green Curry with Jasmine Rice
To balance out the heat, try a wheat beer with a darker malt bill. The slight caramel flavors will marry well with the earthiness of the shiitake, while the spicy yeasts will blend with the curry.
Suggestion: Weihenstephaner Hefeweissbier Dunkel, Freising, Bavaria, Germany
Kale, Feta & Sun-Dried Tomato Tartlettes
From the world's largest wheat brewery, Erdinger Weissbier has a lighter color and flavor that is almost reminiscent of the clean flavors of a Kolsch, while a bit more hop than typical weissebiers makes it perfect for cutting the feta and pastry.
Suggestion: Erdinger Weissbier, Erding, Bavaria, Germany
Chicken with Brussels Sprouts & Bacon
Few foods are better suited for another than Brussels sprouts, apple cider vinegar and bacon, and this recipe takes full advantage of that winning combination. Add chicken and a few flavor boosters, such as sage and mustard, and you've got a perfect autumn dinner.
An amber colored weisse, like Schneider Weisse Original, has all of the warm spices of fall and round malty flavors that a chilly autumn evening calls for and a hearty meal like this needs. The perfect pairing to show that hefeweizens aren't just for summer!
Suggestion: Schneider Weisse Hefeweizen, Kelheim, Bavaria Germany