Wine Pairings for Week of November 3rd, 2015
Each week, Wine Specialist Sarah Pierre brings you suggestions to complement your PeachDish meals. Sarah is one of the owners at 3 Parks Wine Shop in Glenwood Park, Atlanta. She paired up with the team of The Shed at Glenwood and The Pig and The Pearl and opened 3 Parks in 2013. Prior to opening the store, she spent most of her career working and managing notable restaurants in Atlanta and New York City. Sarah selects all of the wines that are offered at 3 Parks Wine Shop and also assists in pairing wines for local events and dinners throughout Atlanta.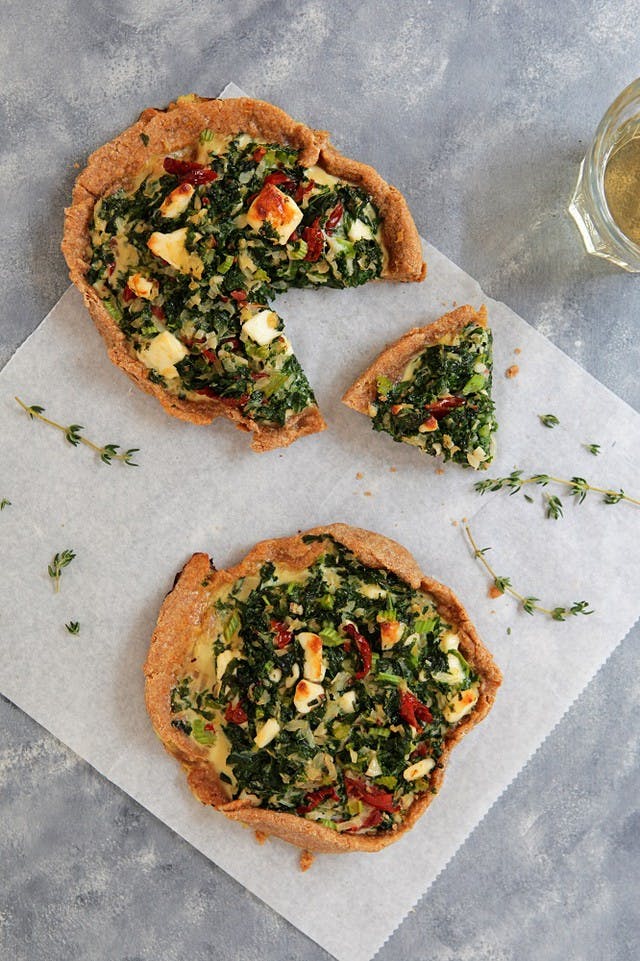 Butternut Squash & Shiitake Green Curry with Jasmine Rice
Beaujolais - If you're going to go with a red wine, pick something that is lighter, softer, and fruit forward. You definitely don't want a wine with a lot of tannin. Beaujolais (100% Gamay) is perfect - light, delicate fruit, perfect amount of acid, and very little tannins.
Pinot Blanc - White wines from Alsace are knockout pairings for Asian dishes. If you can find a Pinot Blanc, you will thoroughly enjoy it. Suggestion: Domaine Zind-Humbrecht Pinot Blanc, Alsace, France
Kale, Feta & Sun-Dried Tomato Tartlettes
Oregon Pinot Noir - This PeachDish meal is bursting with flavor. It is full of vegetables and herbs with a nice pop of acidity from the lemon. Pair this dish with a light, earthy Oregon Pinot Noir which won't overpower the dish and will allow all the ingredients to shine. Suggestion: Elk Cove Pinot Noir, Willamette Valley, OR
Pouilly-Fumé - 100% Sauvignon Blanc from the Loire Valley. Perfect salmon pairing as well as feta cheese pairing. The wines have a ton of structure, a touch of smokiness, and minerality. These wines are delicious!
Thai-Style Beef Salad
Schiava - You can find this red grape varietal in Northern Italy. I love it with sweet and spicy Asian dishes. The wine very rarely undergoes oak aging so it's extremely fresh on the palate - which is exactly what you want when pairing for this PeachDish.
Riesling - Riesling will always be a wonderful pairing for the sweet and spicy combo seen in many dishes. An off-dry Riesling is always the way to go. You also want an off-dry wine to tackle the spiciness of the meal. Suggestion: Trimbach Riesling, Alsace, France
Chicken with Brussels Sprouts & Bacon
Oregon Pinot Noir - Grab your go-to Oregon Pinot Noir for this Southern fall favorite! Who doesn't love Brussels sprouts and bacon? We could eat this daily in my home. We always lean towards a Willamette Valley Pinot Noir - specifically one of my favorites, Bergstrom Pinot Noir. The earthiness of the wine coupled with earthy greens and the sweet and smoky bacon - you're in for a real treat.
Permanent Menu Pairings
Sweet Potato & Chard Risotto with Parmesan, Rosemary & Nutmeg
Sangiovese - Look for an IGT Sangiovese/Chianti which you can identify by looking at the white regulation label on the neck of the bottle. The wines tend to be less complex and more fruit forward.
Albarino - The Spanish white grape varietal, Albarino, exhibits lots of warm mandarin and floral notes that will pair well with the nutmeg and the sweet potatoes. There is minerality present in this wine for the parmesan cheese, and of course, acid is your friend and is perfect for a creamy risotto.
Beef Medallions, Roasted Fingerling Potatoes, Sauteed Green Beans
Cabernet - Go big or go home. There aren't many times where California Cabernets always fit the bill. When you have a filet, however, take advantage of the opportunity.
California Rosé - Go with a Rosé that mimics a red. Many California Rosés are made with intent, so some tend to be fuller. Suggestion: St. Supery Rosé, Napa Valley, California
Salmon Croquettes with Dill Sauce & Gem Lettuce Salad
Champagne - Smoked salmon and Champagne go hand in hand. The Champagne will be great with these croquettes!
Pinot Nero Bianco - A white Pinot Noir would be my smoked salmon croquette wine pairing. Much richer than the average white wine because it is made with red grapes - not white. You'll find more of these in Italy and Germany, but lately more and more Oregon producers are making white Pinot Noirs. Suggestion: Vercesi del Castellazzo Pinot Nero Bianco "Gugiarolo", Lombardy, Italy
Curried Chicken Breasts with Bok Choy & Basmati Rice
Merlot - Ideally with curry dishes, whether spicy or mild, if you're going to choose a red wine to pair with your meal, it needs to be a softer, fruit driven red. You want to avoid dry/tannic wines or wines that have too much oak presence. Try a fruit forward, easy drinking Chilean Merlot. Suggestion: Vina Ventisquero Reserva Merlot, Maipo Valley, Chile
Chardonnay - Surprisingly, Chardonnay pairs really well with curry - especially mild curries such as this one. Stay clear of the oaked Chardonnays - primarily from California. Suggestion: Tabali Chardonnay Reserva Especial, Limari Valley, Chile.