Weekly Wine Pairings
Each week, Wine Specialist Sarah Pierre brings you suggestions to complement your PeachDish meals. Sarah is one of the owners at 3 Parks Wine Shop in Glenwood Park, Atlanta. She paired up with the team of The Shed at Glenwood and The Pig and The Pearl and opened 3 Parks in 2013. Prior to opening the store, she spent most of her career working and managing notable restaurants in Atlanta and New York City. Sarah selects all of the wines that are offered at 3 Parks Wine Shop and also assists in pairing wines for local events and dinners throughout Atlanta.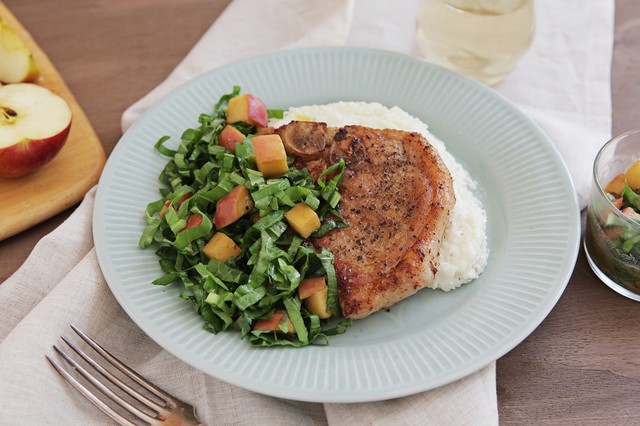 Chicken Breast with Braised Cabbage & Apricot
Merlot - You'll appreciate a nice glass of Merlot with this dish. This ripe, fruity, juicy red wine tends to work well with dishes that have a distinct fruit component. Suggestion: Justin Vineyards & Winery Merlot, Paso Robles, CA
Viognier - This aromatic, slightly floral, slightly sweet white wine will really enhance and showcase the apricot as well as the marjoram of this dish. Suggestion: Idle Cellars Viognier Kick Ranch Vineyard, Sonoma, California
Broccoli Fried Rice
Zinfandel - This one would be fun with a jammy, fruity, spicy red wine. Suggestion: Joseph Jewell Zinfandel, Dry Creek, CA
White Bordeaux - There are two types of white Bordeaux - sweet or dry. If you haven't had either, make it a point to head to your local wine shop and grab a bottle. This wine is a blend of Sauvignon Blanc and Semillon where the Sauv Blanc shows acidity, crisp, citrus and herbal notes while the Semillon adds the round, slightly waxy, and fruity notes to the wine. For this fried rice dish, make sure you select the dry style of Bordeaux Blanc. You'll want to match a green, grassy/herbal white wine with the vegetable dominant fried rice. Suggestion: Chateau Ferrande Bordeaux Blanc, Graves, France
Roasted Portabella Sandwiches with Peppadew Mayo & Arugula Salad
Pinot Noir - Pair this mushroom "burger" with a glass of Pinot Noir. It's hard to have mushrooms and not immediately want a glass of this wine. Suggestion: Soter Vineyards "Planet Oregon Pinot Noir, Willamette Valley, Oregon
Pork Chops with Grits, Apples & Sorrel
Red Burgundy/French Pinot Noir - Classic pairing for pork chop and apples. The addition of sorrel will be a wonderful treat to pair with the Pinot Noir.
Chablis or your favorite Chardonnay - A French Chardonnay is perfect for this dish. If you're not a big fan of Chardonnay, look for an unoaked California Chardonnay and it might change your mind.
Sweet Potato & Chard Risotto with Parmesan, Rosemary & Nutmeg
Sangiovese - Look for an IGT Sangiovese/Chianti which you can identify by looking at the white regulation label on the neck of the bottle. These wines tend to be less complex and more fruit forward.
Albarino - The Spanish white grape varietal, Albarino, exhibits lots of warm mandarin and floral notes that will pair well with the nutmeg and the sweet potatoes. There is minerality present in this wine for the parmesan cheese, and of course, the acidity is your friend for a creamy risotto.
Beef Medallions, Roasted Fingerling Potatoes, Sauteed Green Beans
Cabernet - Go big or go home. There aren't many times where California Cabernets always fit the bill. When you have a filet, however, take advantage of the opportunity.
California Rosé - Go with a Rosé that mimics a red. Many California Rosés are made with intent, so some tend to be fuller. Suggestion: St. Supery Rosé, Napa Valley, California
Salmon Croquettes with Dill Sauce & Gem Lettuce Salad
Champagne - Smoked salmon and Champagne go hand in hand. The Champagne will be great with these croquettes!
Pinot Nero Bianco - A white Pinot Noir would be my smoked salmon croquette wine pairing. Much richer than the average white wine because it is made with red grapes - not white. You'll find more of these in Italy and Germany, but lately more and more Oregon producers are making White Pinot Noirs. Suggestion: Vercesi del Castellazzo Pinot Nero Bianco "Gugiarolo", Lombardy, Italy
Curried Chicken Breasts with Bok Choy & Basmati Rice
Merlot - Ideally with curry dishes, whether spicy or mild, if you're going to choose a red wine to pair with your meal, it needs to be a softer, fruit driven red. You want to avoid dry/tannic wines, or wines that have too much oak presence. Try a fruit forward, easy drinking Chilean Merlot. Suggestion: Vina Ventisquero Reserva Merlot, Maipo Valley, Chile
Chardonnay - Surprisingly, Chardonnay pairs really well with curry - especially mild curries such as this one. Stay clear of the oaked Chardonnays - primarily from California. Suggestion: Tabali Chardonnay Reserva Especial, Limari Valley, Chile.