Beer Pairings for the Week of October 20th, 2015
Looking for the perfect brew to go along with your PeachDish meals? We've got you covered. We've partnered with the owners of BeerGirl, a local Atlanta shop, to help you select the perfect beverage. BeerGirl's passionate owners, Alexia Ryan and Erik Lewis opened their shop with the dream of connecting the people of their community with delicious craft beer from the South and beyond. Here are this week's suggested pairings: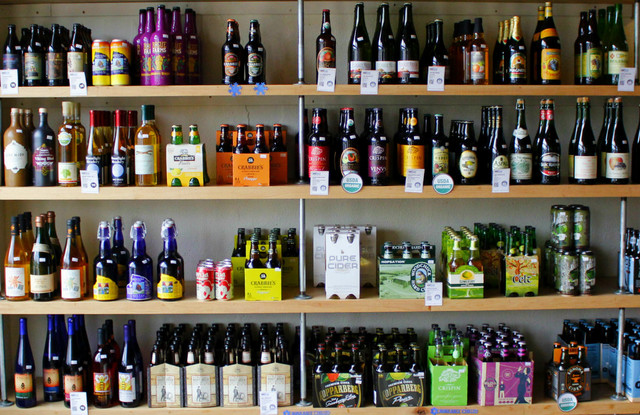 Broccoli Fried Rice
Crisp lagers often get overlooked in the age of the over-hopped IPA. Lagering is a process where bottom fermenting yeasts work at very low temperatures to produce a very clear looking and clean tasting beer. That clean taste will refresh the taste buds allowing you to enjoy each bite of this dish like it was the first.
Suggestion: Ballast Point Longfin Lager, San Diego, California
Chicken Breast with Braised Cabbage & Apricot
Cider is often seen as a poor substitute for beer by beer lovers trying to follow a gluten-free diet. Ciders, which pre-date beer, are fermented at lower temperatures so that the flavor characteristics of the apple are enhanced. The sweetness of an American cider should highlight the sweetness of the apricot in this fall dish.
Suggestion: J. K. Scrumpy's Hard Cider, Flushing, Michigan/Samuel Smith Organic Apricot
Roasted Portabella Sandwiches with Peppadew Mayo & Arugula Salad
Hops are no longer just about the bitterness they impart, which makes pairing India Pale Ales much more interesting. Hops now bring a gamut of flavors ranging from tropical mango and passion fruit all the way to unrestrained piney and green bitterness. In this dish, we want a greener hop flavor to serve as a counterpoint to the portobella's umami and a medium malt base to match its heartiness.
Suggestion: Medocino White Hawk Select IPA, Ukiah, California Georgia Local Recommendation: Terrapin Hopsecutioner, Athens, Georgia
Pork Chops with Grits, Apples & Sorrel
Sour beer can be a bit of an acquired taste, and many people do not enjoy their first experience because of the overwhelming sour flavor. The bacteria or wild yeast that produce the tongue curling sensation of a sour beer can also give it a very green apple flavor that makes it a no-brainer for pairing with the apple and sorrel in this dish. Try a sour brown ale that will also have the body to hold up to the pork chops.
Suggestion: New Belgium La Folie, Fort Collins, Colorado