Ingredient Spotlight: Forbidden Rice
Thousands of years ago, black rice was deemed "forbidden" because it was saved for wealthy and royal Chinese. Commoners were not allowed to grow or consume this variety, so it became known as a highly prized, rare variety. Rich in antioxidants, this rice actually turns a deep purple once cooked. This slightly chewy ingredient is nutty in flavor like brown rice and serves as the ideal background to our Beef & Eggplant Stir-fry with Black Rice.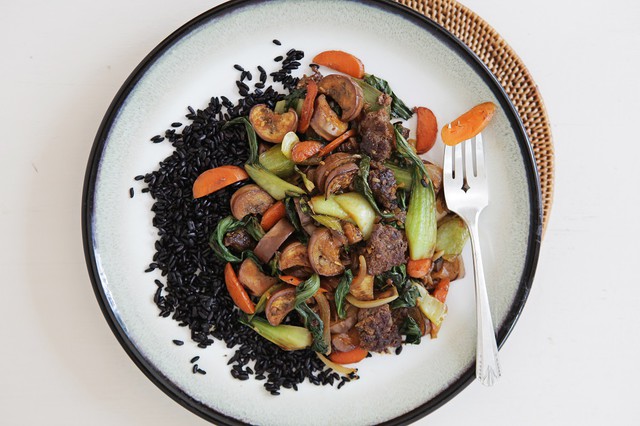 Forbidden rice is not only fascinating in appearance; it also houses a wealth of health benefits. This whole grain is high in fiber coming in at 2-3 grams per half cup serving. It is best know for its extrememly high level of the antioxidant anthocyanin (found in the grain's outermost bran layer), and the grain's deep purple/black color is representative of this. This antioxidant helps to fight against cancer-causing free radicals and serves as an anti-inflammatory. Vitamin E, another antioxidant, is also found in high amounts in this grain. Black rice is a good source of iron and has one of the highest amounts of protein of all the rice varieties.
One of our favorite perks of this ingredient? It's perfect for Halloween!! Serve with butternut squash, pumpkin or sweet potato for a healthy and spook-tastic dish or order our Halloween Three Bean Chili or Tostadas with Chicken, Sweet Potatoes & Black Beans as another holiday-themed meal.