Beer Pairings for the Week of October 13, 2015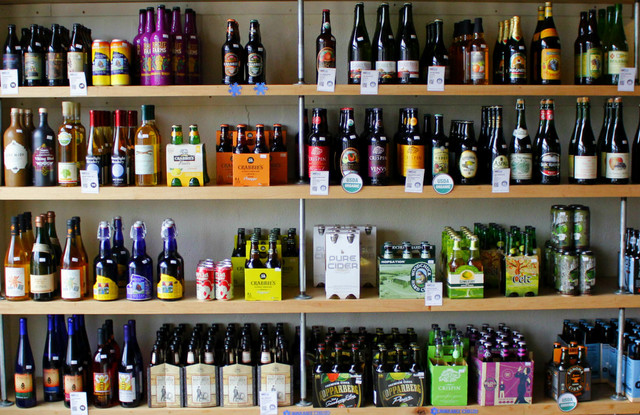 Looking for the perfect brew to go along with your PeachDish meals? We've got you covered. We've partnered with the owners of BeerGirl, a local Atlanta shop, to help you select the perfect beverage. BeerGirl's passionate owners, Alexia Ryan and Erik Lewis opened their shop with the dream of connecting the people of their community with delicious craft beer from the South and beyond. Here are this week's suggested pairings:
Sweet Potato, Tempeh "Bacon" & Kale Salad with Cider-Honey Vinaigrette
Brown ales are the perfect compliment to a fall dish. Browns or as some call them milds have been brewed since the sixteenth century making them one of the oldest recognized English beer styles. They work well with smoke flavors while the nuttiness tames the acidic cider.
Suggestion: Uinta Bristlecone, Salt Lake City, Utah Georgia Local Recommendation: Sweetwater Georgia Brown, Atlanta, Georgia
Ziti with Roasted Cauliflower, Rosemary & Green Olives
Not everyone likes a smoked beer because the can be over powering. Rauchbiers get their distinctive flavor by toasting most of the moisture out of barley leaving the flavor of smoke. The smokiness will really bring out the flavors from the roasted cauliflower and accentuate the saltiness of the green olives.
Suggestion: Aecht Schlen Urbock, Germany
Sausage & Broccolini Sandwich with Aged Provolone
There are times when you want a beer that doesn't compete with the flavors of a dish, but rather lets the meal take center stage. Lagering also known as cold fermentation produces lighter and lower alcohol beers that taste very crisp and a light crisp lager with really let the pork, provolone, and broccolini shine through.
Suggestion: Full Sail Session Lager, Hood River, Oregon
Hanger Steak with Spaghetti Squash & Okra Sauté
The best of summer produce deserves the best of summer beer like a farmhouse ale. Farmhouse ales have lots in common with saisons but typically are more hopped, which supposedly helped preserve them over the warmer months, and will act as an additional herb to this dish.
Suggestion: Tank 7, Boulevard Brewing, Kansas City, Missouri
Beef Medallions, Roasted Fingerling Potatoes, Sauteed Green Beans
Black Lager or Schwarzbier - Some people might say stout is the best choice to accompany a steak, but for something a little less heavy in the summer months, try a black lager. Lagers are bottom fermented at cooler temperatures resulting in a clearer beer with medium body and the toasted malts will lend depth to the tenderloin without weighing you down.
Suggestion: Uinta Baba Black Lager, Salt Lake City Utah
Curried Chicken Breasts with Bok Choy & Basmati Rice
Because of the craft beer industry's penchant for experimentation, we now have beers with virtually every spice profile available in the market. So, when looking to pair a dish with some regional flavor profiles, why not try a beer with the same or similar regional flavor profiles? Try something like a witbier with lemongrass and ginger that will enhance those complex curry spices.
Suggestion: Westbrook White Thai, Mount Pleasant, South Carolina
Georgia ­local recommendation: Second Self Thai Wheat, Atlanta, Georgia
Salmon Croquettes with Dill Sauce & Gem Lettuce Salad
Though lighter hefeweizen is more common these days, a darker maltier dunkelweizen still has the same spicy and fruity esters as its lighter cousin while offering a richness that will stand up to salmon.
Suggestion: Franziskaner Hefe­Weisse Dunkel, Germany