DIY or "Dressing It Yourself": How to Make 8 Basic Salad Dressings
Who needs store-bought dressing when you can whip up your own in a flash?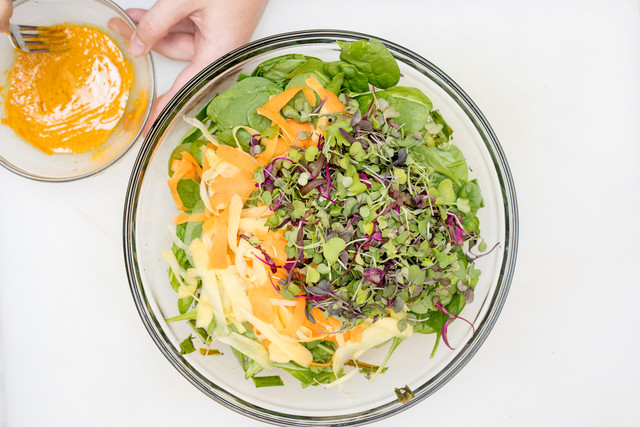 Not only is making your salad dressing fast, easy and inexpensive, but it's also highly customizable to your taste and nutritional preferences, using ingredients you probably already have in your cabinet. Also, it means you can skip on any funny business you might find on ingredient labels on salad dressing bottles on the store shelf.
Below are basic ingredients for some of the most common salad dressings. You can adjust the amounts of each ingredient as much as you like - make it mild, make it wild, make it your own! Feel free to use these basic "recipes" as is, or as a foundation for your own creations:
Creamy Mayo-Based Dressing
Dill; Sour Cream; Duke's Mayonnaise; Prepared Horseradish; White Wine Vinegar; Kosher Salt & Freshly Ground Black Pepper
Basic Vinaigrette
Oil; Vinegar (see below for Balsamic Vinaigrette!); Kosher Salt & Freshly Ground Black Pepper
Italian Vinaigrette
Basic Vinaigrette but add Minced Garlic; Italian Seasoning; Crushed Red Pepper Flakes
Creamy Vinaigrette
Basic Vinaigrette but add Duke's Mayonnaise or Sour Cream (or Greek Yogurt for a lower fat dressing!)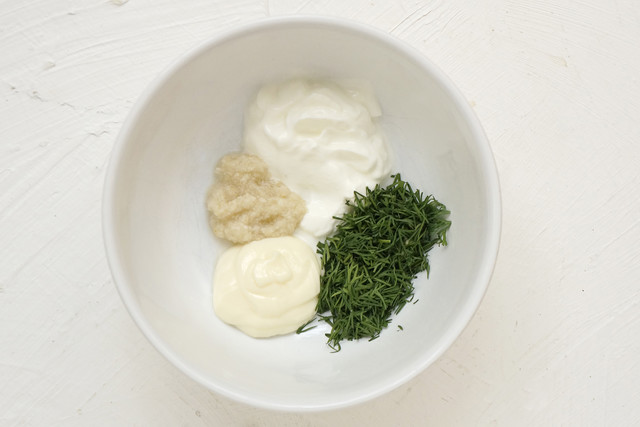 Balsamic Vinaigrette
Oil; Balsamic Vinegar; Minced Garlic; Italian Seasoning
Blue Cheese/Roquefort Dressing
Basic Vinaigrette but add Blue Cheese/Roquefort Crumbles; Heavy Cream
Buttermilk Dressing
Basic Vinaigrette but add Buttermilk
Creamy Caesar Dressing
Duke's Mayonnaise*, Dijon Mustard, Shallot, Garlic, Lemon Juice, Anchovy Paste*, Worcestershire Sauce*, Parmesan Cheese*
*make it vegan by removing these ingredients and instead adding Vegan Mayo, Liquid aminos and Nutritional Yeast!)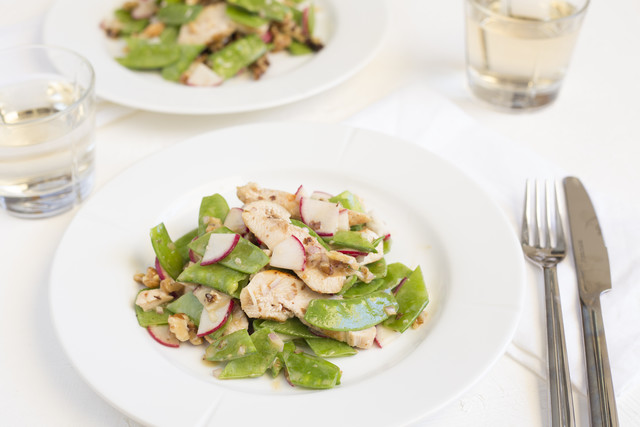 Time to get dressed! Try these DIY salad dressings (and salads!) on for size:
CHICKEN BREAST & SNOW PEA SALAD WITH WALNUTS & RADISH
KALE CAESAR SALAD WITH MULTIGRAIN CROUTONS, ROASTED RED PEPPER & SPICED CHICKPEAS
GREEN TEA CHICKEN OVER SPINACH & MICROGREENS WITH GOLDEN DRESSING
BARBECUE-GLAZED CHICKEN, ROASTED CARROTS & GREEN SALAD WITH BUTTERMILK RANCH DRESSING
NICOISE SALAD WITH PAN-SEARED FISH, FARM EGG & CAPER-MUSTARD VINAIGRETTE