Weekly Beer Pairings for the week of October 6, 2015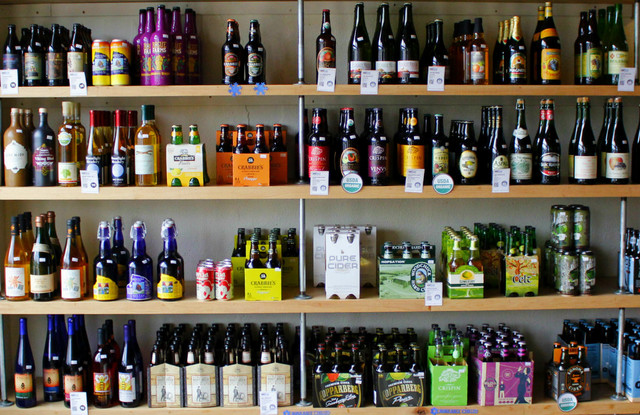 Looking for the perfect brew to go along with your PeachDish meals? We've got you covered. We've partnered with the owners of BeerGirl, a local Atlanta shop, to help you select the perfect beverage. BeerGirl's passionate owners, Alexia Ryan and Erik Lewis opened their shop with the dream of connecting the people of their community with delicious craft beer from the South and beyond. Here are this week's suggested pairings:
White Bean & Mushroom Soup with Curly Endive
While the latest hop varieties are the rage in brewing, hops only bring so much flavor, malt does the heavy lifting. Chocolate and caramel flavored American brown ales gained fame as some of the first home-brewed beers because they were so flavorful. In this dish, the caramel malts will hi-light the rich umami flavors.
Suggestion: Anchor Brekle's Brown, San Diego, California
Delicata Squash Stuffed with Quinoa & Currants
Roasting vegetable brings out a sweetness and depth of character that other cooking methods can never approach. Belgian strong ales bring fruity aromas and spicy flavor along with the extra carbonation from bottle conditioning. This beer style will play well with the sweetness from the roasting while adding just a little punch of spice.
Suggestion: Duvel, Breendonk-Puurs, Belgium
Blackened Catfish Tacos with Peach Crema, Red Beans & Rice
Wheat beers are often dismissed as nonserious beer style. What a shame because the lightness of a wheat makes it the perfect conveyance for a variety of flavors from delicate to spicy. Pick a wheat beer that has been enhanced with extra flavor (like a little bit of hop) so it will stand up to the blackened catfish.
Suggestion: Boulevard 80-Acre Hoppy Wheat, Kansas City, Missouri
Beef Kebabs with Saffron-Barberry Rice, & Maast-o Khiar
Pseudo pilsners are a standard pilsner malt bill fermented with ale yeast instead of the traditional pilsner yeast. The low brewing temperatures make them light tasting and highly quaffable. The perfect beer for letting the flavors of a dish shine through.
Georgia Local Recommendation: Monday Night Nerd Alert Pseudo Pilsner, Atlanta, Georgia
Beef Medallions, Roasted Fingerling Potatoes, Sauteed Green Beans
Black Lager or Schwarzbier - Some people might say stout is the best choice to accompany a steak, but for something a little less heavy in the summer months, try a black lager. Lagers are bottom fermented at cooler temperatures resulting in a clearer beer with medium body and the toasted malts will lend depth to the tenderloin without weighing you down.
Suggestion: Uinta Baba Black Lager, Salt Lake City Utah
Curried Chicken Breasts with Bok Choy & Basmati Rice
Because of the craft beer industry's penchant for experimentation, we now have beers with virtually every spice profile available in the market. So, when looking to pair a dish with some regional flavor profiles, why not try a beer with the same or similar regional flavor profiles? Try something like a witbier with lemongrass and ginger that will enhance those complex curry spices.
Suggestion: Westbrook White Thai, Mount Pleasant, South Carolina
Georgia ­local recommendation: Second Self Thai Wheat, Atlanta, Georgia
Salmon Croquettes with Dill Sauce & Gem Lettuce Salad
Though lighter hefeweizen is more common these days, a darker maltier dunkelweizen still has the same spicy and fruity esters as its lighter cousin while offering a richness that will stand up to salmon.
Suggestion: Franziskaner Hefe­Weisse Dunkel, Germany