Weekly Wine Pairings
Each week, Wine Specialist Sarah Pierre brings you suggestions to complement your PeachDish meals. Sarah is one of the owners at 3 Parks Wine Shop in Glenwood Park, Atlanta. She paired up with the team of The Shed at Glenwood and The Pig and The Pearl and opened 3 Parks in 2013. Prior to opening the store, she spent most of her career working and managing notable restaurants in Atlanta and New York City. Sarah selects all of the wines that are offered at 3 Parks Wine Shop and also assists in pairing wines for local events and dinners throughout Atlanta.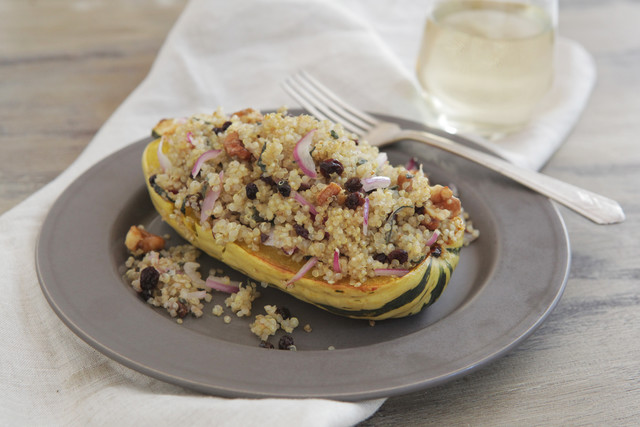 Blackened Catfish Tacos with Peach Crema, Red Beans & Rice
Pinot Gris - Grab a bottle of New Zealand Pinot Gris. The peachy characteristics of the wine will be a nice complement to the crema on the delicately spiced taco. Suggestion: The Ned Pinot Gris, Marlborough, New Zealand
Cabernet Franc - The obvious go-to wine for fish tends to be a white wine for many people. However, the spices and herbs on this taco will marry nicely with a glass of the medium bodied, herbaceous Cabernet Franc. It truly is such a food-friendly wine, especially with hearty fishes. Suggestion: Catherine et Pierre Breton Bourgueil Trinch, Loire, France
White Bean & Mushroom Soup with Curly Endive
Vacqueyras - What a perfect soup to transition into Fall with! The white bean adds a nice creamy element to the dish while the mushroom and endive incorporate the earthy component - all allowing you to choose a wine that has a bit more complexity and body even though you're selecting a wine for a soup.
Vacqueyras, located in the Rhone Valley- specifically near Chateauneuf du Pape, consists of Grenache, Syrah, Mourvedre (G.S.M). The wines are rustic, big, rich, spicy, with a nice touch of acidity. Be careful though, sometimes these wines get up there in the alcohol level - look for one that is around 14% or less (I tend to enjoy those a little better). Suggestion: Romain Duvernay Vacqueyras, Rhone, France
Chardonnay - "Creamy" (only because of the texture of the white bean) and richer soups tend to pair well with a wine that resembles the texture. A nice glass of Chablis from France will be a great match for this "bitter, sour, salty, sweet" soup. Chablis is usually unoaked, fresh, tangy, and amazing!
Delicata Squash Stuffed with Quinoa & Currants
Primitivo - The Italian Zinfandel! Generally speaking, the Zinfandels from Italy tend to be a touch lighter than the American Californian Zin. Primitivos are typically grown in southern Italy near the heel of the boot. The wines are jammy, plummy, spicy, and rustic. This is such a fun wine for this stuffed squash, and it also brings out the currant flavors immediately. Suggestion: Castello Monaci Pilùna Primitivo, Salento, Italy
Chenin Blanc - Loire Valley Chenin comes in a number of styles ranging from bone dry to off dry and even sweet. You'll be fine with grabbing a dry or off dry bottle of Chenin Blanc for this dish. This acidic, crisp white wine from France will be perfect for the nutty, sweet stuffing. Suggestion: Remy Pannier Vouvray, Loire France
Beef Kebabs with Saffron-Barberry Rice, & Maast-o Khiar
Dao Red Blend - Portuguese red blends have an elegance and finesse that works really well with kebabs…especially kebabs with a sweet addition to the meal! Suggestion: Alvaro Castro Tinto, Dao, Portugal
Rosé - When pairing wine with Mediterranean/Middle Eastern style dishes that have a complexity of flavors, spice and heat, go for something pink. Rosés are light, refreshing, and fruit forward. Suggestion: Gabriel Meffre La Chasse Cotes du Rhone Prestige Rose, Rhone, France
Beef Medallions, Roasted Fingerling Potatoes, Sauteed Green Beans
Cabernet - Go big or go home. There aren't many times where California Cabernets always fit the bill. When you have a filet, however, take advantage of the opportunity.
California Rosé - Go with a Rosé that mimics a red. Many California Rosés are made with intent, so some tend to be fuller. Suggestion: St. Supery Rosé, Napa Valley, California
Salmon Croquettes with Dill Sauce & Gem Lettuce Salad
Champagne - Smoked Salmon and Champagne go hand in hand. The Champagne will be great with these Croquettes!
Pinot Nero Bianco - A White Pinot Noir would be my smoked salmon croquette wine pairing. Much richer than the average white wine because it's made with red grapes - not white. You'll find more of these in Italy and Germany, but lately more and more Oregon producers are making White Pinot Noirs. Suggestion: Vercesi del Castellazzo Pinot Nero Bianco "Gugiarolo", Lombardy, Italy
Curried Chicken Breasts with Bok Choy & Basmati Rice
Merlot - Ideally with curry dishes, whether spicy or mild, if you're going to choose a red wine to pair with your meal, it needs to be a softer, fruit driven red. You want to avoid dry/tannic wines, or wines that have too much oak presence. Try a fruit forward, easy drinking Chilean Merlot. Suggestion: Vina Ventisquero Reserva Merlot, Maipo Valley, Chile
Chardonnay - Surprisingly Chardonnay pairs really well with curry - especially mild curries such as this one. Stay clear of the oaked Chardonnays - primarily from California. Suggestion: Tabali Chardonnay Reserva Especial, Limari Valley, Chile.