Weekly Beer Pairings September 29, 2015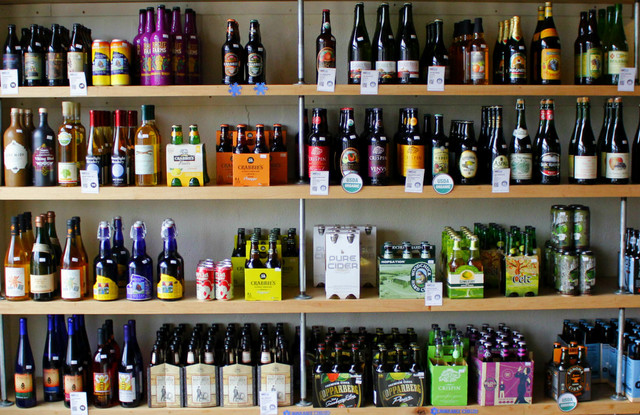 Looking for the perfect brew to go along with your PeachDish meals? We've got you covered. We've partnered with the owners of BeerGirl, a local Atlanta shop, to help you select the perfect beverage. BeerGirl's passionate owners, Alexia Ryan and Erik Lewis opened their shop with the dream of connecting the people of their community with delicious craft beer from the South and beyond. Here are this week's suggested pairings:
Roasted Spaghetti Squash with Sun­Dried Tomatoes, Fennel & Pine Nuts
Hops are not the only way to bring a citrus flavor into a beer. The orange peel and coriander typical of Belgian wit beers bring a citrus zing with no bitterness. With this Mediterranean inspired dish, you want a beer that will make the clean flavors sing, like a squeeze of lemon would.
Suggestion: Ballast Point Wahoo White, San Diego, California
Classic Beef Meatloaf, Mashed Potatoes, Sauteed Spinach & Mushrooms
In the dark days before craft beer there was only one choice for a stout, luckily we have many more choices today. Stouts are made from roasted malts which can bring pronounced coffee and cocoa flavors and the roastiness of a stout can stand up to any beef dish. And, as an added bonus, stouts are excellent at drawing out the umami flavors from mushrooms.
Suggestion: Finch's Secret Stache Stout
Chicken Tikka Masala with Basmati Rice
Even though amber ales often end up paired with slow cooked meals out of the crockpot, the darker malts they are brewed with help create a really balanced beer that can be paired well with fresher ingredients too. In this case, we are recommending a Belgian style amber with spicy yeast esters that will complement the Indian spices and a little bit of malty sweetness that will tamp down any heat.
Suggestion: Ommegang Rare Vos, Cooperstown, New York
Faux "Pho" with Rice Noodles, Mung Bean Sprouts, Charred Carrots and Spring Onions
Finding a good gluten­free beer to pair with a gluten­free dish can be a challenge. Early attempts at gluten­free beer involved substituting sorghum for grain in the brewing process producing a product that really didn't taste much like beer. Luckily methods have evolved and we now have a process where the beer is brewed normally and then gluten is extracted with an enzyme, producing a beer that tastes a lot more like beer. In Vietnam this dish would be served with '33', the Vietnamese pale lager, so we'll go with a gluten- free pale lager.
Suggestion: Estrella Damm Daura, Barcelona, Spain
Beef Medallions, Roasted Fingerling Potatoes, Sauteed Green Beans
Black Lager or Schwarzbier - Some people might say stout is the best choice to accompany a steak, but for something a little less heavy in the summer months, try a black lager. Lagers are bottom fermented at cooler temperatures resulting in a clearer beer with medium body and the toasted malts will lend depth to the tenderloin without weighing you down.
Suggestion: Uinta Baba Black Lager, Salt Lake City Utah
Curried Chicken Breasts with Bok Choy & Basmati Rice
Because of the craft beer industry's penchant for experimentation, we now have beers with virtually every spice profile available in the market. So, when looking to pair a dish with some regional flavor profiles, why not try a beer with the same or similar regional flavor profiles? Try something like a witbier with lemongrass and ginger that will enhance those complex curry spices.
Suggestion: Westbrook White Thai, Mount Pleasant, South Carolina
Georgia ­local recommendation: Second Self Thai Wheat, Atlanta, Georgia
Salmon Croquettes with Dill Sauce & Gem Lettuce Salad
Though lighter hefeweizen is more common these days, a darker maltier dunkelweizen still has the same spicy and fruity esters as its lighter cousin while offering a richness that will stand up to salmon.
Suggestion: Franziskaner Hefe­Weisse Dunkel, Germany