Weekly Wine Pairings
Each week, Wine Specialist Sarah Pierre brings you suggestions to complement your PeachDish meals. Sarah is one of the owners at 3 Parks Wine Shop in Glenwood Park, Atlanta. She paired up with the team of The Shed at Glenwood and The Pig and The Pearl and opened 3 Parks in 2013. Prior to opening the store, she spent most of her career working and managing notable restaurants in Atlanta and New York City. Sarah selects all of the wines that are offered at 3 Parks Wine Shop and also assists in pairing wines for local events and dinners throughout Atlanta.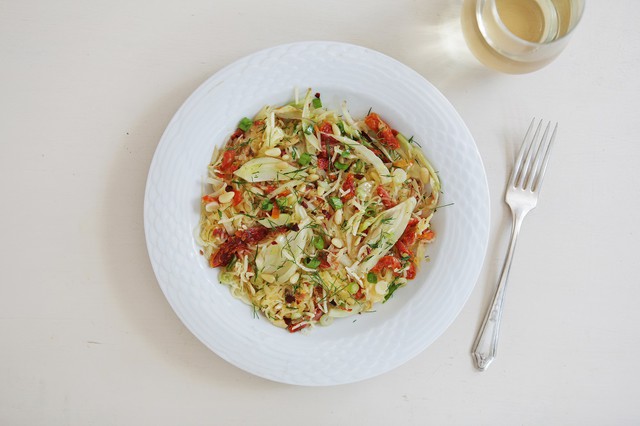 Roasted Spaghetti Squash with Sun-Dried Tomatoes, Fennel & Pine Nuts
Sangiovese - You'll need a wine with some nice acidity for this dish. The stand-out ingredient in this PeachDish meal is fennel - it's imperative to pair a wine that can be friends with this sweet, anise-y vegetable. A young Sangiovese/Chianti will be perfect for this faux pasta. Suggestion: Collazzi 'I Bastioni' Chianti Classico, Tuscany, Italy
Verdicchio - Italian whites typically have an affinity to fennel - especially raw fennel. The Verdicchio will also dig the slight tanginess that the tomato will contribute to this salad. If you can't find a Verdicchio at your local wine shop, look for any Sicilian white - they typically work with fennel, as well. Suggestion: Andrea Felici Verdicchio Dei Castello di Jesi
Faux "Pho" with Rice Noodles, Mung Bean Sprouts, Charred Carrots and Spring Onions
Sparkling Rosé - There's something about a glass of sparkling Rosé and Vietnamese food - specifically Pho. It's always my go-to for Vietnamese takeout. The abundance of flavors in the dish merry with the soft, fresh fruit flavors of the wine. Suggestion: Cote Mas Cremant de Limoux NV Brut Rose, France
Riesling - An off-dry Riesling is always the way to go - it's a standard pairing for Asian dishes! The wine complements the sweetness of the dish from the charred carrots, spring onions and the Asian 5 spice seasoning. You also want an off-dry wine to combat the spiciness of the meal. Suggestion: Trimbach Riesling, Alsace, France
Chicken Tikka Masala with Basmati Rice
Pinot Noir - A California Pinot Noir is a wonderful match for this creamy, spiced tomato-based meal. You won't find too much heat with this PeachDish version, so no need to find a wine that tames the spice. Suggestion: Calera Pinot Noir, Central Coast, Pinot Noir
Pinot Gris - Pinot Gris is a perfect choice for dishes that are heavily spiced - especially Indian dishes!
Classic Beef Meatloaf, Mashed Potatoes, Sauteed Spinach & Mushrooms
Who doesn't love a good meatloaf! It's the epitome of comfort food and a family favorite!
Zinfandel - It comes as no surprise that the classic burger pairing would be the same as a meatloaf pairing, right? Meat, veggies, ketchup, spices - Zinfandel. Go for a wine that is robust, fruit forward, and with moderate tannins - you want a dry wine, just not too dry. Suggestion: Turley "Juvenile" Zinfandel, California
Pinot Grigio - Go with a nice refreshing white wine that will not only complement the dish but will allow the flavors of the meatloaf to shine. Suggestion: Ca'Stella' Latisana Pinot Grigio, Friuli, Italy
Beef Medallions, Roasted Fingerling Potatoes, Sauteed Green Beans
Cabernet - Go big or go home. There aren't many times where California Cabernets always fit the bill. When you have a filet, however, take advantage of the opportunity.
California Rosé - Go with a Rosé that mimics a red. Many California Rosés are made with intent, so some tend to be fuller. Suggestion: St. Supery Rosé, Napa Valley, California
Salmon Croquettes with Dill Sauce & Gem Lettuce Salad
Champagne - Smoked Salmon and Champagne go hand in hand. The Champagne will be great with these Croquettes!
Pinot Nero Bianco - A White Pinot Noir would be my smoked salmon croquette wine pairing. Much richer than the average white wine because it's made with red grapes - not white. You'll find more of these in Italy and Germany, but lately more and more Oregon producers are making White Pinot Noirs. Suggestion: Vercesi del Castellazzo Pinot Nero Bianco "Gugiarolo," Lombardy, Italy
Curried Chicken Breasts with Bok Choy & Basmati Rice
Merlot - Ideally with curry dishes, whether spicy or mild, if you're going to choose a red wine to pair with your meal, it needs to be a softer, fruit driven red. You want to avoid dry/tannic wines or wines that have too much oak presence. Try a fruit forward, easy drinking Chilean Merlot. Suggestion: Vina Ventisquero Reserva Merlot, Maipo Valley, Chile
Chardonnay - Surprisingly, Chardonnay pairs really well with curry - especially mild curries such as this one. Stay clear of the oaked Chardonnays - primarily from California. Suggestion: Tabali Chardonnay Reserva Especial, Limari Valley, Chile.