Weekly Beer Pairings September 22nd, 2015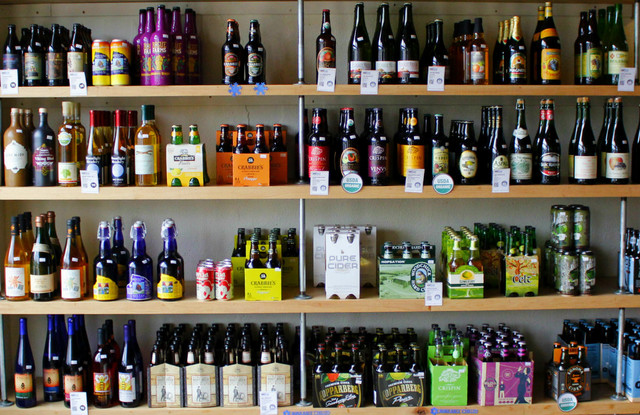 Sweet Potato & Chard Risotto with Parmesan, Rosemary & Nutmeg
Pumpkin beers are the rage this time of year, but pairing a pumpkin beer can be tricky. You get the flavor of pumpkin, cinnamon, nutmeg, and brown sugar so most will think dessert. However, pumpkin and sweet potato are like flavors so they compliment each other without diminishing the bitterness of the chard.
Suggestion: Dogfish Head Punkin Ale, Milton, Delaware
Pork Burgers with Mango Salsa & Garlicky Kale
The truly awesome thing about hops, besides preserving beer, is that they do not always mean extreme bitterness. Citra and Mosaic hops are renown for bringing tropical flavors like mangos and passion fruit to beer. Choose an IPA with either of these hops and you get a pairing that compliments without all that bitter flavor.
Suggestion: Green Flash Mosaic Session, San Diego, California Georgia Local Recommendation: Creature Comforts Tropicália, Athens, Georgia
Fried Green Tomatoes with Roasted Pepper Salad & Chevre
A tart dish provides the opportunity to explore the exciting world of sour beers. Yeast eats sugar to produce alcohol, but some yeast produce other products that can cause a beer to have a sour taste. Sometimes when a dish is on an extreme end of a flavor spectrum you want to enhance that flavor.
Georgia Local Recommendation: Orpheus Atalanta Tart Plum, Atlanta, Georgia
Chicken with Apples & Radishes over Pearl Couscous
Apple cider was probably the first quaffable beverage produced in America by our English settlers. Ciders have seen a renewed popularity lately (at least partly because they are gluten free), so don't treat them as a poor substitute for beer but instead as a refreshing change of pace. A tart apple cider will really enhance the apple in this dish.
Suggestion: McKenzies Green Apple Cider, West Seneca, NY
Beef Medallions, Roasted Fingerling Potatoes, Sauteed Green Beans
Black Lager or Schwarzbier - Some people might say stout is the best choice to accompany a steak, but for something a little less heavy in the summer months, try a black lager. Lagers are bottom fermented at cooler temperatures resulting in a clearer beer with medium body and the toasted malts will lend depth to the tenderloin without weighing you down.
Suggestion: Uinta Baba Black Lager, Salt Lake City Utah
Curried Chicken Breasts with Bok Choy & Basmati Rice
Because of the craft beer industry's penchant for experimentation, we now have beers with virtually every spice profile available in the market. So, when looking to pair a dish with some regional flavor profiles, why not try a beer with the same or similar regional flavor profiles? Try something like a witbier with lemongrass and ginger that will enhance those complex curry spices.
Suggestion: Westbrook White Thai, Mount Pleasant, South Carolina
Georgia­local recommendation: Second Self Thai Wheat, Atlanta, Georgia
Salmon Croquettes with Dill Sauce & Gem Lettuce Salad
Though lighter hefeweizen is more common these days, a darker maltier dunkelweizen still has the same spicy and fruity esters as its lighter cousin while offering a richness that will stand up to salmon.
Suggestion: Franziskaner Hefe­Weisse Dunkel, Germany