Beer Pairings for the Week of September 15, 2015
Looking for the perfect brew to go along with your PeachDish meals? We've got you covered. We've partnered with the owners of BeerGirl, a local Atlanta shop, to help you select the perfect beverage. BeerGirl's passionate owners, Alexia Ryan and Erik Lewis opened their shop with the dream of connecting the people of their community with delicious craft beer from the South and beyond. Here are this week's suggested pairings: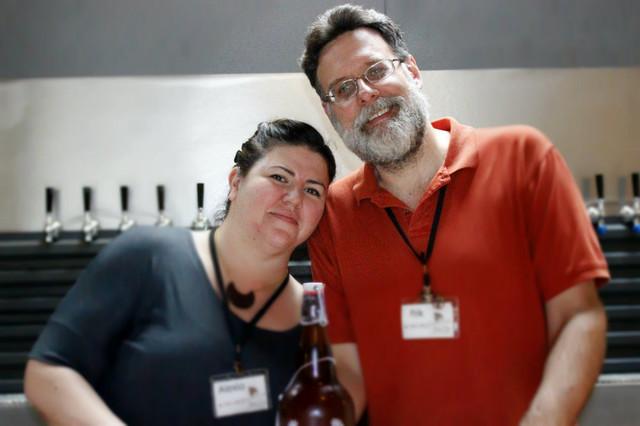 Carolina Gold Rice Pilaf with Feta & Sunflower
A sweet and nutty dish requires a beer that will not overwhelm it with too much malt or hoppiness. This is where a beer with Brettanomyces yeast shines. Brettanomyces produces a drier beer with complex flavors that will continue to develop over time, making these beers amenable to cellaring. Ommegang's Upside Brown also brings a slightly spicy character (because of the Belgian yeast) that will not upstage the delicate flavors of the pilaf.
Suggestion: Ommegang Upside Brown Ale, Cooperstown, New York
Chicken with Muscadines & Mashed Potatoes
This chicken dish with Muscadines is sweet and savory which makes it perfect for a Trappist Pater. Patersbier, or fathers' beer, were brewed exclusively for the monks' dinner table. Spencer, the first American Trappist brewery, produces a pater ale with a copper color, fruit, and a little bitterness from the hop that will highlight both the sweetness from the grapes and the roastiness of the chicken.
Suggestion: Spencer Trappist Ale, Spencer, Massachusetts
Sweet Potato & Black Bean Quesadillas with Jalapeno Chimichurri
Sweet potatoes are an ingredient that just scream fall. And, what better to pair with a fall dish than a traditional German Octoberfest style marzen? Traditionally, marzens were brewed in the spring and cellared over the summer. Full bodied in flavor with a deep copper color these malty beers will stand up to the sweet potato while extinguishing the fire from the jalapeno chimichurri.
Suggestion: Ayingerz Oktober Fest-Marzen, Aying, Germany
Roasted Salmon with Grits, Okra & Paprika Vinaigrette
Salmon is a meaty fish that can stand up to lots of flavors, so it can definitely handle some hops. We recommend an IPA to bring some bitterness and woody or citrus notes that will work well with both salmon and okra. You don't want a hop bomb that overwhelms the pallet and ignores the malt; you want one that lets some caramel from the malt shine through to really play off those grits.
Suggestion: Lagunitas IPA, Petaluma, California
Beef Medallions, Roasted Fingerling Potatoes, Sauteed Green Beans
Black Lager or Schwarzbier - Some people might say stout is the best choice to accompany a steak, but for something a little less heavy in the summer months, try a black lager. Lagers are bottom fermented at cooler temperatures resulting in a clearer beer with medium body and the toasted malts will lend depth to the tenderloin without weighing you down.
Suggestion: Uinta Baba Black Lager, Salt Lake City Utah
Curried Chicken Breasts with Bok Choy & Basmati Rice
Because of the craft beer industry's penchant for experimentation, we now have beers with virtually every spice profile available in the market. So, when looking to pair a dish with some regional flavor profiles, why not try a beer with the same or similar regional flavor profiles? Try something like a witbier with lemongrass and ginger that will enhance those complex curry spices.
Suggestion: Westbrook White Thai, Mount Pleasant, South Carolina
Georgia­local recommendation: Second Self Thai Wheat, Atlanta, Georgia
Salmon Croquettes with Dill Sauce & Gem Lettuce Salad
Though lighter hefeweizen is more common these days, a darker maltier dunkelweizen still has the same spicy and fruity esters as its lighter cousin while offering a richness that will stand up to salmon.
Suggestion: Franziskaner Hefe­Weisse Dunkel, Germany