Ingredient Spotlight: Sunflower Seeds & Sprouts
The sunflower is one of the earliest plants to be grown in the United States, and it has been used for a multitude of purposes over the years. Our Carolina Gold Rice Pilaf with Feta & Sunflower brings together two pieces of the sunflower plant in a nice balance of flavors. Both sunflower sprouts and sunflower seeds provide the finishing touches to this dish.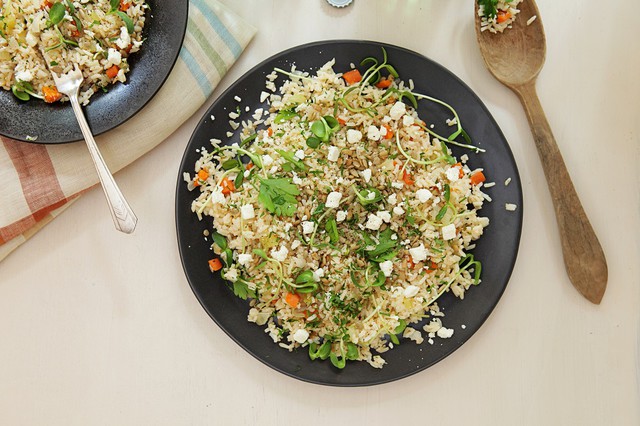 Sunflower sprouts are packed with nutritional benefits. High in protein and fiber, these greens are also a good source of calcium and iron. Sunflower sprouts are rich in polyunsaturated and monounsaturated fats and are also a good protein source- a complete plant protein, at that. Similar in texture to spinach, the nutty flavor of sunflower sprouts (much like that of sunflower seeds) makes them an excellent addition to salads, stir fry, and smoothies.
The sunflower seed, or the fruit of the sunflower, is commonly misnamed when referring to the edible portion. The kernel is what we eat while the seed is the kernel enveloped in the outer hull. Sunflower seeds are also healthful- high in polyunsaturated fat, sunflower oil is often extracted for culinary uses. These seeds are also high in vitamin E, selenium and magnesium. Their nutty flavor compares to Jerusalem artichokes (which come from the same family as sunflowers).
Interested in more greens? Try out dandelion greens, another member of the Sunflower family. We recommend our Roasted Salmon with Dandelion Greens & Casarecce Pasta.