Ingredient Spotlight: Sweet Curry
Our Curried Chicken Breasts with Bok Choy & Basmati Rice dish features PeachDish's very own sweet curry blend. When we say "sweet," we are simply referring to a curry without hot spices. Our sweet curry blend also contains a dash of sugar. All of this talk leads us to the burning question, "Just what is curry?"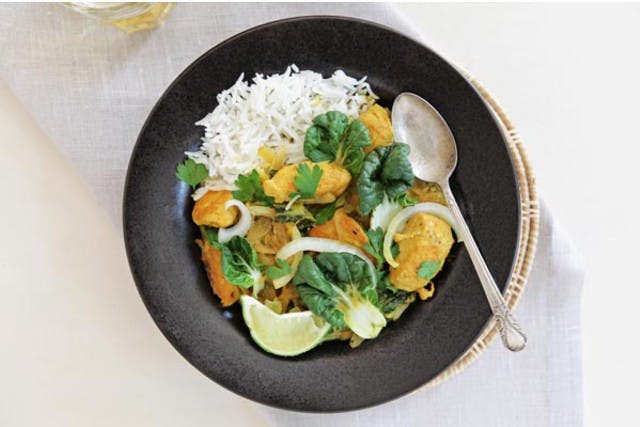 While a wide range of different curries exist, this dish is always an expression of a combination of herbs or spices with the addition of hot chillies. Originating in India and Southeast Asia, curry's flavors vary depending on the region in which it is cooked. A curry dish may contain meat, fish, shellfish or be vegetarian. This dish can either be "wet" and served in a sauce based with anything from coconut milk to dal, or it can be "dry" when cooked with only a small amount of liquid. Curry powder was not developed until the 18th century and was often sold by Indian merchants to Bristish army men. Vadouvan is one such curry blend.
Our chefs are no strangers to a good curry recipe, We have an array of dishes for you try your hand at- each featuring a different method or flavor. What is your favorite type of curry to cook/eat?
Curried Turkey Meatballs with Escarole and Basmati Rice
Curry Beef & Eggplant with Sultana Couscous
Curried Guinea Hen Meatballs with Bok Choy and Basmati Rice
Lemon Orecchiette with Vadouvan Roasted Carrots & Turnips
Curried Sugar Snap Pea, Tomato and Ginger Stew over Couscous
Green Lentils, Chickpeas, Cilantro and Apples with Curry Spice, Topped with Yogurt and Walnuts
Spicy Fingerling Potato, Green Bean and Mixed Pepper Curry over Basmati Rice with Cilantro